Calvin Peete stalked fairways long before Tiger Woods became the face of the PGA Tour. According to a cursory look at PGA Tour history, Peete was one of the best players during the 80s.
Happily married to Pepper, Calvin overcame significant challenges and a late start to play on Tour. His mother dropped him off at her mother's house and after one visit never returned. He has come a long way since those days. He helps his wife take care of their two girls Aisha and Aleya these days and only plays golf occasionally.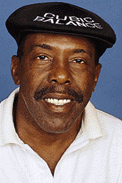 It wasn't until age 23 that Calvin Peete picked up a golf club. His previous notion of the game involved retired white guys smacking a little white ball around which, while fairly accurate, wasn't the whole story. He was yet to help write the new story. "I had none of the nuances of the game. My friends that introduced me to the game, simply said, 'Hit the ball into the hole in the fewest strokes.' It was a challenge. I guess it was a God-given gift. Life looked at me and pointed me that way."
How many of us have said, "If only I'd have started this game when I was young"? Calvin Peete is one who maximized his potential and perhaps not without a little help from a childhood injury. When Peete was 12 years old he was in a cherry tree at his grandmother's house where he lived and reached for a branch which broke. He fell from the top of the tree to the ground, shattering his left elbow. While he had surgery to repair the injury it was never quite the same.
"Calvin had beautiful rhythm and tempo," said Butch Harmon. "And because his elbow was fused he was able to create a swing path that allowed him to return the club to the same position at impact." It was probably his shattered elbow that helped him become one of the straightest hitters on the PGA Tour.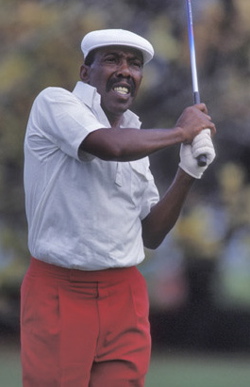 Peete picked up the nickname "Mr. Accuracy" from some of his peers for his ability to hit the ball in the fairway. He holds the Champions Tour record in driving percentage at 80.9 percent. Because his left elbow was fused it took less fuss to get back to the ball with a squared clubface. Timing wasn't such a problem for him. He was first in driving accuracy from 1981 to 1991. He was the Fred Funk of that era. Not a bad comparison since both are TPC winners.
His accomplishments are impressive. He was only the second African-American to play on the United States Ryder Cup team where he appeared twice: 1983 and 1985. He is one of a handful of blacks to have played regularly on the PGA Tour: Teddy Rhodes, Bill Spiller, Pete Brown, Charlie Sifford, and Lee Elder. Tiger Woods' story is no secret; he has completely dominated the game and, like those who preceded him, stayed true to his heritage in the process.
From 1979 to 1986 Peete won 11 times on the PGA Tour in addition to his Ryder Cup appearances. He won four times during 1982 and was the first black to do so. His greatest win, however, came at the Tournament Players Championship in 1985 where he plays on occasion still. Johnny Miller noted that, "He shot the most unimpressive 68's you ever saw. He just dripped guys to death. No question that, for a period of time, he and Curtis Strange were the best player in America."
At age 62 one of Peete's desires is to see more kids from the black community pick up the game. There were several African-American players on Tour when Peete was playing and now the only regular is that guy who owns the Tour, Tiger Woods.
An interesting and revealing article from Golf Digest revealed that Peete suffered from Tourette's syndrome his whole life. The effects of Tourette's made it increasingly difficult to compete later in his career. The syndrome turned his mind upside down and sideways. "It was like my right became my left and my ups became my downs," said Peete. "When I was playing golf, I'd think 'fade' and then hook the ball." He was able to overcome it by employing reverse psychology on himself. "I won the Players in that state of mind," said Peete.
Because Peete was a private person and probably because of a survival mentality he didn't let people get too close. Lee Trevino noted, "He's a very private individual." Yet thats how he coped with the external an internal pressure of tournament golf.
Peete accomplished a great deal in a short amount of time later in life than most golfers. What he did is testimony to his unusual resiliency, competitiveness, and patience. Like other great champions, his life wasn't perfect, but the process revealed a man who was able to overcome considerable odds.
Photo Credits: © African American Golfer's Digest, © PGATour.com.