Chez (short for his middle name Chesney) was the unlikely 2008 RBC Canadian Open winner, but where did he come from? What are his goals? Aspirations? Hopes? Dreams?
And is he just a huge Arizona Diamondbacks fan? Why does he wear their logo on his shirts?
Let's take a closer look at William Chesney Reavie in this week's ProFiles.

Early Years
The 27-year-old William Chesney Reavie was born in Wichita, KS on November 12, 1981. Every athlete has an idol or person they look up to for a path to follow. In Reavie's case, this person was Phil Mickelson. Phil, like Chez, attended Arizona State University and was a fellow Sun Devil. He's worked hard to emulate Phil, and the admiration was returned in part as Phil took Chez under his wings at the Masters this year and shared a few of his secrets.
Reavie attended Dobson High School in Mesa, AZ and played golf under Coach Dennis McGowan, who was also an ASU graduate. He played golf for four years and was an all-star pick in each of those seasons. Some of his high school accomplishments were being a member of the 2000 Cannon Cup West Team and also an AJGA Polo Golf Junior All-American. Reavie also won the Mesa City Championship at Dobson golf course in July shooting a 15-under 129 with rounds of 64-65. A couple more victories would come in the Las Vegas Legacy Junior Championship and the World Junior Golf Cup U.S. Finals. It was clear to see that Chez had definitely chosen the right path for him to get into college.
College Years as a Sun Devil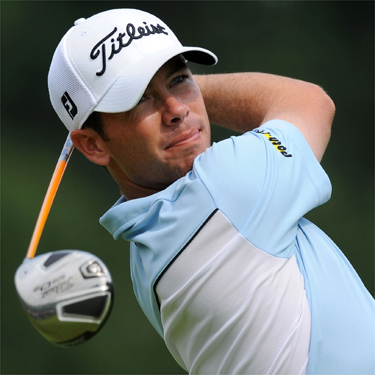 Chez Reavie was a three-time All-American at Arizona State University earning second-team honors in 2004 and honorable mention in 2001 and 2003. An early wrist injury in the fall of 2000 kept him out of competition until February 2001. He was selected as a 2001 Walker Cup alternate.
On June 4th at the 2003 U.S. Open sectional qualifying in Maryland, Reavie shot a 63-74 to advance to the Open where he shot a 13-over 153 (75-78) at Olympia Fields. Chez had two top-10 finishes in the NCAA championship which included his first in 2001 where he finished T4 in Raleigh, NC. His next NCAA championship top-10 finish came in 2003 when he finished ninth in Stillwater, OK.
Reavie finished his collegiate career with 22 top-10 finishes in 43 collegiate events and had a 72.05 stroke average. Reavie also became the third Sun Devil to win the Public Links Championship, doing so in 2001. This Public Links win earned him a spot in the 2002 Masters at 19 years of age. He went on to finish 85th in the tournament.
Making it as a Pro
Chez turned Pro in 2004 and joined the Nationwide Tour in 2006. He made the cut in his first 18 starts and had eight top-25 finishes. Reavie won the Knoxville Open after placing 13th or better in his first 12 events in 2007. The Knoxville open win propelled him to 18th on the Nationwide Tour money list with $224,532. Bigger than the 18th spot was the PGA Tour card that came along with it.
Chez Reavie shot a final-round 70 to record his first PGA Tour victory in 2008. Reavie's closest competitor, following his rounds of 65-64-68-70, was fellow Sun Devil Billy Mayfair. Chez bettered Mayfair by three strokes to capture the win in wire-to-wire fashion. Reavie was one of 12 first-time winners on tour in 2008.
Chez cites patience as being the major factor to his victory because of the sloppy days. "It can get to you," said Reavie. "You just have to try not to let it bother you and just go play when they tell you. When it's not time to play, you don't think about it and you don't get mad."
Reavie's name is now added to a list of great winners of this tournament including Walter Hagan, Tommy Armour, Sam Snead, Byron Nelson, Bobby Locke, Arnold Palmer, Lee Trevino, Greg Norman, and Tiger Woods. Aside from this victory in 2008, Reavie also played in 30 events with 21 cuts made, two top 10s, and two top 25s. He made $1,444,102 in 2008 and finished 57th in FedExCup points.
Up to Date
In 2009 Chez is 165th on the money list with $267,725. He has played in 20 events with no top 10s. His best finish this year is 12th at the Mercedes-Benz Championship. So far this year, his playing stats are as follows:
Category             Numbers         Rank
-----------------    ---------       ----
Driving Distance     277.2 yds        173
Driving accuracy      67.4%            37
GIR                   63.9%           115
Putts per Hole        1.799           144
Sand Saves            51.5%            74
Birdies                2.97           175
Eagles (holes per)    265.5           104
Can these numbers produce another win? Many would not bet on it, but then again, did many bet on it last year? In 2008, the tournament had delays and turned out to be a wet and muddy survival of the fittest. These conditions played right into his game. He does not have the longest game on tour but he is a straight hitter.
When asked to define his favorite aspect of Glen Abbey in 2008, he responded with, "I loved the rough." Keeping the ball in the fairway when it is lift, clean, and place goes a long way! The amazing thing is that Reavie's practice round for the 2008 tournament was the first time Chez had even played the course.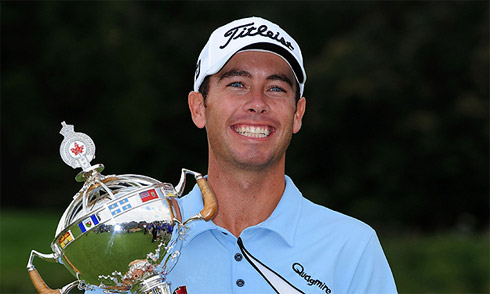 So now Chez comes into this week's RBC Canadian Open as the defending champion. Determined to get in his practice time, Chez was the lone soldier on the practice range once the sky started to rain down on Glen Abbey. Earlier this week Chez began smiling at the sight of his fellow competitors running for shelter. When asked for his thoughts of the chance of another rain soaked tournament, Reavie said, "It worked last year, it might as well work two years in a row, right?"
Can Reavie duplicate what Jim Furyk accomplished in 2006 and 2007 with back-to-back victories? Can the 5'9″ 160lb Sun Devil conquer golf's third oldest national championship two years in a row? There is no doubt that the crowd favorite will be the Canadian Mike Weir. The Par 71, 7320 yard Glen Abbey course will have a list of players that will bring their best games and will try to answer these questions with a resounding "NO."
I'll leave you with a comment that I found very interesting from reading through interviews.
"A win feels just as good in the rain as it does in the sun. You never know when it's your time, you've got to go out there and play as hard as you can every day. When you add them up, hopefully you're the lowest guy out there."
This article was written by a guest author. If you'd like to contribute, send us an email.