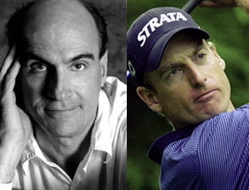 This column marks the beginning of a weekly feature called "ProFiles." Our aim is to highlight high profile people associated with golf's biggest stage. You can expect to see current PGA players, past greats, architects and influential people in the game featured one at a time every week. I'm looking foreword to looking at colorful characters in golf each week with you.
Jim Furyk is the player I've chosen for this first installment of "ProFiles." I'm impressed with the kind of golf that Furyk has been playing this year even though we could safely say he has not found the kind of results that he might have became accustomed to through the middle of his career… yet. Jim Furyk is a bit of an anomaly on Tour as he has such a strange looking swing. In a day and age where many swing coaches are saying many of the same things about swing plane and technique Jim does not fit their profile. David Feherty once said he thought Furyk's swing looked like "an octopus falling out of a tree." Well, this octopus is a classy guy in my book.

Since joining the PGA Tour in 1994, Furyk has won a total of nine events. His first win came at the 1995 Las Vegas Invitational. The last time that Furyk won was at the 2003 Buick Open, the same year that he became a major winner by capturing that year's U.S. Open. In the intervening years, Fury won seven tournaments. In fact, Furyk won events in each of the nine years from 1995 to 2003. He didn't win on the PGA Tour in 1997, but captured the Argentine Open that year. He knows how to win, whatever people might say about how he gets to the winners circle.
Furyk's performance in major championships has been a good. Better than his "one-major resumé" indicates. Prior to his 2003 U.S. Open victory at Olympia Fields, Furyk had finished in the top 10 in 12 other majors including T5s in 1995 and 1996. Since his Open victory he hasn't broken into the top 10 in majors but has made headlines early in a couple of these tournaments. In major championships this season he finished alone at 28th at the Masters and T28 at this year's U.S. Open. His fundamentals and his mental approach to golf are strong, especially for tournaments like the U.S. Open which places a premium on accuracy over distance.
Furyk's win at the 2003 U.S. Open was a special experience for him as he won on his first Father's Day as a dad. It was also sweet validation for Mike, Jim's father. "He's always been my teacher," Furyk said of his father after the win. "He's taken a lot of criticism along the way, which I never heard, because no one is going to criticize a junior player. But he took a beating as my teacher in teaching me my swing. And me making it on Tour was kind of his validation. And this is just a step forward that's something we can share together."
While winning the U.S. Open was gratifying Furyk said he can't figure out why everyone says winning a major brings great change to your life. His great life-changing moment came the instant his daughter was born. Furyk seems to have kept golf in perspective.
Steve Duplantis was on Furyk's bag until 1999 when Furyk's patience finally ran out. Duplantis developed the reputation of a ruffian and was unable to meet the demands of caddying because of his inability to manage his chaotic personal life. In a 2004 Golf Digest interview Furyk recounted how he finally had to let Duplantis go.
It almost became a routine that he wasn't there. He grew increasingly worse, got into more and more trouble. How does a guy like that last? I was playing well. I was winning golf tournaments, but then it became a distraction to my life and my job. I should have cut it off a lot earlier. He wasn't doing his prep work, wasn't ever prepared. From the first tee to the 18th green, he was a good caddie. Otherwise, he was awful.
Timing was just about perfect for Furyk as he was able to hire caddie, Mike (Fluff) Cowan in 1999, shortly after Mike was let go by Tiger Woods. There was the perception of some that Tiger had lost patience with Mike's celebrity status and subsequently dumped him. Furyk hasn't minded Cowan's celebrity saying, "He's got to make a living too." Having a steady and reliable guy on the bag is important for any player and it was a relief for Jim to get over Duplantis' exit and get such a good caddie at a critical time.
Although he has not posted a win in 2005, this is not a year that we would say Furyk has struggled. He has come in second at three events, the MCI Heritage, the Wachovia Championship, and just last week at the Barclays Classic. He has been so very close to the winner's circle three times at the half way point of this season. There is no doubt in my mind that he still has the game for first place. He has seven top-ten finishes in 2005 and missed the cut only once at The Players Championship in March. Yesterday, at the Cialis Western Open he was tied for first after carding a 7-under 64. Not bad for a player with one of the strangest swings on tour, but more on that later.
As of today, Furyk is 6th on the 2005 money list at $2,426,669 and is 14th in the Official World Golf Rankings. Furyk has stats where they count. While his unorthodox swing prevents him from being the longest driver on Tour (154th), he is 15th in driving accuracy, 7th in GIR, 14th in putting average, and 5th in scoring average. And you know what they say about fairways and greens. It is pretty important to hit them if you want to score well.
2004 might have constituted a slump for Furyk as he only had two top ten finishes but come to think of it I think Vijay Singh was the only guy in the top ten at most events in 2004 anyway so Furyk doesn't have to feel bad about that.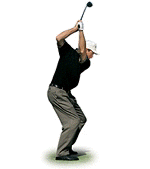 Let me tell you one of the reasons that I like Jim Furyk: He has one of the weirdest swings I've ever seen. He managed to avoid the cookie cutter modern swing guru and has developed a swing as unique as his own fingerprint. When I think of unique swings I think of people like Lee Trevino with his open stance and "timing is everything" swing or Arnold Palmer and his violent followthrough. Granted, golf as a game has become more of a science than an art during the last 20 years than at any time during its history but I appreciate the personality of earlier days. I still like to watch a guy who, when he swings, you think, "How the heck does he pull that off?"
Contrary to what one might think Furyk has an efficient swing and is one of the best ball strikers on Tour so you can't really fault him there. In his words:
My fundamentals are very similar to everyone else on Tour I go about it a little different way. There's a little different path. I think it works because its natural. I can repeat it. And its not something I've had to build or work on for ten years. When I'm playing well I can repeat that swing and thats why I think it has held up and thats why it has worked under pressure.
There was a desire by some to change Jim's "swing faults" over the years but neither Jim nor his coach, father Mike Furyk would have anything to do with it. In the August 2001 issue of Golf Digest, Mike Furyk related such an event. "One college coach was trying to recruit him and took my wife and me out to dinner," Mike recalls. "After a drink or two, the coach says, 'I can't wait to get Jim down to our school to change that swing.' I said, 'Coach, he will never go to your school.'" That has been the Furyk approach to maintaining the "purity" of Jim's swing. Refine the swing he has and make him better at what he does, not better at what other people do.
Furyk has a cross-handed putting grip that was suggested to him by Arnold Palmer and Gary Player. Jim's dad, Mike was talking with Palmer and Player and both said that if they were starting over again they would start putting cross-handed because it was a more solid stroke in their minds so thats what Mike passed on to his son.
I appreciate Jim's ability to stick to his guns. Running with the best golfer's on earth can pull you hundreds of different ways and Jim seems comfortable in his own skin. Jim hasn't been afraid to take on the media from time to time. He once said, "When you start attacking someone's desire, that's wrong. I've heard people say a player doesn't look real interested out there, or that he's too talented to be playing like this. That's taking a shot at his heart." Maybe he wasn't talking about situations like when John Daly quits on the course, but I see what he's getting at.
Jim Furyk is a guy that I enjoy seeing in contention down the stretch on Sunday afternoon for the reasons that I've enumerated above. Plus, Jim Furyk gets my pick for the PGA Tour James Taylor look-alike contest. Furyk could be considered one who is making some pretty nice music on the golf course.
Photo Credit: © Essen-Heidhausen Golf Club. Photo Credit: © septembergrass. Photo Credit: © PGA/Turner Sports Interactive.