The most promising young gun on the PGA Tour these days just might be Anthony Kim. He has, as they say, all the shots, plus some enormous belt buckles. In fact, going into this season, he was perhaps better known for his brash demeanor and flashy belt hardware than for his play. But after winning twice in 2008, people are taking notice of how much talent this 23 year-old has.
Good thing. He seems poised to break out (as if winning twice this year isn't "breaking out"). He's among the favorites at the 2008 FedEx Cup, which he enters in 5th place (4th if you eliminate Tiger, who still leads the point race despite missing the last two months of the season following reconstructive knee surgery). Kim's performance in majors makes me wonder if he'll win one before Sergio does.
Anthony Kim certainly merits paying attention to. Happily, he's hard to miss with all the glare coming off that belt buckle.

Hole 1: Background
Anthony Ha-Jin Kim was born June 19, 1985 in Los Angeles. The 5'10", 160 lb. Korean-American player attended college at the University of Oklahoma.
Hole 2: You're Who Again?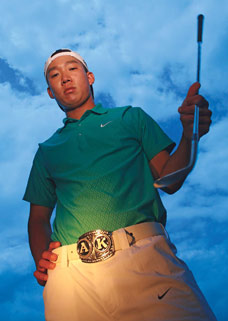 Golf Digest reported that the first time Tiger Woods saw Kim's now famous "AK" belt buckle, he pretended to be disgusted. "What is that?" Woods asked, gesturing to the large initials.
Kim's reply: "Well, Nike hasn't put my initials on anything yet."
The key word in that exchange may well have been "yet." Kim has the tools to go a long way on Tour and may even have the talent and mettle to become the rival of Tiger that the media has been trying to ferret out for 10 years now… But not just yet, anyway.
Hole 3: Career Highlights, So Far
After helping the U.S. win the 2005 Walker Cup, Kim turned pro in 2006 and finished in a tie for second at the 2006 Valero Texas Open playing on a sponsor's exemption in his PGA Tour debut. A few months later, he earned his 2007 PGA Tour card at Q School. It only took him until May of that year to break into the top 100 in the official World Golf Rankings.
One year later, in May 2008, he won his first PGA Tour tournament at the Wachovia Championship by five shots. In July he won for the second time at the AT&T National (aka, "Tiger's Tournament"). The win made Kim the first American under 25 to win twice in a PGA Tour season since Tiger Woods did it in 2000.
Hole 4: Back Off, Dad
Though he was never quite in the same infamous class as Sean O'Hair's dad, Paul Kim, Anthony's father, still probably won't be collecting any father-of-the-year trophies anytime soon. Paul used to rouse his only son at dawn each day to train. Once after a junior tournament that Anthony won, Paul snatched the trophy out of his son's hands and threw it to the ground. It seems that Anthony failed to break par.
"Over par is no good," Paul told Anthony.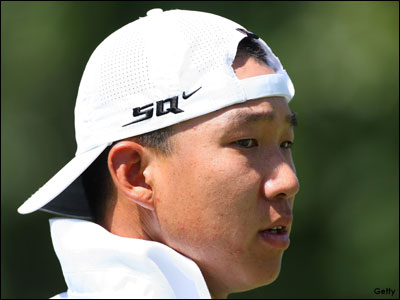 One of Anthony's initial goals when he turned pro was to win enough money to buy back the family's old house in the hills of Studio City. After Kim began showing great promise on LA munis, his father sold the house and moved the family to a condo at PGA West so Anthony could continue to refine his game. Anthony always considered himself an LA kid and never took to the desert.
The pair have had a rocky relationship. After Anthony left for college at Oklahoma (where he had authority issues with his coach), he kept his father at a distance from his golf. But since Anthony has turned pro, things have improved between father and son.
Hole 5: I Clearly Made the Wrong Career Choice
In 46 starts on tour, Kim has made 37 cuts, won twice, and finished in the top 10 nine times. He's also won $5,546,377, which means he's making about $33,819 for every round he plays. That's almost $2000 for each hole played (and I'm pretty happy when I win a $2 skin). Looks like he's probably been able to buy that house back by now.
Hole 6: Major Promise
Kim's best finish in a major (T7) came at this year's Open Championship, which also happened to be his first appearance in the oldest major. In addition, he's twice played both the U.S. Open (T20, T26) and PGA Championship (T50, T55). He has yet to play in a Masters, but that will change next year since his wins on tour in 2008 will earn him an opportunity to tee it up in the 2009 Masters.
Hole 7:Room for Improvement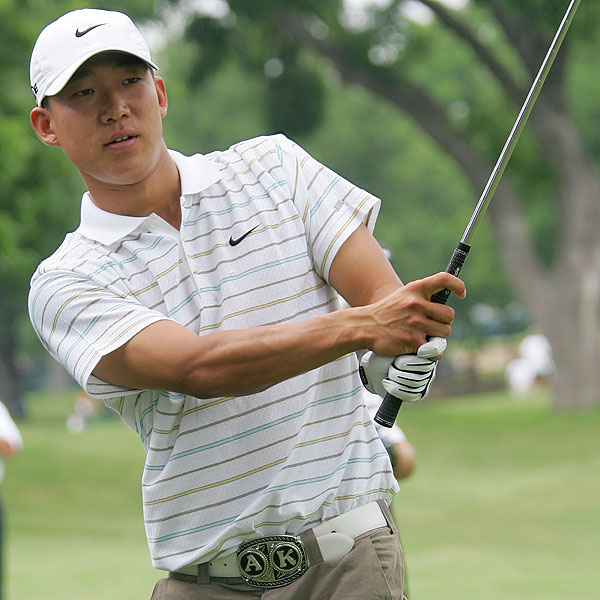 This season, Kim is 152nd in driving accuracy, hitting just under 60% of fairways. He's 126th in sand saves, getting up and down almost 50% of the time. He's 79th in GIRs, hitting about 64% of greens. In every other major stat category he's in the top 50 or better. And driving accuracy doesn't really mean that much on Tour these days so he can concentrate on his beach play and GIRs and get an even bigger advantage over most of the competition. He doesn't have that far to go, however. He's #7 in money earned this year. That's a good category to finish in the top 10.
Hole 8: Eamus Catuli!
AK is good friends with Chicago Cubs first baseman Derek Lee. I knew there was a reason I liked him. (By the way, eamus catuli is Latin for "Go Cubs!")
Hole 9: Wonder If He Fears Tiger's Stinger
Kim currently resides in Dallas, Texas. They have "killer bees" in Texas. AK had better be careful. He's allergic to bees, as anyone who took a break from the Olympics to watch the first round of the Barclays now knows. Luckily, an antihistamine was enough to help Anthony stay in contention through Day One of the 2008 playoffs.
Photo Credit: © Golf Digest, © Golfweek, © GolfWRX.com.