The odds-on favorite to win this year's Verizon Heritage is Boo Weekley. He's won the last two, so why not add one more?
What's a little more of a mystery is why he hasn't won anywhere else. In two full seasons on the PGA Tour, he's had ten top-ten finishes, but has only managed to finish at the top of the leaderboard at Hilton Head. Obviously, the course suits him. It's a ball-striker's layout, it's in the South (where Boo grew up), and with its small greens, putting is less likely to be the determining factor in a tournament.

Boo has earned about $5 million in two years on tour. That's a pretty good return on a career with which Boo doesn't always seem engaged. He's said that if he makes enough money, he may well walk away after five or ten years and just hunt and fish. That's a pretty good career path if you can work it out.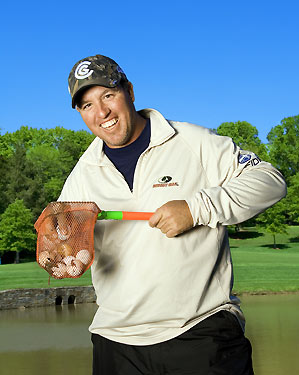 Last September's Ryder Cup may have inspired Boo. He seemed to revel in the crowd's enthusiasm, and in his ability to pump up the crowd (much to Lee Westwood's dismay). Perhaps 2009 will be the year Boo puts together multiple wins. There are quite a few courses (other than Harbour Town) that should fit Boo's game (Colonial and TPC Sawgrass come to mind), and if his putter heats up, he could win just about anywhere.
Boo's down-home, aw-shucks nature has appealed to a lot of fans out there. You probably wouldn't want him doing your taxes (just ask Sergio about Boo's math ability), but the PGA Tour with Boo is a much more colorful place.
Here are nine things you may or may not know about one of the PGA Tour's fastest rising stars.
Hole One: Small Town Boo
Boo Weekley hails from Milton, Florida, a town of about 8,000. Milton was once known as "Scratch Ankle," for the number of briars growing in the area.
Hole Two: Boo by the Numbers
In 2008, Weekley made 19 of 24 cuts, with one win and five top tens. He finished the year just inside the top 50 (at 49) in the Official World Golf Rankings and made nearly $2.5 million. If there's a weak spot in Weekley's game, it's his putting. In 2007, he was 96th in putting average and 108th in putts per round.
Hole Three: Boo Being Boo #1
"Granddaddy's place is on the Blackwater," says Boo Weekley, "which means that hurricanes, bad storms, the like, blow alligators up by the porch. They get to chasin' our cows and dogs. Now, it's against the law to do what we do, which is catch 'em and move 'em on, but sometimes you gotta take matters into your own hands, y'know?"
Hole Four: Can't See Boo
Boo Weekley has brought his favorite sport together with his job in a way. Boo is responsible for bringing camouflage hunting attire to the PGA Tour. Dying to get your own camo golf gear? No problem. At BooWeekley.com, you can get a Boo-logoed camo long sleeve tee shirt ($25), autographed golf balls ($79.99), a Boo temporary tattoo ($2), and more. Yessiree, "Red, White, and Boo" all over.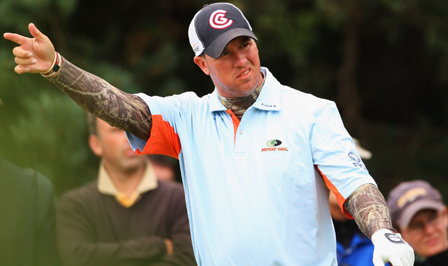 Hole Five: Milton… Birthplace of Athletes
When it comes to celebrities (or near celebrities), Milton, Florida, produces more than its share of golfers – Boo, Heath Slocum, and Bubba Watson) – and football players – Gregory Allen (Florida State running back), Cortland Finnegan (cornerback with the Tennessee Titans), Lawrence Tynes (placekicker, N.Y. Giants), and Elijah Williams (former Atlanta Falcon cornerback). Another notable "sports" figure from Milton is the former Monster Jam monster truck driver, Jim Jack, who drove the Reptoid truck for 20-some years before retiring in 2006.
Hole Six: Boo and the Rattlesnake
We may never have met Boo had it not been for his willingness to obey his father, and his dad's calm thinking in a crisis.
One day as a kid, while out hunting with his father in Alabama, Boo got dangerously close to a rattlesnake. His father told him to freeze and slowly pass him the shotgun that young Boo was carrying. The rattler was about a foot-and-a-half from Boo and coiled to strike. Happily for all (except the snake), his father dispatched it with a shotgun blast.
An experience like that could make standing over a three-foot putt for big cash seem like child's play.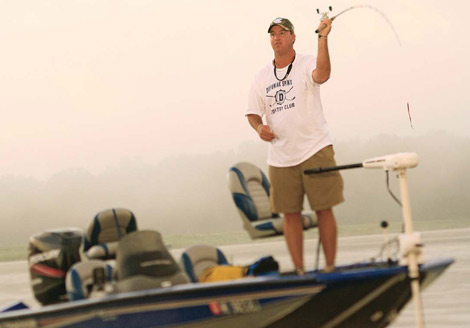 Hole Seven: Boo and the Orangutan
One of the most famous (infamous?) stories about Boo is his fight with an orangutan. When he was 16, he and some friends went to a county fair where a man was putting up $50 against $5 for anyone who could best his orangutan in a fight. Boo was picked by his friends to face the ape. The fight didn't last long. One punch from the orangutan put Boo out.
Hole Eight: The Education of Boo
Boo Weekley attended Abraham Baldwin Agricultural College in Georgia.
Hole Nine: Boo Being Boo #2
"It's different eating here than it is at the house. Ain't got no sweet tea, and ain't got no fried chicken." – Boo Weekley on the food at the Open Championship in 2007.
Photo Credits: © Golf.com, PGA.com, andGolf Digest.