There is no question in my mind that Gary Player is one of the greatest golfers in the history of the game. The South African native turned pro in 1953 and out of relative obscurity started winning. And for many, many years he never stopped.
With virtually an unassailable international victory total Player is a remarkable competitor, international figure, and ambassador of the greatest game.

Hole One
Player is well known for winning the 1978 Masters by coming from seven strokes behind in the final round. He made birdies on seven of the last ten holes for a round of 64. He was the first non-American to win the Masters.
Hole Two
In 1995 Gary became the oldest player to make the cut at the British Open at 59. He turned 60 on November 1st. He became the oldest player to make the cut at the Masters in 1998 at age 62. Wow.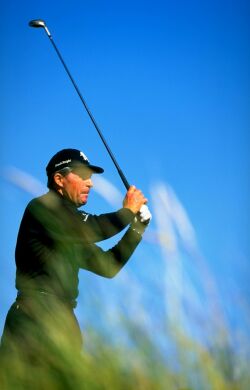 Hole Three
Has travelled over 14 million miles during his career making him probably the most travelled person ever.
Hole Four
Player won the British Open in three different decades, the only player to have done so in the 20th century.
Hole Five
From the 1950s to the early 1970s, Player was known – along with Jack Nicklaus and Arnold Palmer – as the one of the Big Three.
Hole Six
Player has an incredible 18 tournament holes in one.
Hole Seven
Has victories in an unprecedented 27 consecutive years of play. Next in line are at 17 (Bernhard Langer, Seve Ballesteros, Jack Nicklaus, and Arnold Palmer).
Hole Eight
It's a wonder golfers don't seek to emulate Player more often. He won over 160 professional golf tournaments worldwide including 24 PGA Tour wins.
Hole Nine
Player won a remarkable nine major championships and is one of five players (along with Gene Sarazen, Ben Hogan, Jack Nicklaus, and Tiger Woods) with a career grand slam. He completed it by age 29. He is fifth in major championship wins behind Jack Nicklaus, Tiger Woods, Walter Hagen, and Ben Hogan.
Photo Credit: © Unknown.