Have you noticed how many Swedish golfers are in contention these days? Jesper Parnevik (who has been showing signs lately of getting his game back) is the volcano-dust eating, wafer-thin leader of the crew. Then there's Helen Alfredsson, Daniel Chopra, Niclas Fasth, Mathias Grönberg, Sophie Gustafson, Maria Hjorth, Fredrik Jacobson, Per-Ulrik Johansson, Richard S. Johnson, Robert Karlsson, Carin Koch, Liselotte Neumann, Carl Pettersson, Jarmo Sandelin, Louise Stahle – to name a few of the more famous – and naturally, Annika Sorenstam – the most famous.
If you spend much time watching Golf Central, you probably recognize most if not all of these 17 names. There are several other notable Swedish golfers, but there's one in particular that is emerging as one of the top golfers in the world…

The rising North Star of Sweden is Henrik Stenson. He has come out on top in fields that have included the world's best (2007 Dubai and WGC-Accenture), he's played in a Ryder Cup (2006), and he's got a caddy who's more recognizable than he is. This past weekend, he stood toe-to-toe with Tiger Woods for 18 holes before losing his bid to repeat at the WGC-Accenture 2-down.
There's a surprising dearth of information out there for a player that seems to always be turning up on media lists of who could win this and that. He does have an Achilles heel: the pull hook. Unfortunately for him, it tends to rear up every few rounds. When he can keep it under control, he has the game to play with anyone. Over the past couple years, he has burst onto the world stage and broken into the top 20. Can the top 10 be next?
Hole One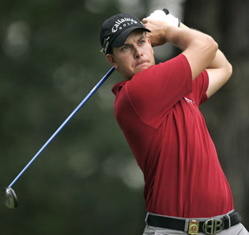 Henrik Stenson was born in April 4, 1976 in Gothenburg, Sweden. He now lives with his wife Emma and baby daughter Lisa in Dubai, which probably improves the number of practice rounds he can get in during the winter months.
Hole Two
Somewhat surprisingly for a player who rarely shows any personality on the course, Stenson has been known to crack a joke or two with the press corp. A few weeks after winning the 2007 WGC-Accenture Match Play Championship, he was asked how his life had changed. Stenson deadpanned, "All the media interest, definitely. There used to be only six at my press conferences. Now, it can be anywhere up to eight."
Hole Three
Stenson finished third at the 2008 WGC-Accenture Match Play Championship despite being "sick as a dog" with a stomach virus the week before, and only getting one day of practice (on the eve of the championship) in the two weeks leading up to Tucson.
Hole Four
Stenson is 1-1-1 in Ryder Cup play. Earning 1½ points in three matches during the 2006 Ryder Cup matches at the K Club as part of Team Europe's 18½ to 9½ rout of the U.S.
Hole Five
Don't expect to find much information on henrikstenson.com. A year after his WGC win, there is only an ad for his agents. At least he does get top billing over Niclas Fasth and several others handled by Stockholm's Sportyard management company.
Hole Six
Stenson has made a major turnaround over the past seven years. Playing in the 2001 European Open at the K Club, Stenson hit nearly a small bucket of OB shots and then withdrew… after nine holes. It was the same old story regarding Stenson in those days. Wild shots were killing any hope he had of remaining in contention. His coach, Pete Cowen, put it in fairly simple terms, "He had trouble hitting the world."
After joining the European PGA Tour in 2000 (after finishing first on the Challenge Tour the year before), he finished 159th, 44th, 176th, 68th, and 32nd over his first five years. In 2005, after years of working with a sports psychiatrist, Stenson began to rebound and move up the rankings. In 2006, he won – first at the Commercialbank Qatar Masters and then at the BMW International Open. In 2007, he added his first PGA Tour win at the WGC-Accenture, and today he's ranked #12 in the World Golf Rankings.
Hole Seven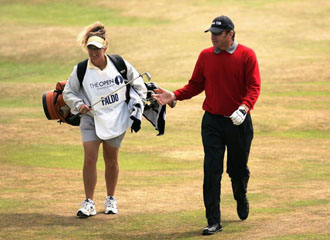 Stenson's caddy is fellow Swede Fanny Sunesson, who has also looped for Sergio Garcia, Michelle Wie, Mark Hensby, and Nick Faldo, most famously. In 2005 while she was caddying for Hensby, the duo faced Stenson in a playoff at the Scandinavian Masters. Fanny told Mark, "You're either going to make one Swede very happy or 20,000 very sad."
Fanny was the only happy Swede that day. Stenson says he still hasn't forgiven her for that.
Hole Eight
Stenson's best finish in a major is T14 in the 2006 PGA Championship. Despite that fact, he's a shoo-in to be on most short lists of prospective first-time major winners for 2008.
Hole Nine
"Hey, I'm not even the most famous golfer in Sweden. In fact, I'm not even the most famous Henrik in Sweden."
Photo Credit: © Callaway Golf.com.