Ian Baker-Finch won 16 international titles and a major. He's just 48, but hasn't made a PGA Tour cut since 1994. His career as a golfer bottomed out just at a time (his mid-30s) when many players come into their primes.
What happened? His could be a cautionary tale for other players.
After his win at the 1991 Open Championship, he began to be paired with more long hitters. Naturally, he started trying to add length. He made swing changes that made him wild off the tee and actually cost him distance. He fought injuries and lost his confidence.
As Baker-Finch puts it: "I couldn't handle the pressure, and didn't like the fact I was playing poorly. So I said, 'Hey, why do I put myself through this? I'm going to go do something I enjoy.'"

But it turns out that his love of the game was strong enough to keep drawing him back. Twenty years after his win at Colonial, IBF is back. This week, he's making his first appearance on the PGA Tour since 2001 and his only appearance since 1997. He brings with him a streak of 33 missed cuts spanning 15 years.
David Duval's collapse is fresher in memory and therefore seems worse. After all, Double D had reached number one in the world before crashing back to earth. But even in 2005, Duval's worst season to date, he still made a cut (T60 at the Valero Texas Open). Duval's worst streak of missed cuts is a mere 11. No, it's hard to argue with the numbers IBF has put up (or failed to put up) over the past 15 years.
Let's walk through IBF's career and see if you come to the same conclusion I did… Let the suffering end!
Hole One: Beginnings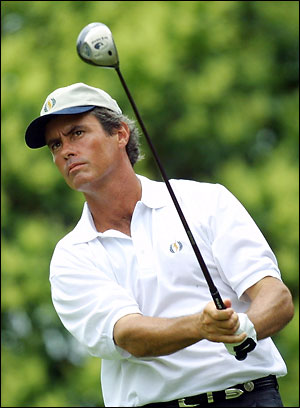 Ian Michael Baker-Finch was born October 24, 1960 in Nambour, Australia. Like many golfers his age, he cites Jack Nicklaus as his chief influence in golf, having learned much of his game out of Nicklaus' Golf My Way.
Hole Two: Early Tour Days
Baker-Finch turned pro in 1979. He began playing professional golf on the PGA Tour of Australasia and notched his first win at the 1983 New Zealand Open. That victory got him into the Open Championship in 1984 where he took the the 36-hole lead and held it through 54 holes before blowing up with a final round 79 to finish ninth.
IBF next joined the European Tour and won the 1985 Scandinavian Enterprise Open. In both 1985 and 1986 he finished in the top twenty on the Order of Merit. He continued to play on the Austalasia
tour when the weather turned cold in Europe and added several wins. He also made appearances on the Japan Golf Tour.
Hole Three: Joining the PGA Tour
Baker-Finch made his first appearance on the PGA Tour in 1985 and began playing it regularly in 1989 after earning his card by finishing third in the 1988 World Series of Golf. His first PGA Tour win came at the 1989 Southwestern Bell Colonial, which earned him a two-year exemption on Tour. The next year he finished 16th on the PGA Tour money list with five top-three finishes.
Hole Four: A Major Victory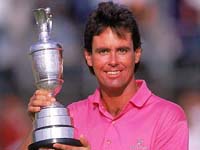 Over the next few years, IBF won on four continents, but it took a win in the 1991 Open Championship to truly put him on the golf map. He shot 71-71-64-66 at Royal Birkdale to beat Mike Harwood by two strokes to win as a dark horse. Still, he had another three runner-up finishes that year and finished 13th on money list, earning a trip to the Tour Championship. He cracked the top 10 of the Official World Golf Rankings briefly that week.
Hole Five: The Trunk Slamming Begins
In 1992, he missed six cuts in 20 events with three top-10 finishes. In 1993, he missed seven cuts in 21 tries, managing just one top-10 finish. Then the wheels came off.
In 1994, in 21 starts on the PGA Tour, IBF missed 15 cuts including 11 in a row. His top finish was a T10 at the Masters. At the NEC World Series of Golf that year, IBF finished 47th at +22. That was Aug. 28th, 1994.
Hole Six: 0 for 1995 (thru 2008)
The numbers for Baker-Finch's 1995 campaign are staggering: 14 missed cuts, 3 WDs, and 1 DQ. His scoring average that year was 76.64, and he ranked 189th in both driving distance and driving accuracy. Unfortunately, it didn't get any better from there.
In 1996, IBF missed 11 straight cuts and ended his campaign following the British Open where he shot 20 over par in the first two rounds for a trunk slamming good time.
In 1997, Baker-Finch only played the British Open and withdrew after an opening round 92. That was it; he'd had enough.
Hole Seven: Into the Broadcast Booth
In 1998, ABC Sports hired Baker-Finch as one of their golf announcers. He remained with ABC until 2006 when switched to CBS Sports broadcasts.
In 2001, Baker-Finch made his only start on the PGA Tour during the decade of 1998-2008 at the MasterCard Colonial where he shot 74-77 and missed the cut.
Hole Eight: Serving the Black Knight

Baker-Finch served as Gary Player's captain's assistant in three Presidents Cup campaigns (2003-2007) for the International team. For the last year, he has worked for the Gary Player Group as an international brand ambassador and golf course designer.
Hole Nine: The Streak Ends
As I write this, Ian Baker-Finch is two under par and T24 after the first round of the Crowne Plaza Invitational at Colonial. That's just five off the lead and in good shape to make his first cut in nearly 15 years.
IBF is publicly stating that he plans to remain a CBS announcer when he turns 50 in 2010, rather than joining the Champions Tour. Maybe that security helps him remain calmer on the golf course. If the competitive flame gets relit, who knows. Maybe IBF could resurrect his career as a tour player on the senior circuit.
But right now, he just needs one more good round on Friday at Colonial. Can he end his 33-missed-cuts-in-a-row streak? That would be a good sports story. Comeback player of the year?
Photo Credits: © SI.com andGaryPlayer.com.