While there was little doubt, Lorena Ochoa has proven she belongs on the LPGA Tour this year. She has distanced herself from promising young stars like Paula Creamer, Michelle Wie, Natalie Gulbis, and Morgan Pressel and is threatening to knock off the Queen Bee of women's golf: one Annika Sorenstam.
While a major championship eluded Ochoa this year, it appears that it won't be long before Mexico's favorite golfer starts collecting a mantle full of major trophies.
Lace up your golf shoes, grab your clubs, and join me for nine holes with one of the LPGA's very best.

Hole One
Earlier in her life and golfing career, Ochoa found success at the Junior World Golf Championships, winning every year from 1990 to 1994. Ochoa won the girls 9-10 year-old group the same year a boy named Eldrick Woods won the boys 13-14 year-old group.
Hole Two
Ochoa played for the University of Arizona for two years, winning the NCAA Player of the Year in 2001 and 2002. In two years she at Arizona she set the single-season NCAA scoring average twice, with 71.33 in 2001 and 70.13 in 2002.
Hole Three
Remarkably, Ochoa never finished outside third in collegiate golf. She won 12 of the 20 collegiate events she played, winning seven in a row and eight of nine her sophomore year. She lost only two events her sophomore year, but finished second and tied for second in those two tournaments.
Hole Four
Natalie Gulbis lost to Ochoa in a playoff at the PAC-10 Championships in April of 2001 during Ochoa's freshman year.
Hole Five
Ochoa's website says:
In November 2001, Lorena was presented with the National Sports Award by Mexico's President Vicente Fox. She became the youngest recipient and first golfer to receive the country's highest athlete accolade. A parade was held in Mexico City to honor her achievement.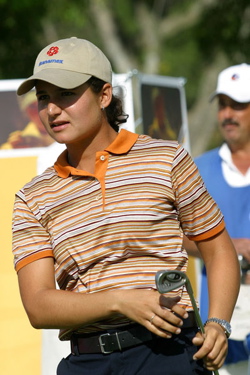 Hole Six
In only ten events on the Futures Tour in 2002, Ochoa won three times, placed runner-up four times, had a scoring average of 69.27, and was first on the money list. She secured her LPGA card easily.
Hole Seven
Its no wonder Ochoa found so much success in 2006 as she's first in each of the following statistical categories: Birdies (353), eagles (14), rounds in the 60s (51.9% of total rounds played), greens hit (75.6%), scoring average (69.30), and Rolex Player of the Year points.
Hole Eight
Ochoa has won five events in 2006: the LPGA Takefuji Classic, the Sybase Classic, the Wendy's Championship for Children, the Corona Morelia Championship, and the Samsung World Championship. She leads the money list with $2,342,872. The closest she got to winning a major this year was finishing second at the Craft Nabisco Championship, losing in a playoff to Karrie Webb.
Hole Nine
Ochoa has set her sights on becoming number one in the world rankings. Her work ethic, calm demeanor, and both collegiate and professional performances indicate she can do it.
Photo Credits: © Lorena Ochoa .com.