I can't think of another golfer, man or woman, who won 17 tournaments including one major in the first two years after joining professional competition. Nancy Lopez accomplished in her freshman and sophomore seasons what some never achieve their whole career.
Her quirky swing and dominating play made her one of the LPGA's most celebrated and winning athletes. She is known as much for being a gracious competitor as she is her impressive record.

Hole One
Nancy Lopez received her first set of golf clubs at eight years old.
Hole Two
Lopez was named rookie of the year, player of the year, and recieved the Vare Trophy for lowest scoring average in the same season. She won nine tournaments in her inaugural season – a feat which has never been repeated. I can't see it every being repeated again by a male or female golfer.
Hole Three
She was named Player of the Year four times by the LPGA (1978, 1979, 1985, 1988).
1978: Nine wins with one major
1979: Eight wins
1985: Five wins with one major
1988: Three wins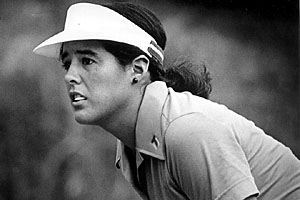 Hole Four
With 48 LPGA Tour victories from 1978 to 1997 Lopez is seventh on the all-time wins list. She retired in 2002.
Hole Five
She won a total of three LPGA Championships (1978, 1985, 1989) and finished in the top-10 another 22 times at the majors. She finished second or tied for second seven times.
Hole Six
Nancy and her husband Ray Knight, former Mets third baseman and 1986 World Series MVP, promote heart health with their "Back in Full Swing" campaign. Lopez' parents both have suffered from heart disease and her father died of heart failure. Ray has suffered a heart attack.
Hole Seven
Lopez earned $5,320,877 over her twenty-four year career.
Hole Eight
She received the USGA's highest honor, the Bob Jones award in 1998, for distinguished sportsmanship.
Hole Nine
By age thirty Lopez had been inducted into the Hall of Fame with thirty-five victories.
Photo Credit: © Georgia Encyclopedia.