Taking a tiger by the tail is supposed to be a good thing. It's akin to slaying a dragon. Of course, the unspoken part of taking that tiger's tail is that you have to actually come out on top. Otherwise, it's more like tilting at windmills. Brave words, but no accomplishment.
For the most part, PGA Tour pros are very careful of what they say about fellow competitors. Those who dare diss Tiger Woods, whether outright or inferred, tend to pay a hefty price. It seems Tiger feeds on afronts, even when they are not meant as such.

Already this year, we've had two incidents where loose lips sink… er, anchors, editors, and possibly players. So, let's take the occasion to look back on past Tiger Taunters and how they fared. Of the nine people mentioned below, the majority of them almost certainly meant no harm by their comments. They either didn't realize what they were saying as the words left their lips or they were only trying to psych themselves up to play their best. But Tiger is extremely competitive. There's only one way to answer trash talk, play your best and quash the opposition.
Most of the following are innocent of malice, if a little dense. The others should work a little on their cliches, like in Bull Durham. "We gotta play them one day at a time… I just want to give it my best shot and, good Lord willing, things will work out."
Hole One: Fuzzy Zoeller
The Taunt: In what was probably intended as a joke, with drink in hand following his final-round 78 at the 1997 Masters, Fuzzy conceded that Woods would win and told journalists, "That little boy is driving well and he's putting well. He's doing everything it takes to win. So, you know what you guys do when he gets in here? You pat him on the back and say congratulations and enjoy it and tell him not to serve fried chicken next year [at the Champions Dinner]. Got it?" Zoeller then smiled, snapped his fingers, and walked away before turning and added, "or collard greens or whatever the hell they serve." Ugh.
Tiger's Reaction: "I'm sure Fuz didn't mean anything derogatory; as a matter of fact, I thought it was funny."
The Aftermath: Though Tiger did not blame Fuzzy, his delay of several days before responding may have inadvertantly hurt Zoeller. Fuzzy was dropped by two of his major sponsors: K-mart and Dunlap. Already in the twilight of his PGA Tour career, Zoeller for the most part just bided his time until joining the Champions Tour in 2002.
Hole Two: Kelly Tilghman
The Taunt: It wasn't a taunt so much as an ill-advised and unprofessional comment while joking on air with Nick Faldo. Following Faldo's comment that young players hoping to beat Tiger might be best served to gang up on him. Tilghman added "lynch him in a back alley." Oops!
Tiger's Reaction: Mark Steinberg, Woods' agent at IMG, said it was a non-issue and considered the matter closed. "Tiger and Kelly are friends, and Tiger has a great deal of respect for Kelly," Steinberg said in the days following the comment.
The Aftermath: The Golf Channel suspended Tilghman for two weeks. Time will tell if she will be fully forgiven by viewers, players and other interested parties (like Al Sharpton, who called for her dismissal). I think she will. For a more thoughtful take on the whole mess, see JP's post.
In an odd twist of collateral damage, the editor of Golfweek lost his job for putting a photo of a noose on the cover to highlight the story about Tilghman.
Hole Three: Paul Tesori
The Taunt: At the 2000 Presidents Cup, Tesori showed up with an embroidered "Tiger Who?" on the back of his cap for a match between the American Team of Tiger and Notah Begay and the International team featuring Ernie Els and Tesori's then-employer Vijay Singh.
Tiger's Reaction: Woods refused to concede a putt on the fourth hole. The distance: one-and-a-half feet… 18 inches.
The Aftermath: Former Stanford teammates, Woods and Begay went on to win the match 1-up. And despite Tesori's apology following the round, Tiger also beat Singh 2&1 in singles. Tesori actually kept his job for quite some time afterward, but now caddies for Sean O'Hair.
Hole Four: Phil Mickelson
The Taunt: It was the winter of 2002-03, and Phil was digging his new Titleist driver and ball. "He hates that I can fly it past him now. He has a faster swing speed than I do, but he has inferior equipment. Tiger is the only player who is good enough to overcome the equipment he's stuck with."
Tiger's Reaction: Tiger won five times in 2003 with his 299.5 yard driving distance (11th on the Tour). Sure, he gave up 6.5 yards to Phil that year, but Phil didn't win a single tourney in 2003.
The Aftermath: Since the comment, Mickelson has switched equipment companies and won 11 times including three majors. In 2007, he was 29th on Tour in driving distance at 298.1. Tiger has won 28 times including 13 majors. In 2007 still, Tiger was 12th in driving distance at 302.4.
Hole Five: Sergio Garcia
The Taunt: Sometimes, fairly innocent statements can still be interpreted as trash talk. Following a 67 in the third round of 2002 U.S. Open at Bethpage, Garcia told the media, "I'm respectful of his game and his persona. But we're just two human beings trying to put a little ball in the hole." Tiger… human?
Tiger's Reaction: Woods shot 72. Garcia shot 74, finishing fourth.
The Aftermath: Sergio Garcia is arguably the best player to have never won a major. And he probably won't until he learns to putt (and not to spit in holes or whine about bad breaks or…).
Hole Six: Woody Austin
The Taunt: Let's ignore that Woody said he outplayed Tiger during the second round of the 2007 PGA Championship when Woods shot 63 to Austin's 70. That's too easy. Fast Forward to East Lake and the Tour Championship, where Austin was heard to tell the press, "He's just hard to catch. He's not hard to beat if you're playing as well and you're right there. But if you let him get in front of you, like I said, he's hard to catch." Um… right.
Tiger's Reaction: "Say that again?"
The Aftermath: Tiger had a friendly carp trip Woody as he tried to play a shot from a pond during the 2007 Presidents Cup. Not really, Woody managed that all by himself, and that's also why his comments don't stick like some of the others in this list. It's just Woody being Woody. And that's OK. He's a bit of an oddball, but we like that. Here's a trivia question: Who was PGA Tour Rookie of the Year in 1995 (the year before Tiger won)? Yup, former bank teller, Woody Austin.
Hole Seven: Steven Ames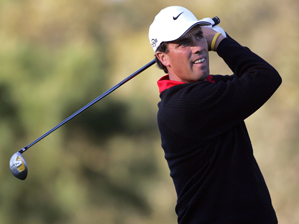 The Taunt: "Anything can happen. Especially where he's hitting the ball." — Stephen Ames was smiling as he said it, before his 2006 Accenture Match Play Championship first-round appointment with Tiger. But he soon regretted it.
Tiger's Reaction: Woods won 9&8, after winning every hole on the front nine. Only a halve on number 10 prevented the "perfect" 10&8 victory.
The Aftermath: Ames went on to win a few weeks later at the Players Championship. He's had solid years since, but he doesn't seem to make many comments about Tiger these days.
Hole Eight: Rory Sabbatini
The Taunt: Less than a week after shooting 74 to Tiger's 69 at the 2007 Wachovia Championship, Sabbatini inadvisedly opened his mouth. "The funny thing is, after watching him play last Sunday, I think he's more beatable than ever. I think there's a few fortuitous occasions out there that really changed the round for him at Wachovia. And realizing that gives me even more confidence to go in and play with him on Sunday again."
Tiger's Reaction: At the Bridgestone Invitational, Rory tied for second after shooting a 74 (and had a firefighter kicked off the grounds). Woods shot 65 to win.
The Aftermath: Just check the Web… While some admire Rory's pluck, many do not. When he withdrew from Tiger's Target Challenge in December with shin splints, he didn't win many friends. He was, at that point, 28-shots back, in last place. But he did manage a first… the first player to withdraw in the event's nine-year history.
Hole Nine: Ian Poulter
The Taunt: "I haven't played to my full potential and when that happens, it will be just me and Tiger."
Tiger's Reaction: An opening round 65, put him in the lead of the Dubai Desert Classic, five strokes ahead of Poulter.
The Aftermath: Only time will tell if Poulter's comment will haunt him for the foreseeable future. But he should probably hope not to be in Tiger's bracket at the WGC-Accenture Match Play Championship this month.
Photo Credit: © AP; © Getty Images