After Phil Mickelson's bizarre performance on the 18th hole of the U.S. Open, the best thing we could do is visit some of the more poignant quotes related to Phil Mickelson's meltdown.
Is it just me or did Phil play that hole much like us hackers? I seem to remember playing all 18 holes just like Phil's 18th at my local course last weekend. The guy has enough golf skills to get the job done but apparently someone turned off his ability to manage a course.
Fasten your seat belt, because here comes the pain.

Hole One: Rick Smith
"Every player will always fall back into the old… It's not a choke," said Phil's swing coach Rick Smith. "He was struggling with his driving all day. If you're playing well, then blow it off the planet. If you're striping it every single time and then you hit it 50 yards off-line, that's a choke."
Hole Two: Jay Leno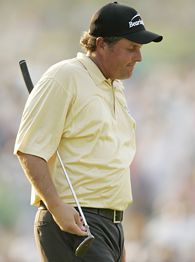 "North Korea is getting ready to test a missile they say can reach the [U.S.]," said Jay Leno. "Let's just hope their aim is as bad as Phil Mickelson's."
Hole Three: Dave Pelz
Short-game coach Dave Peltz chimed in: "If he had driven it at Winged Foot the same way he did at the Masters, he would have won by 10 shots. His short game was that good. And faced with a similar set of circumstances next time, he'll probably be more conservative."
Peltz tried to be as encouraging as possible under the circumstances: "None of us are perfect. It won't affect him down to the core."
Hole Four: Tom Watson
"Mickelson was two up with two holes to go?" asked Tom Watson after returning from a fishing trip with Jack Nicklaus. "He bogeyed No. 17 and double-bogeyed No. 18?"
"He had an easy option to get back into play? Really?"
"What are you playing for?" Watson asked. "You're playing to win, not be a hero. The only person you have to beat is yourself–and he beat himself. It sounds like he beat himself because he didn't play the percentage shot."
Hole Five: Jack Nicklaus
"Put the ball in play. Go play golf," said Jack Nicklaus.
"You don't ever give up the end of a golf tournament," Nicklaus added. "I didn't like that feeling [picking the wrong club in 1963 to finish bogey-bogey for a loss] and said I'd never do that again, and I never did."
Hole Six: Kenneth Ferrie
"Oh, I felt so bad for him," said playing-partner Kenneth Ferrie. "It looked like he had an opening there from the scruff at 18. He's aggressive, not stupid. But this is a sick game, remember."
Hole Seven: Johnny Miller
Johnny Miller dropped some gems on Phil: "This better be a 4-wood," said Miller as Mickelson pulled a club on the final tee.
"You don't have to run down the last stretch on a white stallion, you know, you could limp in there and say, 'Thanks for the trophy.'"
Speaking of his terrible lie in the bunker: "I want to see the look on his face when he sees where the ball is."
Hole Eight: Arnold Palmer
Arnie, speaking of his 1977 U.S. Open collapse, said on Monday: "Been there. Done that."
"So absolutely, I don't have any question that Phil will bounce back. If anything, it might be a powerful lesson for him. He's still young enough, and this will get him in a mind-set that the next time it happens he'll know exactly what to do.
"Losing only made me more determined to win. I don't know many players who have won majors who haven't at some point had the same thing happen to them. Whether it's Nicklaus, Player, Snead, Hogan. I've done it numerous times. Some guys I suppose never recover… But I think Phil will."
"I'll probably drop Phil a note and tell him it's just one tournament. I'll tell him he shouldn't let it ruin a great life and a great run."
Hole Nine: Phil Mickelson
Phil Mickelson chimed in after the final round:
Well, I still am in shock that I did that. I just can't believe that I did that. I am such an idiot. I just couldn't hit a fairway all day. I just couldn't hit a fairway all day.

I tried to go to my bread and butter shot, a baby carve slice on 18 and just get it in the fairway, and I missed it left. It was still okay, wasn't too bad. I just can't believe I couldn't par the last hole. It really stings.

As a kid I dreamt of winning this tournament. I came out here and worked hard all four days, haven't made a bogey all week and then bogeyed the last hole. Even a bogey would have gotten me into a playoff. I just can't believe I did that.
And that about says it all.