When Ryan Moore turned pro prior to the Barclays Classic there was plenty of reason to believe that he could qualify to play on the 2006 PGA Tour. But would he? No one since Tiger Woods had played his way onto Tour and no one has done it with as much flair.
In 1996 Tiger played the Masters, the U.S. Open, and the British Open as an amateur and turned pro prior to the Greater Milwaukee Open where he tied for 60th place. 5 events later he was hoisting a trophy at the Las Vegas Invitational. Two weeks beyond his first win he captured the Walt Disney World/Oldsmobile Classic. While Ryan Moore has yet to win an event on Tour, he has five top-25's under his belt so far and is well on his way to a solid career as a professional. His amateur performance is as good as any.

Moore took advantage of the seven sponsor exemptions available to him and bypassed Q-School and the Nationwide Tour altogether. The road he's travelled has been impressive.
His resumé as an amateur is well documented and impressive. Cody Thrasher spoke about Ryan Moore's accomplishments in a June installment of Thrash Talk:
Along with his U.S. Amateur title in 2004, Moore also won the NCAA Championship at UNLV, the U.S. Amateur Public Links Championship, the Western Amateur Championship, and the Sahalee Players Championship. His summer definitely set the new standard for amateur golf.
Moore won nine amateur and collegiate tournaments in 2004. His scoring average was 68.79 for the year. Not bad. No one had won more than three amateur events in one year prior to Moore's dominant year.
Perhaps not since Bobby Jones' Grand Slam has an amateur been so dominant in such a short amount of time. Jones had a year to grab his four titles and Ryan took a year for five. While Moore hasn't withstood the test of time and only hindsight is 20/20, he's gotten off to a fast start. His chances of grabbing a win in 2005 diminish with each passing week but he doesn't need to prove his ability to do so.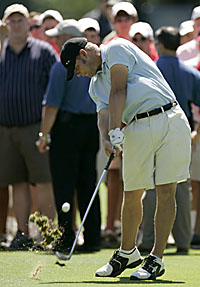 Currently 134th in the Official World Golf Rankings, Moore is not an official member of the PGA Tour. Through several sponsor's exemptions he has earned the equivalent of 113th on the PGA Tour's money list thus far and appears to be a lock in next year's schedule. All he needed was to surpass the 125th ranked player on Tour to advance. No Q-School or Nationwide Tour for this young man. He's gone straight from college to the pros.
His total of $686,250 in just 10 events as a professional is worthy of recognition. Missing the cut in his second and third outings as a pro, the Cialis Western Open and the B.C. Open, Moore bounced back by turning in a T2 at the Bell Canadian Open, earning $440,000. His place on the 2006 Tour schedule was secured last week at the FUNAI Classic when he finished T13 and earned $88,000. Many players grind it out all season to secure a Tour card and Ryan Moore did it in just 10 events.
Moore's comfort level with his swing is the primary reason that he has performed so well. He hasn't tried to reinvent himself for the PGA Tour or play above his comfort level. Ryan has brought what he has to the table and made good use of his tools. In a May 2005 interview for Golf Digest Moore said
I credit how comfortable I am with my swing [for my success]. My dad has been my swing coach since I started playing as a kid, and he's really helped me focus more on making good swings instead of worrying about where the ball goes. I've put in the work at practice. On the course, it's a matter of trusting myself, committing to the shot and letting it go.
As a student of golf instruction I feel the advice Ryan's dad gave him ranks at the top of my list: Trust your swing. Golf psychologist Bob Rotella believes trusting in your swing is the surest way to maximize your effectiveness and Moore has proved this truth again. "I have never had any doubts about my skill level," Moore said shortly after the Barklays Classic. "Winning golf tournaments is pretty much the same thing. You have to play well, but you also have to think well."
So confident in his ability and stability as a golfer, Moore felt he could win the 2005 Masters. While he didn't win, he finished T13 which was good enough for top amateur honors and an invitation to the 2006 Masters.
Another reason for his success can be found in his cool-as-a-cucumber approach to life. Moore seems very relaxed on and off the course. "When he's on the course, you can't tell how he's playing," said Moore's former teammate Troy Denton. "There's no fist pumps or head hanging. That's not what he's about." Darren Clark was paired with him in the final round at the Masters and had this to say about him: "Ryan's good fun. He's very calm, very collected. He knows what he's doing out there."
Switching gears to equipment, Moore has chosen to stay with Ping Golf. I respect Moore for sticking with the company that got him to the big dance. This was a smart move on his part as there was no equipment adjustments to be made in the transition from amateur to professional. There were many options open to him but he stuck with what he knew and I believe that has paid off. It could be that people like Ryan Moore and Chris DiMarco will draw more people to the Ping line. Moore has been paid handsomely for carrying his Ping sticks.
One of the reasons that I'm a fan of Ryan Moore is that he's a local boy. Moore went to high school about 30 minutes north of our home outside Olympia, Washington. He hails from Puyallup, Washington. Northwest golfers have to brave a little more rain than do golfers from other parts of the country. Lest this turn into a pity party, some of you have to shut down altogether when the snow flies. Another Northwestern alumni, Freddie Couples hails from Seattle, Washington, just up the road from Puyallup, so he's not the only Tour regular from the Northwest.
All Moore needs to do in the coming years is rely on his swing. He has no need for a massive swing change (even though he does quite a bit of re-routing from back-swing to downswing), the services of a great swing guru, or years in the PGA Tour basement. All Moore has to do is continue on his present course. If he can stay relaxed, enjoy the game, continue to embrace his swing, and stick to his game plan he can look foreword to winning multiple times in the next few years.
Ryan Moore should become a dominant force in the coming years. I think that he has the mental approach necessary to make it happen. Join his cool attitude with his repeatable swing and you've got a guy who could quickly surpass the likes of Sergio Garcia, Adam Scott, and maybe even join Singh, Mickelson, Els, and Goosen in their far fetched pursuit of Woods. Way too many players have been under-whelming when put into the spotlight. I'm sure Ryan Moore will not be one of them.
Photo Credit: © John Mummert, USGA.