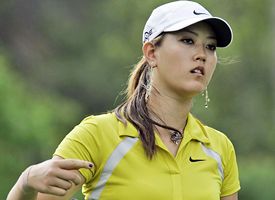 A few years ago I gave Michelle Wie the benefit of the doubt. Last year I stood up for her. While people were screaming "she hasn't won anything!" (despite winning the 2003 Women's Public Links) and declaring that she should follow the same path Tiger took to success in the world of golf, I sat back. I suggested that the Michelle Wie story will be written by Michelle Wie, and that only years (or decades) later could we sit back and judge whether Wie had taken the best path.
I was both wrong and right. It appears the story is no longer being written by Michelle Wie – she's merely a bit player in the sad story of B.J. Wie's corruption of his daughter. She's the "talent" and he's the ruthless, money-hungry stage dad who's making all the wrong moves.

Though I won't rehash the details of the latest stunt (pulling out of the Ginn Tribute with two holes to play and dangerously close to shooting 88 or higher), I will acknowledge that the whole series of events is what prompted this article. I've said in the past that within five or ten years, Michelle Wie could be out of golf entirely, and nothing about her +14-through-16-holes performance tells me any differently. According to her playing companions, Michelle was unenthused, bored, and playing with no obvious discomfort or pain. Those facts contribute to the growing belief that Wie's Ginn performance was more teenage rebellion than golf star rehabilitation.
Who can blame her? If I'm even within a 650-yard par five of the truth, B.J. Wie has already gone too far in controlling his daughter's career. He needs to be put in his place, and the only person who can do that is Michelle Wie. I'm not sure she can legally do that until she's 18. Despite having always struck me as more "Valley Girl" than "Preppy Nerd," I pray that Michelle is smart enough to know that her father is running her life into the sewers… right after that ball she hit off a parked car and down the storm drain.
When Michelle Wie burst onto the scene, B.J. was urged by virtually everyone to follow the Earl Woods method of raising a champion golfer. Instead, B.J. appears to be following in the footsteps of one Marc O'Hair. But there's one important difference: B.J. was smart enough to wait for his offspring to rake in a few million bucks before he went totally ape-shit zany.
People are fond of saying "but she's only 17 years old" as a way of excusing her behavior, but it explains her behavior to me. How much of Michelle's behavior is about obeying – or, perhaps even worse, trusting – her father and how much of it is about doing what she wants to do? How many of the decisions regarding her career and her golf game does Michelle actually make? Probably about the same number as her professional career win total.
The LPGA Tour has reached a critical point in its lifetime. The mess commissioner Carolyn Bivens made of early 2006 has passed. Rising stars like Paula Creamer, Natalie Gulbis, Lorena Ochoa, and Brittany Lincicome clashing with resurgent veterans like Se Ri Pak and Carrie Webb have made headlines. The LPGA Tour hasn't been this compelling since Nancy Lopez stormed the Tour in 1978, and it only stands to get more interesting with good play from Michelle Wie and the return of Annika Sorenstam.
Just as Tiger has tremendously benefitted the PGA Tour and its players, Michelle Wie could benefit not only herself but hundreds of female professional golfers. I still believe she has the potential to take the LPGA Tour and women's golf to new and exciting places, so I'm calling on the LPGA Tour to not only look out for its own interests, but the welfare of a young little girl with a lot of talent and a deranged parent.
Was Michelle's Ginn performance a silent protest and a muted cry for help? Or was it just a bad performance from a talented golfer with a lot going on? Either way, it wasn't what B.J. had written.