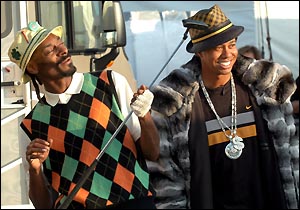 Eldrick "Tiger" Woods was born on this day, December 30, in 1975. Happy 29th, Tiger! Reportedly, Tiger slept in late today before a Swedish nanny named Elin cooked him breakfast in bed.
After breakfast, Tiger spent much of the day celebrating with his close pal from da hood, Snoop Doggy Dogg. Woods was overheard joking with Dogg, saying "fo' shizzle ma 2-dizzle wizzle pizzle." Dogg and Woods visited a local municipal mini golf facility, where Tiger was schooled on the ways of the Doggy Dogg lifestyle.
The Sand Trap .com tried to catch up with Woods as he was leaving the eighteenth green, but was brushed aside by a Woods determined to properly inflect the phrase "drop it while it's hot, drop it while it's hot."
Said Dogg on Tiger's departure, "Tiger had to get his fizzle swizzled by his Norwegian bizzle, yo." The Sand Trap .com wishes Tiger Woods the best on his 29th and wishes him a wonderful 2005.
Oh, and we wish for ourselves the chance to meet Elin's twin sister. Yeah.
Photo Credits: © Unknown