Although fraught with jitters on day one of the Casio World Open, sixteen-year-old Michelle Wie was determined to qualify this week. This is her sixth men's tournament and the young girl had some pretty big shoes to fill since 1945 when Babe Didrikson Zaharias last qualified for an event on the PGA Tour. Annika Sorenstam and Club Pro Suzy Whaley entered the men's arena in 2003 at the Colonial but also failed to make waves. Wie is also the second female to play on the Japan Men's Tour since Sophie Gustafson missed the cut in this same event in 2003.

With huge crowds following Wie from tee to green and practically no one even taking notice of last year's champion, David Smail, it was enough to make even the greatest golfers in the world a bit shaky.
"I felt a little nervous off the tee," said the young Hawaiian. "But being nervous like that can be a good thing."
Teeing off at the tenth hole of the Kochi Kuroshio Country Club, Michelle failed to birdie a hole until the par-4 sixth hole where a sand wedge shot landed just four feet from the pin. That gave her enough confidence to birdie the par-5 seventh hole after her drive landed in the rough. Ending her first round with a 1-over-par 73, Wie felt ready for her next day of competition. She only trailed her competition by five strokes.
Day two must have reminded Michelle of her m/c at the John Deere Classic. Just as in the final holes of the Classic where she bogeyed two out of the remaining four holes to miss the cut by two strokes, Michelle fell apart making bogeys on the 17th and 18th holes of the Casio and missed the cut by a single stroke. A par on the 18th would have given Wie a chance to play alongside of the men on the weekend but instead Michelle is sitting on the sidelines again licking her wounds.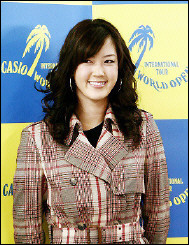 "Obviously I'm very disappointed," said a disgruntled Wie. "I played as well as I could. I tried my best today, but things just didn't work out and it wasn't meant to be." She folded under the pressure once again.
Michelle finished her second round with a 3-over 75, shooting three birdies and six bogeys and tying with eleven players for 68th position on the leaderboard. The top sixty players go on to the weekend.
It often comes right down to the 18th hole in many scenarios on Sunday as it did in Michelle's round. Partly blamed on the twenty-minute wait at the 18th tee, Michelle's drive went into the right rough. Although she hit it back into the fairway, her next shot was short and Wie had to chip on and putt in. Her putt missed and with that, so went her chance again of playing in a men's tournament.
"I was a bit nervous walking up the 18th fairway," said Wie. "I was just trying to play a good hole and make par, but it didn't work out that way."
So Michelle didn't make this cut. That doesn't mean she's going to give up her quest to play in PGA-sanctioned tournaments or in any men's event that will have her. Let's be honest. Her prescence brings in the big bucks and fans come out to see her so I'll bet she'll keep getting lots of invites and exemptions. She's not only good for women's golf but she will also do much for some men's tournaments that could use a popularity boost.
"Not making the cut here has not made me want to play in men's events," Wie said. "Hopefully, I can learn from the mistakes I made here and come back here." I'm sure the Japan Men's Tour will welcome you back with open arms. The only other time I knew that there was a men's tour in Japan was several weeks ago when Tiger Woods struggled at the Dunlop and won after four playoff holes.
There's plenty of time to practice before Michelle again plays on the PGA Tour. She's expected to compete at the Sony Open in January in her homeland so chances are she'll be under alot of pressure. But hopefully Michelle Wie will finally learn from her mistakes and make the cut.
"I really realized here that I need to work on a few things before the Sony Open," she said. "I've got to work on my irons and my putting."
Photo Credit: © Todayonline.com.