The Players has been called the "fifth major" by certain fans and members of the golf media. The Sand Trap staff members don't consider it a fifth major, but it's pretty damn special nonetheless. If I was a professional golfer, I'd want to win this event more than any other after the four major championships. It isn't called "The Players" for nothing.
When big golf tournaments arrive, so does the Tiger talk. Mr. Woods narrowly missed out on winning The Masters last month, but he did win the Wachovia Championship this past weekend. He is obviously playing very well right now, and he will be the heavy favorite as usual. Woods has won The Players before, but it's not his best event by any means. It will be interesting to see how he plays this week.
Other favorites include Vijay Singh and Phil Mickelson. Singh has quietly put together another solid season and would love to win The Players on his home course. Mickelson is also playing pretty well after going through a large coaching change and a small swing change. Will one of these three win this week, or will a dark-horse like Fred Funk or Stephen Ames step up and take on the challenge? Who will disappoint, and who will surprise? Read what we think below. If you have anything to add, please comment below or discuss it in the forum.

---
Thoughts on the Course
Erik J. Barzeski
Rain is in the forecast, as are winds, and the first year any course completely rebuilds its greens they're extra-firm and extra-fast. It will be interesting to see what the GIR rate is this week, because my guess is – and early talk backs this up – that players are having a heck of a time just finding the putting surface with short irons. Balls hitting the fronts of greens are bounding off the backs! That's not golf – that's something else entirely.
I do think the firmer, faster fairways get back to what Pete Dye had originally envisioned, and if anything it'll let shorter hitters back into the fray (see also: Zach Johnson, 2007 Masters) as well as let Tiger hit stinger 3-woods until the cows come home.
One thing not being talked about much is the relatively new strain of Bermuda being used on the greens. Supposedly it's virtually grainless and putts just about like Bent. Will this give certain players an edge?
Donald MacKenzie
I will be interested to see how the Stadium Course plays after a massive renovation and the switch to May. This is a better time of year for the grasses used at the TPC Sawgrass, and the course looks to be fast and firm. If it stays dry, it will be as tough as Augusta was this year.
Jeff Smith
The changes at TPC Sawgrass are the future of golf in America. Get used to the idea of fast fairways, slick greens, and conditions that require precise placement on as many shots as possible. We saw it at Augusta and it's true for the new Players Championship. This is the one way that tournament directors and course architects can protect their precious creations from scores too far under par.
Cody Thrasher
The TPC of Sawgrass is one of my favorite courses in the world. It doesn't get the respect it deserves by much of the golf media. Tiger doesn't think the island hole should be the 17th hole in the tournament, but he is dead wrong. The 17th hole is awesome in that spot, and it has proven to be a tournament changer over the past 20 years or so. The final three holes are better than any other three finishing holes in golf. I can't wait to see how the course looks and plays in May instead of March. If the wind blows like it did much of last year, conditions will be tougher than ever.
Dave Koster
I love watching the 17th. Next to the 12th at Augusta it is possibly the most famous par three in golf. While you may not win the tournament on that hole, you can certainly lose it.
Jack Waddell
Outside of the fun watching the carnage at the 17th hole, the TPC at Sawgrass never has held much visual appeal for me. Somehow it's always come across as Harbour Town on steroids – a sort of plastic faux Florida flamingo cartoon of a course. But that's just me. It should be interesting, however, to see if the makeover results in a drastically more difficult test.
Alan Olson
The course got a makeover this year with better drainage, new turf, and some venting systems for the greens. It's a cool course but one I don't get too excited about. As much as the PGA Tour tries, it's not a major (or even close).
---
Winner and Score
Erik J. Barzeski

Tiger's on a hot streak, but I think -6 gets it done this week and I think he's the guy to do it. The greens are virtually rock-hard, the wind is whipping, and everyone's going to have to learn how to read the greens all over again because they're not the same as they used to be.
I like to say that given the choice between Tiger and the field, you always take the field because even Tiger can't win more than 25% of the events in which he plays. But since he's finished first or second in something like 14 of his last 15 stroke-play events and won eight of 15 in 2006 and three of six so far in 2007, those odds no longer work.
Donald MacKenzie
Stuart Appleby at 6-under (282). I know Tiger's looking good again, but I don't see him grinding this event out the way he would if it were a real major championship. The door will be open for someone to have a lights-out weekend, and my gut feeling is my mate Stewie.
Jeff Smith
Tiger Woods at -11 (277). It's pretty hard to pick against Tiger these days. He has won 50% of the tournaments he's entered this year. He doesn't have a great record at TPC Sawgrass because he tends to hit it a little too sideways off the tee. I think the equalizer will be the course. The difficulty will play into Tiger's hands.
Cody Thrasher
Vijay Singh at -6 (282). Vijay has wanted to win this event for a long time, and he has come close on numerous occasions. Tiger hasn't always played his best at this event, so I'm going with the sentimental story this week. It doesn't hurt that Singh is having a great year already.
Dave Koster
Tiger Woods at -10 (278).
Jack Waddell
Henrik Stenson at -8 (280). He's been impressive this year, including his Accenture Match Play Championship win. He has the perfect game from this kind of course and tied for third in last year's Players. And yes, I'm well aware that I'm an idiot for not picking Tiger Woods.
Alan Olson
Tiger Woods at -12 (276). No one on Tour can stand up to him, and that will unfortunately continue.
---
Dark-Horse Winner
Erik J. Barzeski
Steve Stricker is on a hot streak, and if he doesn't play like a 10-handicapper down the stretch like he did at last week's Wachovia, he has as good a shot as anyone outside of the usual suspects to pull off the biggest win of his career.
Donald MacKenzie
Sergio Garcia. It's hard to believe, but Sergio is starting to look like he may not turn the corner and become the dominant force we all expected. There's still time, but he needs to find himself in the hunt at a big event and close the deal. The way he can golf his ball off the tee will give him a big advantage at Sawgrass. And his putting… well, maybe this is the week the blind squirrel gets an acorn.
Jeff Smith
Luke Donald because Sawgrass is a perfect venue for the straight hitters. Despite not grabbing a win in 2007, Donald has two runner-up finishes and is one of those steady players that strings four good days together from time-to-time.
Cody Thrasher
Jerry Kelly. It's hard to believe this guy is ranked 62nd in the world, but it's the truth. Kelly has been playing very well in recent months, and this could be his week. He has knocked on the door on more than one occasion over the past month, and this may be the week someone answers.
Dave Koster
I picked Brett Wetterich in the Masters, which wasn't a bad prediction for the first two rounds. I still like him here. Something makes me think he'll break through soon.
Jack Waddell
Unlike the true majors, The Players just doesn't seem to generate the same mind-numbing, shaky-knee syndrome among the contenders. And that's good for true dark-horse prospects with the kind of resumé Craig Perks brought to the event when he won in 2002. Closing my eyes and jabbing my finger at the names in the field, I came up with Vaughn Taylor.
Alan Olson
Sergio Garcia. Someone whispers in his ear that it's the Ryder Cup, and he ends up not only winning but also leads the field in fewest putts per round.
---
Biggest Disappointment
Erik J. Barzeski
Vijay Singh wants this too badly to play it well and, surprisingly, his local knowledge doesn't help (besides, how much local knowledge can you have when you're playing in 45 other PGA Tour events per year?). Ernie Els again has a poor week as his driving and loose iron shots continue to haunt him. Phil Mickelson fails to contend and is done in by the tricky 17th on Saturday to fall from the leaderboard. That's right, I'm throwing a three-pack at you, and they're all top-ten ranked players.
Donald MacKenzie
That no matter what, the Players will just never become a major championship. The disappointment isn't mine, it's the PGA Tour's. The Players and the Presidents Cup are good, well-run events. But let's leave it at that.
Jeff Smith
I can't decide between the two, so I give you former members of the "Big Five" Ernie Els (who happens to be five right now) and fellow South African Retief Goosen.
Cody Thrasher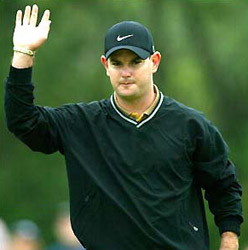 Rory Sabbatini. The young South African is ranked 17th in the world and has played great over the past month or so. Sabbatini's good charm will run out at the TPC at Sawgrass. I can definitely see him racking up a big score at the 17th hole early in the tournament. His fiery temper won't mesh very well with that, and things will go downhill from there.
Dave Koster
Jim Furyk missed the last two cuts and may miss the cut here. He's 133rd in putting, a cataclysmic drop from his eighth-place finish last year. Something's wrong lately with Jim, and I don't expect it to correct itself quickly.
Jack Waddell
Just as I did for the Masters, I'm picking Phil Mickelson as the biggest disappointment. I'm something of a Phil fan, but Lefty still doesn't seem to have his game back. Whatever Butch Harmon is helping him with, it's still got to be just a band-aid for now. Real change takes time. See Tiger Woods.
Alan Olson
Ernie Els. The guy with the sweetest swing in golf hasn't won in what seems like forever. That streak continues…
---
Largest Surprise
Erik J. Barzeski
Tiger finds the putting surface at the 17th in all four rounds. With the low GIR rate there of only 55%, that would be something of a miracle. After all, the odds are, what, less than one in ten that he'll do that? Site of one of his most memorable U.S. Amateur wins (straw hat and all), the "gimmicky" hole has just continued to beat him up.
Donald MacKenzie
The number of lesser names on the leaderboard come Sunday afternoon. There's not as much pressure at the Players as at a real major, so I expect to see some of the big names fail to find that extra gear on the weekend – and for some of the younger dudes to fire at flags and not feel the pressure that slaps them around at places like Augusta and Winged Foot.
Jeff Smith
Sergio "pardon-me-while-I-spit-in-the-cup" Garcia is truly one of the great ball strikers of our day. This is his weekend to make a few more putts on Sunday and be in contention.
Cody Thrasher
Stephen Ames will once again be in the hunt. Ames won last year, but most people won't be picking him this time around. However, the less-than-popular Ames has been playing great golf as of late, and he will once again get himself into contention at Sawgrass. He loves this event!
Dave Koster
There will be a lesser-known player in the final group on Sunday. A Jonathan Byrd or Jeff Quinney will play their way to the top of the leaderboard, only to slowly vanish on Sunday.
Jack Waddell
Tim Finchem will confess that ripping down Deane Beman's clubhouse and building his own fake Spanish monsterpiece is the touchstone of his reign over the PGA Tour and has sufficiently sated his edifice complex.
Alan Olson
Anthony Kim ends up with a top-five finish.
Photo Credits: Unknown, Unknown.