It's a touch of déjà vu. Tiger is MIA, and his return is the biggest story of the season. Geoff Ogilvy is off to a hot start with his season-opening win in Hawaii, and John Daly is about to steal the stage.
Wait, what?
Sure, 2009 set the bar high in terms of drama. Name a year with four better major Sundays, and a group of four less likely winners. And that paled in comparison to the Woods family drama that made the Silly Season all the sillier. Well, 2010 has a lot to live up to, but there's no telling just how wacky it'll get. Long John is leading all of Golf Channel's current promos, after all.

Predictions for 2010
John Daly Surges
There are only two golfers who move the needle, and one of them is hitting golf balls in the dark and trying to be a family man. America loves reclamation projects and characters. John Daly is both.
Consider reality TV. Not only would Long John fit into the cast of Celebrity Rehab, he'd have kicked butt on The Biggest Loser with his 115-pound loss. Add the fact he'll star in his own reality show on Golf Channel and the formula is right for him to step right back into the spotlight, not just among golf fans, but he can break into the mainstream as well.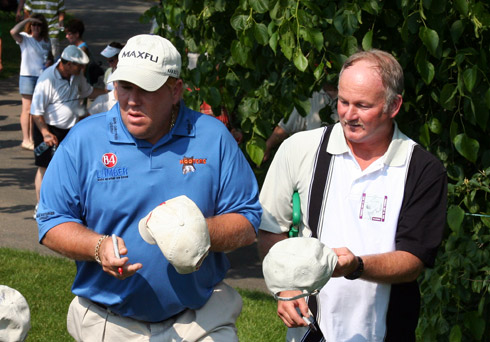 It was long said that fans would rather watch Arnie shoot 75 than most guys shoot 65, and this will prove true for Daly as well. As magical as it would be, is it possible Daly could contend and even win on Tour this year? Sure, it's possible. And if he gets off to a strong start at some of the early stops, there's nothing to say he can't capture the public's imagination. How about a Sunday afternoon duel with Mickelson in front of the rabid fans in Phoenix? It remains to be seen what tournaments he lands in, but with a few exemptions, he'll have the shot to play himself back onto the big stage. And the truth is, the networks and tournament brass sure need something to cling to in Tiger's absence and if Daly can behave (or misbehave just enough) we'll be seeing a lot of him, for better or for worse.
And even if Daly misses cuts and plays himself back off the Tour, his reality show will have him in the public eye enough regain his rightful place as the biggest personality in golf in 2010.
Mickelson Thrives, Public Shrugs
As he stood on the tee at the 2006 U.S. Open, I declared to everyone around me that for the first time, Mickelson was about to dethrone Tiger as the world's undisputed best player. Of course he managed to blow his drive so far left you'd think I'd hit it for him. And that was that, Phil was back to his rightful place as Number 1 in our hearts, Number 2 in the rankings.
It basically cemented him there. So now that things set up for him to take another run at Tiger – his wife's health seems to have rebounded, his game shaped up nicely at the end of the season, and his short game prowess may mean even more as others struggle with the new grooves rule – Tiger goes away and Phil is left chasing a number one that can't be caught, since he's not on the scene. Truth is, Phil can win seven times this year, but unless three or four of them come with Tiger in the field, the golf world will continue to dismiss it.
You'll Pay More Attention to the LPGA Than You Think
As the NHL can attest, when you're hard to find on TV, you're hard to follow as a fan. Sure the LPGA schedule was hit hard by sponsor woes, but they're going to get a huge boost by teaming up with Golf Channel. Not only will their tournaments be easier to find than stumbling upon a couple random hours on ESPN2, but they'll gain from greater visibility on TGC shows thanks to greater access and a vested interest in promoting the LPGA.
As "Michelle Wie, the Phenom" transitions into "Michelle Wie, the Really Good Golfer" she can stop being a freak show and start to be the sort of compelling personality to make women's golf worth watching. The Solheim Cup should have proven that there are enough personalities out there, and if it means adding some sex appeal to the game, there's nothing wrong with that.
The Champions Tour Will Remain Off Your Radar
With Fred Couples, Paul Azinger and Corey Pavin expected to deliver eyeballs. Kenny Perry turns 50, but why would he leave the flat belly tour when he's enjoying the success of his life? And while Couples and Azinger are charismatic guys, are you really going to carve out time on a Sunday afternoon in May to watch a Couples-Loren Roberts showdown on the back nine at Colorado Golf Club with the Senior PGA Championship on the line? Me neither.
Lucas Glover Proves He's No Fluke
The U.S. Open is known for crowning champions who never differentiate themselves elsewhere. But Glover will show he's got the game to move into the world Top 10. He ranked No. 2 in total driving last year and the consensus is that the groove change will be a heavier emphasis on play off the tee. Watch for Glover to post multiple wins in 2010 and stamp himself as a solid contender for multiple career majors.
Jim Furyk Continues to be the Best Player Nobody Cares About
Every generation has a truly great athlete with simply no flair or pizzazz. Furyk fits into this category. He's a major champ. He's been a consistent top-five world ranking guy. And if you had to name 50 golfers you'd pay to see play, it would take a while for "Furyk" to come out your mouth. Will he dazzle us in 2010? Nah. Will he contend in two majors? Likely. Will we notice? Doubtful.
Three to Bank On
1. Dustin Johnson – Entered 2010 ranked 54th in the world, he hits it super long and fits the mold of guys who can overpower a course. He's an exciting player and will take a step forward and prove he's one of the 20-somethings to watch this year.
2. Alvaro Quiros – Another guy just like Johnson, a huge driver of the ball, tall as heck, and brings the wow factor wherever he goes. His name popped up on several major leaderboards in 2009, and it's only a matter of time until he gains the U.S. public eye. Thank Seve and Sergio, but there's a mystique that surrounds Spanish golfers, and Quiros will be the next Spaniard to capture our imagination.
3. Tiger Woods – OK, it's not going out on a limb, but for all the talk about how this could sidetrack his career, can anyone see him not coming back even more zeroed in? Knowing the media zoo he'll get upon returning, it makes a lot of sense for him to return at the Masters where TMZ and People will be as welcome as Martha Burk. The course remains his sanctuary, and he's at his best when the doubters arrive.
Three Things We'd Love to See (But Won't)
1. Phil takes a one-shot lead to the 72nd hole of a major and pipes his drive down the middle and makes par to claim his fourth career major. It's more likely he'll break his fans' hearts, à la the 2009 U.S. Open when the storybook ending simply wouldn't be.
2. The 20-somethings steal back the mojo. Kenny Perry was a fun story the past two years, but wouldn't it be even more fun to see guys like McIlroy, O'Hair, Kim, Scott, and Villegas begin to shape up as a new Big Five?
3. Golf finds a villain. Rory Sabbatini was about as close as we've come in recent years, but it would give the game a real edge that's missing. Scott Hoch and Colin Montgomery were classic cases of guys to root against. That leads us to Sergio Garcia, who has said enough dumb things to be the villain of 2010. Sadly, in this age of spin doctors and publicists, the damage is always fleeting. But here's for someone to root against.
Here's to a great 2010. It's got a lot to live up to, but who knows. How about a major championship foursome of Mickelson, Woods, McIlroy, and Daly? Sure and next I'll tell you Tiger's mistresses sell him out to the tabloids. Oh, wait. Guess anything can happen.
Photo Credits: © Erik J. Barzeski / The Sand Trap .com, © AP.