I hope everyone had a Happy Thanksgiving last week, but it's time to get back to business. I wanted to write about Michelle Wie missing her sixth cut in six tries in men's events. However, I have picked on her enough in past editions of Thrash Talk. Instead, I'm going to focus on something a little more positive this time around.
David Duval ultimately comes to mind after playing so well last week in Japan. Duval has played awful since the start of the 2003 PGA Tour season, making just eight cuts in 49 starts. That is shocking, considering Duval was arguably the best golfer in the world in the late-90s. Last week, Duval teed it up in the Dunlop Open in Japan, and the final results were pretty positive. Duval started off great, fizzled a little down the stretch, but still finished in a tie for eighth.

Was that a fluke, or will we see more of the "good" David Duval in 2006? That's the main subject in this week's Thrash Talk. I am going to preview David Duval's upcoming season, and I'm also going to mention a few others who will return to prominence next season. There are some top golfers who have struggled lately, but that will all change when the calendar rolls over to 2006.
David Duval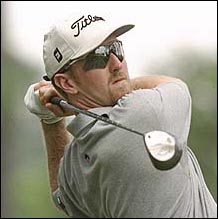 David Duval's collapse has been the biggest disappointment since I started watching golf in the mid-90s. I wasn't a huge fan of Duval, but I definitely enjoyed watching him play great golf. And his battle with Tiger at the top of the world rankings was fun to keep track of. I'm not sure if Duval lost interest in golf, but I think that was the situation. He took some time off before finally returning in late-2004. As I mentioned earlier, it's been a very big struggle since then.
David Duval played in 20 events on the PGA Tour in 2005, and he made one cut (Valero Open). He went on to finish in a tie for 60th at the Valero Open, which wasn't anything to write home about. The T8 finish in Japan last week left Duval's fans with hope, however. Duval talked about how he has been playing good golf lately, but he hasn't put any good scores together.
I'm here to tell golf fans everywhere that David Duval will be back in 2006. And I don't mean the "one cut in 20 attempts" Duval either. In The Sand Trap forum, a member made the prediction that Duval would not only retain his PGA Tour card after next season, but he would also end up in the top-50 in the world by the end of 2006. I'm not going to go that far, but I do feel Duval will finish high enough on the money list to retain his tour card.
Next season is David Duval's last year of exemption from his British Open victory in 2001, so he will have to put together some strong finishes to keep his card. Duval will finish in the top-10 a couple times, but he won't win any tournaments. All in all, 2006 will be a stepping stone in Duval's long-awaited return to prominence. Don't look for him to be the Duval of the late-90s, but be prepared to see Duval finish in the 50-75 range on the money list. We can at least hope for that to happen.
Mike Weir
Mike Weir started 2005 as the eighth-ranked golfer in the world. Currently, Weir is ranked 46th. This past season was a nightmare for the left-handed Canadian. Weir is one of my favorites, so it's been disappointing for me to see him struggle so badly the past year. Weir didn't drive the ball very well in 2005, he didn't hit many greens in 2005, and he definitely didn't putt worth a flip in 2005. Is there any questions as to why he struggled?
Weir won The Masters in 2003, and he also carded 10 top-10 finishes that same season. He wasn't quite that consistent in 2004, but he still managed to finish in the top-10 seven times. That wasn't the case in 2005, however. Weir only had two top-10 finishes, and the last one was at the Masters in April.
Next season will be different for the Canadian. Mike Weir is still in the top-50 in the world, so his status isn't even close to David Duval's situation. Weir still made over a million dollars this season, but it wasn't the type of season fans are accustomed to seeing out of Weir.
Mike Weir will be back in the winner's circle in 2006. He won't win any majors, but his victory will come in a big event like the Pebble Beach Pro-Am or The Players Championship. On top of that, Weir will end 2006 ranked at least in the top-15 in the world. He won't win "comeback player of the year" because he didn't fall down the rankings that far, but he will definitely have a breakout season.
Paul Casey
In 2004, Paul Casey looked to be on his way to stardom. The young Englishman had strong finishes at The Masters and British Open that season. However, after making some controversial comments about Americans, Casey lost his sponsorship deal with Titleist. Things seem to go downhill from there.
Casey bounced back by winning the European Tour's TCL Classic in March, but he failed to follow up with anything worth noting the rest of the season. Casey limped to a 39th place finish on the European Tour Order of Merit, most of those earnings coming from his victory.
Paul Casey didn't play any good golf on American soil in 2005. He wasn't a crowd favorite by any means, and he only made four cuts in 10 starts. Casey missed five cuts and withdrew from the other tournament. He missed the cut at The Players Championship, The Masters, and British Open. Casey's best finish in a major was at the PGA Championship (T59). This was far different than his results in 2004.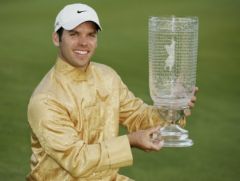 With all this negative, there is hope for Paul Casey. He just won this past weekend in China and seems to be on his way again. Will he bounce back and stay consistent, or will he continue his inconsistency? Not only will he bounce back, he will bounce back in a huge way! Paul Casey will have his breakthrough next season. He is far too talented to play so bad.
It's been a year since Casey's negative comments about Americans, and he is finally ready to move on and become a star. He will contend in some majors again next year, and he will win the European Tour Order of Merit and lead the Europeans into the Ryder Cup. You heard it here first.
Other Possible Comebacks
I only mentioned three golfers who will have big comeback seasons in 2006. That being said, there are a handful of other golfers ready to make a comeback as well. Mark O'Meara and Lee Janzen are the first two guys that come to mind. Both have won multiple major championships in their careers, and it would be great to see them have strong comeback seasons.
O'Meara may be playing his final season on the PGA Tour in 2006 because he will be turning 49 in January. His best finish this past season was a tie for 27th at the Byron Nelson, and he has slipped all the way down to 214th in the world rankings. Janzen, on the other hand, was hurt the first part of 2005. When he returned, he never got things going. Janzen's best finish was a T7 at the U.S. Bank Championship, and he has fallen down to 231st in the world rankings. I'm not predicting comeback seasons for O'Meara and Janzen, but it would be a pleasant surprise.
The Final Say
Colin Montgomerie had a couple bad years prior to 2005, but he bounced back in a big way this season. Monty definitely returned to prominence, and it was a good thing for golf. He was far too talented to struggle so badly. The same can be said for David Duval, Mike Weir, and Paul Casey. Duval has been dominant before, and Weir and Casey are both capable of great things.
When 2006 is in the books, which is a long time from now, David Duval will be the PGA Tour's comeback player of the year. Duval is currently 481st in the world rankings and will end up somewhere in the 50-100 range by this time next year. It will be awesome for golf fans worldwide. Weir and Casey will have great years, but their respective returns to prominence won't match the comeback of Double D.
That's all I have to say this week. Now it's time for you to speak out on the subject. Do you think David Duval will make a great comeback next season? Also, do you think Mike Weir and Paul Casey will bounce back and be consistent in 2006? Finally, which player not mentioned would you like to see return to glory? If you have anything to add, please comment below or discuss it in our forum. Thanks for reading Thrash Talk and have a great week!
Photo Credits: © European Tour.