I know this is a golf website, but congratulations are in order for Peyton Manning and the Indianapolis Colts. They finally got past the New England Patriots in the postseason and are on their way to The Super Bowl. My wife wanted me to congratulate Peyton Manning, so I figured I better sneak that in first. Now it's time to talk a little golf.
Charley Hoffman won The Bob Hope Chrysler Classic in a playoff this past Sunday to pick up his first PGA Tour victory. The playing conditions in the final round were brutal, and the leaders heading into the final round (Justin Rose and Lucas Glover) crumbled big time down the stretch. Hoffman has contended a few times over the past year, and he deserved his win last week. Maybe he can afford a haircut now.

Even though Hoffman eventually won the tournament, David Duval was in the spotlight during the first round or two. Duval finished in a tie for 39th when all was said and done, but that's ok. He said he felt great and will hopefully contend more often this season. It's tough to think of one golf fan who isn't cheering for Duval to find the winner's circle once again.
That brings me to this week's topic. There are a handful of golfers I want to see in the winner's circle this season. All of these golfers except one have worldwide victories under their belt already. A couple golfers on the list are still looking for that first elusive major championship, however, and a couple are trying to find their way back to the promiseland. I'll start off with the big one and go from there.
Winning a Major
When it comes to winning that first major championship, Colin Montgomerie is the first golfer on the list. Monty has been close so many times, including last year's U.S. Open breakdown at Winged Foot. There is an argument going on whether or not the Scot is a future Hall of Famer. Monty has proven himself to me time and time again, and European golf wouldn't be the same without his past accomplishments. He would definitely have my vote, regardless of his career shutout in majors.
Hopefully Colin Montgomerie puts together a couple more major championship runs before he retires and finishes one off in the process. He has been a great golfer, and even though he should be a Hall of Famer regardless of his major championship struggles, winning the big one wouldn't hurt his chances. Out of all the golfers in this week's article, Monty is my top choice to find the winner's circle in 2007.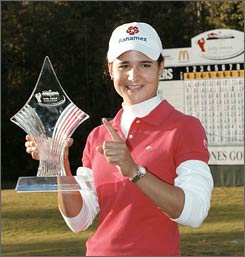 On the LPGA Tour homefront, Lorena Ochoa gets my vote in this category. There isn't really a sentimental story with the ladies like there is with Colin Montgomerie or Chris DiMarco, but a major championship win for Ochoa would go a long way for women's golf. She is undoubtedly the best female golfer without a major victory.
Ochoa had a fabulous 2006 season, and she is closing in on Annika Sorenstam in the Women's World Rankings. A rivalry is brewing, but Ochoa has to win a major championship or two before it becomes legitimate. Sorenstam has won her fair share of majors, and that's all that matters to a lot of golf media these days. And in all reality, it will be surprising if Ochoa goes winless in the LPGA majors this season. She is far too talented to let four more in a row slip away.
Returning to the Winner's Circle
David Duval is the easy and obvious choice in this category. Duval's last PGA Tour victory was the 2001 British Open Championship. This is absolutely shocking if you think about it. He was one of only two professional golfers to ever overtake Tiger Woods in the Official Golf World Rankings, but it went downhill fast after his major championship victory overseas.
Not only has Duval been out of the winner's circle for over five years, he basically fell off the golfing planet for a few years. Last year, David Duval made a mini-comeback, but it wasn't good enough to maintain his PGA Tour card. He is using his career money list exemption to stay on tour this season, so it's put up or shut up time for the sweet-swinging golfer.
Like I mentioned above, there aren't many golf fans cheering against David Duval, and it would be one of the stories of the season to see him find the winner's circle again. I don't really care if it's a major championship, large PGA Tour event, or a small PGA Tour event. A win is a win, and Duval will be back on his path to stardom with a victory this season. He probably needs to card a few top-10s and 20s first, however.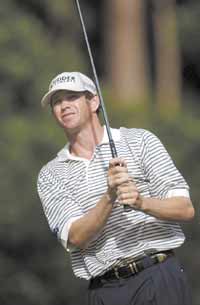 Lee Janzen is the next on my list, and I might be the only golf fan still cheering for the guy. Janzen has been one of my favorites ever since I started watching in the mid 1990s. Until a few seasons ago, he was one of the best putters on the PGA Tour. His game has fallen during that timespan, and it remains to be seen whether or not we will ever see a solid Lee Janzen again. His last win was the 1998 U.S. Open for crying out loud!
It wouldn't be nearly as nice of a story to see Janzen win instead of Duval, but how about seeing them both return to the winner's circle? That would suit me just fine. Janzen has won two U.S. Open tournaments in his career which puts him on a very short list. He showed signs of life late last season with a third-place finish at the Southern Farm Bureau Classic, so maybe he will make one last run before riding off into the Champions Tour sunset.
Any Kind of Win Would be Nice
It would be nice to Justin Rose win a PGA Tour event after struggling down the stretch so many times in recent months. However, Rose has gotten the job done in the past overseas, so he missed out on this list. Natalie Gulbis, on the other hand, is the only one to make the "any kind of win would be nice" category.
Gulbis is the most talented golfer in the world, male or female, without a victory on her respective tour. She is quite possibly known more for her looks than her golf game, but she can play! She has quietly become a very consistent golfer over the past two seasons. Gulbis came very close to winning a major championship (Kraft Nabisco Championship) and regular LPGA Tour event (Corning Classic) last season, but she fell short in both. Coming close and actually closing the deal are two different things.
Natalie Gulbis has gone well over 100 starts on the LPGA Tour without a victory, and it's definitely time for her to find the winner's circle. Her good looks will take her a long way, but her golf game is all I'm concerned with. 2007 will be a key year for the youngster. Gulbis will either start winning tournaments or become an afterthought when discussing all the young talent on the LPGA Tour. Hopefully she wins a few this season.
The Final Say
Every season is filled with great comeback stories, major championship struggles, etc. This year will be no different, and hopefully some of the golfers I listed this week will make positive headlines in 2007. Not only would it be great for golf, it would also make me look like a genius. I enjoy it when professional golfers make me look good! Here's to hoping all five golfers in this week's article pick up first-place checks this season, whether it's that first major championship or first victory altogether.
It's your turn to tell me what you think about this week's article. Which golfer in this list has the best chance at finding the winner's circle this season? Also, which golfer has the worst chance at winning again at the highest level? Finally, which other golfers would you like to see on the list? If you have anything to add, please comment below or discuss it in the forum. Thanks for reading this week's Thrash Talk, and get ready for the 2007 debut of Tiger Woods this week!
Photo Credits: © Chip English/AP, © Sports Spectrum.