What's the point of making predictions if you're not going to own up to them after the fact? Especially when your predictions are as far off as mine?
But with 2010 wrapping up, it's time to review the season's highs and lows … and when it comes to my prognostications, it was pretty one-sided. How lousy? Let's call it Tiger Wood '10 bad.
There were a few gems mixed in, however, such as Dustin Johnson's arrival. Before I get too excited, I also thought it would be the year of John Daly's resurgence.

I said… Mickelson Thrives, Public Shrugs
While Tiger Woods sat in exile, Phil Mickelson sleepwalked through the season. His highlight came at the Masters, which happened to be the scene of Tiger's much ballyhooed return. I predicted a monster year for Mickelson, which was way off. However, I did suggest that victories with Woods in the field would be the only ones that got the public juiced, and sure enough, Lefty's Augusta win will live on for ages on the highlight reels. His back-to-back eagles Saturday made headlines beyond golf-specific sites and his daring/risky/stupid 6-iron from the pine straw on 13 Sunday is the stuff of legend (even if he missed the tiny putt).
All told, Mickelson's year was one success (winning his third green jacket) surrounded by all sorts of blah. As for my prediction? I was wrong about him racking up the victories, but was on the money when it came to no one caring what he did without Tiger around.
I said… John Daly Surges
I'm a sucker for a rehab story I guess, too bad John Daly made a blip on the radar, but his 2010 was nothing as I'd predicted. Daly did make his share of headlines this year, but it was rarely for his play on the course.
In his 20 PGA Tour starts, Daly missed the cut or withdrew eight times. His best finish was a T-24 at the Puerto Rico Open. Even when he reached the weekend, he typically headed south, finishing 64th or worse in eight of the 14 cuts he made, racking up less than $160,000 for the year. Putting that in context, finishing in last place in this week's unofficial Chevron World Challenge pays $150,000.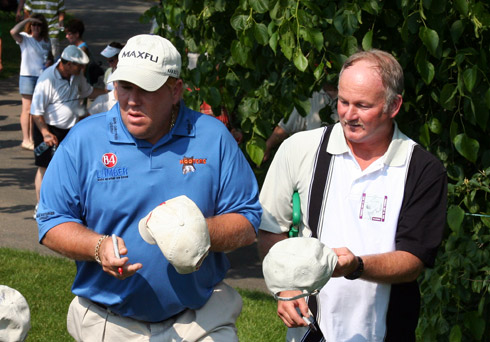 Just how hard is it to play 20 times on Tour and make that little money? Only 13 guys teed it up more often than Daly and finished lower on the money list, including such names as Greg Craft and Justin Bolli. Who? At 193rd in earnings, given his multiple majors and the hype heading into the season, no only didn't John Daly "surge," he had as awful a year as anyone on Tour. Add in the fact he's branded himself as pitchman for the ugliest pants in the history of golf and the lawsuit he filed against a children's charity and my hopes for Daly's redemption and resurgence were so far off it's not even funny. He's far worse off than he was a year ago.
Guess you can say I Daly'd that prediction.
I said… You'll Pay More Attention to the LPGA Than You Think
This might have been the one I wanted to come true the most, but the trend continues, my faith goes unrewarded.
The LPGA did take some steps forward in 2010, got its financial footing a bit, and stopped the talk of whether it's even a viable golf tour. But when the year's biggest story is about a player retiring in her prime and another committing suicide, you've got issues.
There were great performances: Yani Tseng won three times including two majors; Ai Miyazato scored five titles; Christie Kerr won a major by 12 shots. But you had to be a pretty hardcore LPGA fan to keep up as the schedule was spread out awkwardly and TV coverage remains spotty at best. Lightning rod Michelle Wie won again, but hasn't taken the game beyond its niche audience as many (myself included) had hoped, although new hope for another young energetic star in the making surfaced as Alexis Thompson turned pro.
I remain high on the LPGA and think it could take off with a better TV deal, and some better promotion. We'll see in 2011.
I said… The Champions Tour Will Remain Off Your Radar
A fast start with Fred Couples taking the tour by storm quickly faded as the Couples buzz wore off. While he brought the senior circuit more press than its gotten in years, there wasn't much beyond him. Maybe your juices get flowing for Bernhard Langer, but I he's personifies boring going way back to his PGA days.
I said… Lucas Glover Proves He's No Fluke
Glover's 2010 wasn't what I'd hoped for, but he also established that he's not one of the flash in the pan major champs we've seen in the past. He put together a solid, if not special season, finishing 57th on the money list and making the FedEx Cup playoffs. But I have to admit I saw him taking big strides toward being a Top 10 player and he remains 53 in the world rankings. Not a fluke, but far from a star.
I said… Jim Furyk Continues to be the Best Player Nobody Cares About
Finally, we found out what would get Jim Furyk to put on a Tiger-like show of emotion: A $10 million paycheck! The pictures of Furyk celebrating his FedEx Cup win were welcome relief from his normally stoic expression. But as we all know, by the final week of the FedEx Cup, the sports world (and even a fair amount of golf fans) had more interest in early season football than the Tour Championship.
Furyk remains solidly entrenched as a Top 10 player in the world, yet he's incapable of moving the needle.
I said… Three to Bank On
I made an eagle with Dustin Johnson. He proved incapable of finishing off a major, but he was a major contender which should be a first step in a very promising career.
Alvaro Quiros was a par. He had seven Top 10s worldwide, but his performance on U.S. soil was quite bad, including missed cuts in the three American majors. He did finish 11th at the British Open, so maybe it's just a case of seasoning and growing into the international player it seems he's destined to become.
My triple bogey comes with Tiger Woods, who had the worst season of his career. I said the course would be his sanctuary, but it was obvious he ranged from distracted to disinterested to disengaged, all while attempting major swing changes. It all added up to a dismal, winless year.
I said… Three Things We'd Love to See
1. Phil Mickelson did take a lead into the 72nd hole of the Masters and won it relatively stress free, recording a three-shot victory.
2. It was a good year for the 20-somethings, with major champs Louis Oosthuizen and Martin Kaymer yet to reach 30, and others making their mark by contending on the big stage, including Dustin Johnson, Rory McIlroy, the Molinari brothers and Ricky Fowler.
3. I figured golf could use a villain and Sergio Garcia would fit the part. Hard to classify his year as antagonistic as some in the past, but he did walk away from the game to clear his head only to resurface at the Ryder Cup and stir things up. Let's watch and see where this one goes in 2011.
Photo credits: © Getty Images, © Erik J. Barzeski, The Sand Trap .com, © AP.