A few weeks ago, Lance Armstrong did an interview with Oprah and essentially admitted that after lying to us for over ten years, he had in fact taken performance-enhancing drugs (PEDs). To many this was not a surprise.
Recently Vijay Singh and Bob Charles announced that they too have taken PEDs. This was much more of a surprise because many, myself included, believe that PEDs aren't likely to make you a much better golfer.

Golf has not had any problem with PEDs in the same way that baseball and cycling have been plagued by them. Being stronger in golf can help out of the rough at times but can actually hinder your abilities if taken too far. I have heard rumblings that people believe Tiger was a user of PEDs, but those claims are unsubstantiated so they are not worth discussing. There have been some arguments regarding beta blockers but even the advantage of these have been disputed. This makes Vijay's decision to take these PEDs a very intriguing one. Did it help him stay out on the range longer? Work out longer hours? These questions are likely to remain unanswered.
One could make a strong argument that Vijay has had a longer career than most golfers, but even that argument is a stretch. Could his career been lengthened by taking this deer antler spray? Possibly, but the effects of this PED are largely unknown, so whether it actually helped him will remain up for debate. It is well documented that Vijay was very devoted to using the PGA Tour fitness trailer as well as his marathon range sessions. By using these PEDs it might not be that hard to believe that it helped him. He could practice longer and work out more maybe in some small portion due to this spray, this would mean he gained an advantage from its use.
The interesting piece of this story lies in how the PGA Tour plans to punish Singh for his use of the PED. O'Meara came out quickly after the story hit and said that Vijay should be suspended for "a few months" for the indiscretion. This is a seminal moment for the PGA Tour and PEDs. If the suspension is too soft, for example if they don't penalize him at all, they set a precedent that the PGA Tour doesn't care if the players use PEDs (or at least certain kinds of PEDs). In my opinion this is a very bad precedent because young kids maybe trying to get onto their high school golf team may feel that using PEDs will give them an advantage and make the choice to use them. I believe the PGA Tour needs to deliver a message that the use of PEDs are in no way acceptable. In baseball I feel the penalty is not severe enough. My proof is there are still players who will take the risk and use them.
Currently baseball players get a multiple game suspension. The players lose a little salary but the team is largely unaffected. The Giants Melky Cabrera was caught during this 2012 season suspended 50 games and the Giants still won the World Series. Imagine for a second that the penalty was that the Giants has to vacate 50 wins in the current season? I can promise you nobody on any team will use PEDs if this is the penalty. Why? Because the penalty is so severe they will not want to have the other players in the locker room despise them for costing them a chance at making the playoffs.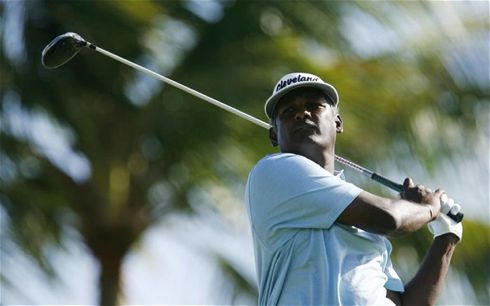 The PGA Tour needs to make the penalty severe. Currently PEDs are not a problem, but as the game moves to a more and more athletic place as it has done for the past ten years, the temptation to stay on the range longer, hit the gym harder and possibly get an advantage from PEDs will only increase. If the penalty is a slap on the wrist the PGA Tour will send the wrong message. For Vijay my penalty is a suspension for the rest of the season and no playing privileges for 2014. Meaning to play on the tour he will need sponsors exemptions or go to Q School and the Web.com Tour. Because he is past champion of the Masters I will let them decide if he gets a spot to play there.
Too severe you say, in my opinion the players clearly worry deeply about keeping their status on the PGA Tour. They all voted to make it so hard to lose your spot and to make it on the Tour, with the changes that will happen at the end of this year the players clearly value this. By taking it away I will eliminate the problem. Some will argue it is not a problem at all, perfect, then you should not care that my penalty is so severe because in your mind we will never need to use it.
This story still has a number of unanswered questions and because Vijay doesn't share much we are likely not to get many of the answers. One thing I would be willing to bet on, Vijay will likely not be making an appearance on Oprah.
Photo credits: © Reuters.