I enjoyed watching Rory McIlroy win these past two weekends at the Deutsche Bank and BMW Championships. Rory appears like a very likable young man and a very gracious winner. He is young and I think he has only just begun to get as good as he will eventually be. He does not have the same impact on the game of golf as Tiger did at the same age.
Tiger hit the scene and the game has been changed forever. Tiger was incredibly athletic and had a workout plan that would make a NFL football player proud, at a time that most golfers were not in the gym much at all, if ever. Rory is fit, in fact much more fit in recent months than in his younger days, but almost all the golfers on the PGA Tour are fit in today's game. Not all of them, but the vast majority, certainly most of those in the top ten of the world rankings.

In his younger days especially the 1997 and 1998 seasons Tiger was probably as streaky at Rory is, but for the most part once Tiger hit the scene he has been a staple on leaderboards from the beginning. Tiger won almost right away, while if you look at Rory's record he started with a number of top ten's and even lost a playoff before getting his first win. Young Tiger was a better putter than Rory is. When young Tiger needed a putt it almost always went in. Rory is a good clutch putter, but Tiger set that bar incredibly high. It also seems to me that Tiger even today 3-putts less than Rory does. I did not look through the stats but that is my impression.
Tiger, the year 2000 edition, was also a much better driver of the golf ball. Rory is plenty long, in fact probably longer than the 2000 Tiger, but Rory misses quite a few fairways. Tiger was long and accurate, and totally unafraid to hit the driver. I see that same aggressive mentality with Rory as well. Tiger has made some great gains with the driver in 2012, but he is still a shadow of the driver he was in 2000.
I don't like being that guy who always says so and so is going to be the next Tiger, but I find myself doing it each time we see such a talent young golfer like Rory hits the scene. The reality is that Rory is his own golfer and I will likely never see another golfer like Tiger within my lifetime. The game has become so competitive that winning more than 10 majors is going to be a true accomplishment by any golfer. Tiger's 14 and Jack's 18 are forevermore going to be in an elite class. I still think Tiger will win more majors, his play at the Deuchte Bank was also very impressive but getting to 19 might be fading faster than drive from Bubba's pink driver.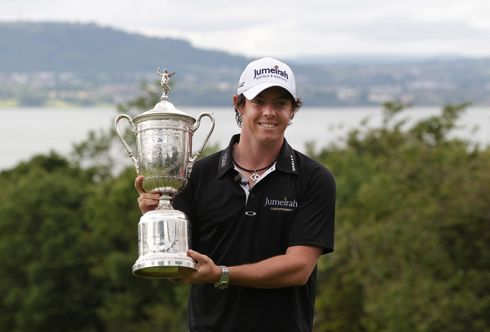 Rory can win 10, but I would be surprised if he wins more than 10. He already has two and probably should have three if he could have held it together at Augusta in 2011. I think Rory does not have the drive to win 18 as a younger Tiger did, and is enjoying not being compared as all of us like to do.
Rory's ascendency to number one in the game of golf was not overnight. He has been around for quite some time if you follow the European Tour. He turned professional in 2007 and had an immediate impact securing his European tour card with a couple of top ten's. Rory did not get his first win until 2009 in Dubai, and after a number of close calls on the PGA Tour he secured his first win at Quail Hollow with an incredible weekend of golf in 2010. In 2011, his impact on the majors started to show, and now there is not a major conversation where he is not a part of it.
I look forward to seeing how far Rory can take his career. He has had some back troubles which are concerning for such a young man. Hopefully this new workout plan has improved that and the injury doesn't recur. Back problems have hurt the careers of many young golfers including Freddie Couples among others. Rory will be world number one for a long time and the only guy who will replace him will be the Tiger, when Tiger gets all the pieces put together. I am also very hopeful that Tiger and Rory will face each other in the Ryder Cup. I know that they will face off in a made for TV duel, but the Ryder Cup will be a much more intriguing matchup in my opinion. Either way these two golfers are likely to face each other numerous times the rest of this year as well as in the years to come.
Photo credits: © Peter Macdiarmid.