I'm glad to hear that it's "okay to root for Tiger Woods again" because, if nothing else, it signals a return to stories about Tiger being about golf and not about his marriage, his kids, his infidelity, his temper tantrums on the course, and a whole bunch of other stuff that I don't really care about.
We recently asked people in the forum to predict Tiger's 2011 season, and as I write this 25% of people think Tiger will continue his major-less streak in 2011. 43% think he'll win a lone major, and 23% think he'll win two or more. In regular PGA Tour events, only 9% think he'll go winless, while 40% think he'll win one to three and another 25% think he'll win four or more.
My votes? I picked two majors and 4-6 regular PGA Tour wins, and here's why. In 2011, Tiger Woods will have the emotional wreckage of his broken infidelity and subsequent divorce behind him, he'll have incorporated enough of new instructor Sean Foley's methods to get his swing back, and he'll be eager to prove that he can still be dominant. Let's look at each of these.

The Past Will be The Past
When Tiger Woods talked on Wednesday about his divorce from Elin Nordegren only two days prior, the weight of the white elephant that had been sitting on Tiger's shoulders was lifted. Many said Tiger even appeared to be a new man during his press conference two days ago at the first "playoff" event in this year's FedExCup at the Barclay's.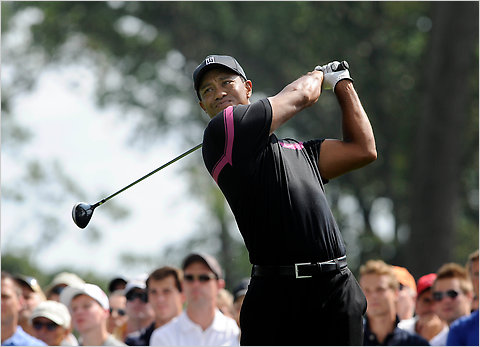 I've never tried to play golf or even do my job while suffering from 1/10th of the turmoil that Tiger Woods underwent in 2010. I've seen others go through even amicable divorces, and to say their work, mood, and energy level is understating things to an extreme. Divorces – without all of the sordid affairs and the investigation of a doctor – have a long history of ruining the years and sometimes even careers of players on the PGA Tour.
2011 is still four months away, and the first major is over seven months away. For Tiger, another seven months of healing will do a lot to improve Tiger's attitude, ability to focus, energy levels, and dedication levels.
Sean Foley's Changes Will Kick In
Tiger Woods is an exceptional athlete and a skilled golfer. My proof is a bit of a back-handed compliment – he won as often as he did with the swing he was making under Hank Haney's instruction.
Sean Foley's instruction, which is based largely on the method developed by Mike Bennett and Andy Plummer, is just the medicine Tiger needs. He'll take his hands in instead of out, he'll keep his head from drifting off the ball with a steeper shoulder plane (more tilting and extending during the backswing), and he'll – hopefully – continue to push his hip forward on the downswing.
Tiger's talked about how his previous swing changes – under the eyes of Butch Harmon and Hank Haney – have taken 18+ months to incorporate. These changes will not take that long, as they require significantly less timing to nail. And the proof? Tiger first put some changes in after only a few hours on the range at the PGA Championship and struck the ball better. As I type this article, Tiger shot a near spotless first round of 65 to lead the Barclay's. Is he there? Are the changes baked in? No, but even if he's only 10% of the way there it's only been two weeks. He may not win this week, but he's on the right path, and he'll get there fairly quickly. Again, he's got over seven months until the next major.
Tiger Will Have Something to Prove
Ask Stephen Ames how this works out. Ask Rory Sabbatini how this works out. Ask Vijay Singh's caddie how this works out. You make a small comment about how Tiger might be "beatable" or "gettable" or whatever, and the next thing you know, you've lost 10&8 or been overtaken at Firestone with a Sunday 65 by the guy in red or lose a hard-fought singles match in the Presidents Cup.
Perhaps more than any player in golf, Tiger will take any slight or put-down, real or perceived, and use it to fuel his desire and his willpower. Throughout 2010 the entire world has dumped on Tiger Woods. You read the stories – he's done, he's lost his intimidation factor, he's never again going to be dominant, he won't break Jack's record, etc. Tiger may not have read every word that was written about him, but you can bet your bottom dollar he's aware of how much negativity about his golf is out there, and that he's going to use every bit of that to fuel his game in 2011.
Look Out
The PGA Tour needs to look out for Tiger in 2011. With the triple pack of the weight being off his shoulders, a set of swing changes that will improve his game and relatively quickly, and with something to prove to all the naysayers, Tiger will have a good to great year in 2011. Will we see a level of performance like 2000? I wouldn't go that far. But again, I voted for two majors and four to six regular PGA Tour events.
Photo Credits: © Silverman.