Tiger Woods played in The Tavistock Cup this past Monday and Tuesday and won his third consecutive Payne Stewart Award in the process. The award goes to the golfer with the lowest 18-hole score on the final day. Woods' team lost, but that's not the point. The world's best birdied seven holes in a row for crying loud and let the world know he wants a fifth green jacket next week.
Not only will Tiger try to win a fifth green jacket next week, he will also try to continue towards another Tiger Slam. Woods won the 2006 British Open Championship and 2006 PGA Championship, so he needs to win this year's Masters and U.S. Open to close the deal. It's definitely tough to bet against the guy, but I usually do anyway.

Will Tiger win his fifth green jacket and third consecutive major championship, or will someone step up and steal the spotlight? Who will disappoint this year at Augusta, and who will come out of nowhere to contend? You can read about all this and more in this week's Thrash Talk.
Contenders
Tiger Woods
What a surprise! Tiger Woods is on my list of contenders. I may bet against the guy more often than most, but I'm still smart enough to list him as the true favorite. Every time Woods tees it up, whether it's in a major championship or practice round, he is trying to beat anyone and everyone in his way. It doesn't hurt that Woods is playing solid golf right now.
Tiger has only played in four PGA Tour events this season, and he has won two of them. He won both The Buick Invitational and WGC-CA Championship for the third straight time. Woods finished in a tie for ninth (WGC Accenture Match Play Championship) and a tie for 22nd (Arnold Palmer Invitational, despite a closing 43 on the back nine) in his other two starts.
Have I mentioned Tiger will be trying to win his fifth green jacket at the ripe age of 31? That's absolutely insane to think about, but it's true. Woods has absolutely owned Augusta National in the past, and he usually contends regardless of how well he is playing. He played below average last year and still finished in the top five. It's a little boring and repetitive, but Tiger has a good chance to tame Augusta yet again. The only thing that worries me about Woods is his recent problem with short putts. He has always been dead on in the past, but he has indeed been human in that department over the past month.
Ernie Els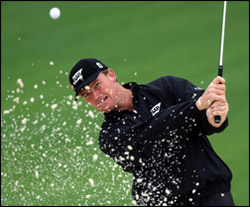 The Big Easy is finally 100% healthy, and it shows. Els is obviously in better shape physically and mentally than he has been in the past couple years. He hasn't won a PGA Tour event in over two years, but that will change in the near future. Every week Els tees it up, he gets into contention in some form or fashion. Next week at Augusta will be Ernie's time to shine once again.
The big South African has six top-five finishes in his career at The Masters, including two runner-up finishes (2000 and 2004). His game fits the course very nicely when he is putting well, and it just so happens he is ranked first in that category in 2007. Els also drives the ball a long way, and he has one of the best overall short games in the world. That is always a winning recipe at Augusta National. Els is my early favorite to win his first green jacket and fourth major championship overall.
Henrik Stenson
Has any golfer in the world had a better 2007 than Henrik Stenson? The easy answer is no, and there is good reason for that. Stenson has rapidly risen to sixth in the world rankings and has wins at The Dubai Desert Classic and WGC Accenture Match Play Championship during the first three months of the season. The Swede's name has been mentioned more than once when talking about favorites to win the 2007 Masters.
Stenson is currently ranked third on the PGA Tour in putting average, and as I mentioned above, that is always a key at Augusta. The Swede has proven he can hang with and defeat the world's best on any given week, and now it's time to make the next move and win his first major championship. The only thing holding Stenson back is himself. If he misses a short putt or two and loses his temper, his scores will balloon. If he stays calm, he could win The Masters by a few shots. Yes, he is that good!
Pretenders
Adam Scott
I've never been a big believer in Adam Scott when it comes to playing The Masters. He doesn't have a very good record there, and he comes in playing below average by his standards. After finishing second to Vijay Singh at Kapalua, he has a tie for 69th (Nissan Open), a tie for 33rd (first-round loss at WGC Match Play Championship), and a tie for 61st (WGC-CA Championship).
It would be nice to see Scott turn the switch on and contend against the world's best, but I just don't have any faith in him. He is ranked 125th in putting average, 83rd in greens in regulation percentage, 88th in driving distance, and 77th in driving accuracy percentage. That's not exactly a winning formula for the young Aussie. I am seeing a missed cut from one of the world's best golfers under 30 years old. Even if Scott makes the cut, he will add another lackluster finish to his 2007 record.
Retief Goosen
Retief Goosen has had three top-five finishes at Augusta since 2002, but that was in the past. I'm not real sure what has happened to The Goose, but he isn't the same player he was two or three years ago, or even in early 2006. He hasn't finished any better than T17 on the PGA Tour this season, and I don't see him finishing any better than that next week at The Masters.
Goosen is still one of the most laid-back golfers in the world, but it's obvious things get under his skin more than they used to. He has been absolutely wreckless off the tee in recent months, and that will lead to a bad week at Augusta. It's a bomber's paradise, but the South African has been beyond bad in the accuracy category. And he isn't making any birdies either (118th in birdie average). It's a guarantee golfers are going to make some bogeys at Augusta, so it's imperative to make enough birdies to offset those mistakes. Goosen won't be able to do that and will end up around +4 or +5. That won't be anywhere near contention.
Robert Allenby
A lot of people may question this pick, but it's a gut feeling. Allenby is playing the most consistent golf of his career and has already racked up six top-10 finishes in eight PGA Tour starts this season. I was looking at the world rankings this week and noticed the Aussie has moved all the way up to 17th! That was a shocker to me, but it's well deserved.
Now that the praising is out of the way, it's time to get down to business. Robert Allenby's shaky putting has cost him so many wins in the past few years, and Augusta National isn't the place to struggle with the flat stick. The Aussie will have all kinds of hell with the greens next week, and it will ultimately throw him out of contention. It won't surprise me if Allenby misses the cut next week. He is due for a shaky week after playing so well all season, and it can happen to the best of em' at The Masters.
Surprises
Steve Stricker
Steve Stricker hasn't been as hot this season as he was in late 2006, but he has still put together a decent start to 2007. Stricker has two top-five finishes on the PGA Tour and always has the kind of game to contend at major championships, including a tie for sixth and tie for seventh at last year's U.S. Open and PGA Championship, respectively.
Stricker hasn't driven the ball well at all this year, but he is still one the best putters in the world. Any time a guy gets hot with the putter at Augusta National, they have a great chance to do some damage. It wouldn't surprise me much to see Stricker's name on the first or second page of the leaderboard next week, but it may surprise a lot of fans around the globe.
Vaughn Taylor
I'll be cheering for the other hometown guy, Charles Howell III, but Vaughn Taylor may end up doing the best out of the hometown guys in the field next week. Taylor, like Steve Stricker, is one of the best putters in the world (currently ranked 13th). He is also ranked ninth in greens in regulation percentage, fifth in birdie average, and seventh in all-around ranking. These stats add up great for Augusta National, and Taylor knows the course better than anyone in the field along with CHIII. It doesn't hurt that the Augusta native finished third at the Arnold Palmer Invitational in his last PGA Tour start.
Camilo Villegas

This pick is completely based on a gut feeling and nothing more. The signs for a Villegas green jacket run aren't apparent, but these kind of surprises happen all the time in major championships. Villegas played so well early last season and narrowly missed out on playing in The Masters last April. The young Colombian played well enough in 2006 to earn an invitation into this year's Masters, and he will take full advantage of it. Spiderman will be one of the biggest fan favorites at Augusta National, and he will scramble his way to a great finish in his first attempt.
The Final Say
Every golf fan will have their own predictions, and that's what makes it so much fun. Most will go out on an extremely sturdy limb and pick Tiger Woods, and those people are usually right when the dust settles. I usually take a different approach, and I'm usually wrong. It just so happens when I do pick Tiger to win a major, he always seems to lose. I can't figure it out.
That said, I'm picking Ernie Els to win the 2007 Masters. He has come very close in the past, and he deserves to win the tournament he holds in such high esteem. There will be some definite birdies along the way, and the winning score will be -11. I just can't see the big bombers shooting much worse than that over four days. As for low amateur, I'll give Richie Ramsay the nod. Ramsay, last year's U.S. Amateur champion, will make the cut and finish in the top 30 or so.
Now it's your turn to tell me what you think about next week's Masters? Will Tiger win another green jacket and continue towards his second Tiger Slam? If not, who will step up and win the season's first major championship? Finally, list some other golfers who might struggle or surprise. If you have anything to add, please comment below or discuss it in the forum. Thanks for reading this week's Thrash Talk!
Photo Credits: © Unknown, © PE.Com.