The WGC Accenture Match Play Championship was very fun to watch as usual. Some people may have been bored with the final between Henrik Stenson and Geoff Ogilvy, but it was actually one of the most exciting championship matches in the event's history. Both golfers are very calm under pressure, and both are now ranked inside the world's top ten. Don't be surprised if both of these guys win a major championship this season.

It was also nice to see two young guys battling it out for the event title. In fact, it has been a great start to 2007 for numerous young guns. A few of them have struggled mightily over the past few years, but they are finally starting to reach their potential. It remains to be seen whether or not these guys can continue the early success they have tasted this season, but the sky is still the limit.
Also, just for fun, check out Thrash Talk: Young Guns Gone Bad from 2005. How times have changed!
Young Americans
I have to start things at the top of The FedEx Cup standings. Charles Howell III has been a solid golfer his entire career, but his record never really blew anyone away. That was then, and this is now. CHIII has started off 2007 on fire! He has a win and two runner-up finishes and has risen to 15th in the latest world rankings.
The season is still very young, but it's nice to see Howell III living up to his enormous potential. It will be interesting to see how he handles the pressure of being number one on several lists. Now that he has his second victory under his belt, it's time to move on to number three, four, five, etc. In the grand scope of things, I can't picture any better situation in golf than having Phil Mickelson put a green jacket on Charles Howell III this year. That's a hometown hero story if there ever was one.
I figured Ryan Moore would step up and be one of the best young Americans, but he hasn't lived up to his potential yet. Jeff Quinney, on the other hand, has been as steady as any youngster this season. The former U.S. Amateur champion hasn't won a PGA Tour event yet, but he has racked up four top-10 finishes in a row.
Quinney has been near the top of the leaderboard all season, and it's only a matter of time before he wins holds on to win one. I'll be surprised if Quinney doesn't pick up a win in 2007. I'm not sure how many majors he will qualify for this season, but it wouldn't shock me if he contended in a couple of them in the process. Quinney has the major championship kind of golf game.
If nothing else, at least the future is halfway bright once again for the young Americans. That will give something for fans like myself to look forward to as the weeks pass by.
The Young Englishman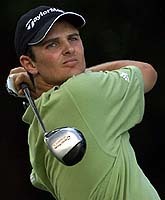 European golfers Luke Donald, Sergio Garcia, and Paul Casey have been consistent in recent years. They haven't necessarily reached their full potential yet, but they are mainstays at the top of the world rankings. One golfer that is finally starting to live up to the hype is Justin Rose. Rose burst onto the scene at the 1998 British Open as a teenager, but he struggled mightily for a few seasons after that.
The young Englishman finally started to play consistent golf at the end of the 2006 PGA Tour season, and he has carried that great play into 2007. Rose had a great shot to win The Bob Hope Chrysler Classic early this season, but grueling final-round conditions threw his game out place. Nonetheless, Rose finished in a tie for third and is currently 18th in The FedEx Cup standings and 36th in the world rankings.
Justin Rose still has trouble closing the deal on Sunday afternoon, but all the pieces for greatness are in place. It's hard to say, but this young European may end up winning a big one before any of the three listed above. He is certainly playing just as well this year. Last week, Rose defeated Phil Mickelson and Charles Howell III en route to a tie for fifth at the WGC Accenture Match Play Championship. He still has to seal the deal before everyone will take him seriously though.
The Young Aussie
The last guy on this week's list is Aaron Baddeley. Badds was surrounded by hype from an early age, mostly thanks to fellow Aussie, Greg Norman. Baddeley was tabbed as the next big thing in golf and future challenger to Tiger Woods. While nobody will really challenge Tiger for awhile, Badds has finally started to live up to the early hype.
The young Aussie won his first-ever PGA Tour event last season and fell into a slump after that. It looked like it might turn into a one-hit wonder story, but Baddeley bounced back early this season with a win at The FBR Open. Badds now has two victories on the PGA Tour and is currently ranked fifth in The FedEx Cup standings. On top of that, he has climbed all the way up to 35th in the world rankings.
Aaron Baddeley seems to have the short game to compete on a week-to-week basis, but consistency has always been his biggest hurdle to overcome. He is on a good roll right now, and this is definitely a crucial time in his career. Badds could either disappear once again into the sunset, or he could rise up even farther and contend in major championships. Right now, I'd bet on the latter.
The Final Say
Most fans are probably happy that Tiger Woods, Phil Mickelson, and Vijay Singh have all found the winner's circle in 2007. That is good for ratings, but I'm happier about the play of the young guns listed above. Things could turn worse for the worse if these guys crawl back inside their respective shells. If they continue to play solid golf, one the other hand, 2007 could turn into the year of the young guns. That's what I'm hoping for.
It remains to be seen whether or not these guys will follow up their great starts with even better finishes. I'd like to see them competing head-to-head in major championships, Ryder Cups, and Presidents Cups. It will be good for the game if the new blood starts challenging the old blood on a consistent basis. The old guys will have to move on eventually.
Now it's your turn to tell me what you think. Which of these young guns has the best chance of maintaining their early-season success? Also, which one will have the toughest time remaining consistent? Finally, which other young golfers are failing to live up to the hype like these guys once did? If you have anything to add, please comment below or discuss it in the forum. Thanks for reading this week's Thrash Talk and enjoy the Florida Swing!
Photo Credits: © Golf Investors.