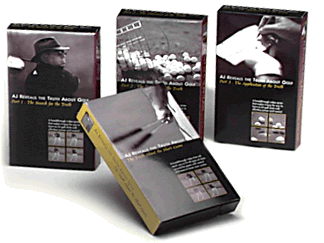 If you watch The Golf Channel for any amount of time, you've seen either the 30-second, 60-second, or 30-minute commercials for AJ Reveals the Truth about Golf. You've no doubt seen Da Bat and wondered just what point it might offer. You've seen AJ's "reduce your handicap by 30% and increase your drives by 30 yards in 90 days" guarantee.
I'm a 6-9 handicapper who has a slightly open stance, a strong grip, and a slight high draw. I average about 275 off the tee when I'm playing well and have a relatively solid short game. I was skeptical that AJ Bonar could do much to help my game.
This is the part of the review in which – if it were an infomercial – I'd say "boy, was I wrong!" Unfortunately, I was not. AJ did very little, if anything, to help my game. This doesn't mean the videos are worthless: just that they didn't help me a whole lot.

AJ's entire premise is that the face of the club is like a baseball bat, and that it too must be swung through the impact zone as a baseball bat (see "Da Bat") would through a fastball. In other words: rotating the face of the club from open to closed through impact.
The 55-minute video can be broken down into two parts. The first 40 minutes includes a basic physics lesson you'll be dying to fast forward. The second part contains some information: that rotating the clubface through impact produces distance and accuracy, and that everyone can understand and apply that simple concept. Why, the new player shaved 35 strokes from his game! Oh, wait, you mean it's quite typical for new players to quickly shave strokes as they learn some fundamentals? Oh, well never mind then…
AJ's physics ignore the fact that you still need to approach the ball from a somewhat good path. An extreme outside-in or inside-out swing will have trouble hitting straight shots unless those straight shots are pulls or blocks. That's also basic physics AJ's whole swing theory is basically this: release the club. You've heard it a few other ways: get the toe up on the follow-through, rotate your right forearm over your left, etc.
Despite the relative simplicity, AJ's core message is one which bears repeating. The most basic fundamental is not stance, swing path, or any of the other number of things we've dreamed up. It's club-ball contact. If you're making poor contact with the ball, you're going to play poorly. There's no perfect swing: Arnold Palmer, Moe Norman, Lee Trevino, Raymond Floyd, Tom Lehman, Jim Furyk, Tiger Woods. Seven players, seven very different swings. David Duval doesn't even look at the ball when he strikes it! The sacrilege! Every one of those players (and now David again) make solid contact, though.
We've all got at least some motor skills necessary to hit the ball. Reminding yourself of that through this video series is time well spent.
If you order on the phone or via AJ's site, you get some candy bars, a PGA Tour Partners subscription, and some other videos: The Truth about the Short Game and The Truth about the Driver (Parts 1 & 2). The short game video has some interesting concepts, but they're concepts I already apply (using different clubs for different length chips) or won't be applying (flip and rotate your hands through impact on pitch shots).
Is AJ Reveals the Truth About Golf worth it? No, I can't say that it is. With the extra videos, the PGA Tour Partners membership, and the candy bars – it's a bit more iffy, but still no. At $90, it's still cheaper than a lesson, and AJ provides some basic common sense knowledge: that everyone, despite their abilities, has at least some natural skill necessary to apply the club to the back of the ball properly. Solid contact, we should not forget, is the most basic fundamental.
I've got about 60 days left in my 90-day trial. I'll see how things go from here. $90 is two boxes of Pro V1x's, and these videos have quite a long time to save me two dozen balls and pay for themselves.