Tiger Woods sparked a lot of trends when he joined the PGA Tour ten years ago, but one of the most resounding of those was golf fitness. The old jokes about how anyone could win at golf – and with folks named "Lumpy" winning tournaments, they were true – faded away in the face of Tiger's workout regimen. Professional golfers became athletes – fine-tuned machines built for flexibility, strength, and speed capable of delivering a clubhead to a ball faster and with more strength than ever before.

A few years ago, Titleist opened the "Titleist Performance Institute." Attending the Institute, located in lovely southern California, instantly became an object of obsession for many. Posts on the Internet began "If I had $10,000 to spare…" The program, at its steepest level, was a costly one, and even the simpler, more inexpensive options still had a comma on the price tag. Unless you were really serious about golf and had money to burn, the Titleist Performance Institute, or TPI, was something you simply dreamed of visiting.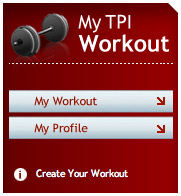 The TPI then produced a series of shows, the "Golf Fitness Academy" on The Golf Channel. They even mailed a free DVD to anyone who requested one via their website. The second season began last July and aired 10 episodes through September, including episodes on Balance, Power, and fitness for female golfers.
Earlier this year, Titleist unveiled MyTPI. MyTPI is, at its core, a web-based personalized fitness routine. It also offers book reviews, articles on fitness, health, and swing tips, and a good bit more. I've had the pleasure of testing and using MyTPI for several months now, and here is what I've discovered.
Getting Started
MyTPI boils down the $10,000 TPI experience into a $150-per-year customized workout regime. You begin by taking a series of tests that check and measure your balance, strength, and flexibility. Based on the results and the fitness equipment available to you, a personalized workout is created to fit your schedule. When you're done with the workouts, you can re-test yourself to and the program will again be customized to suit your needs.
Getting Tested
After registering for the product via a straightforward checkout procedure, your first task is to go through the "General Fitness Profile Survey." This survey asks you for your age, weight, gender, handedness (right or left). It asks you how long you've been working out (if at all), how long you'd like each workout to last, whether you'd like to incorporate weight loss into the program, and what equipment you have access to, from stationary bikes to medicine balls to weighted clubs. It asks whether you have any injuries or pain to your shoulders, hips, knees, and other critical areas of your body.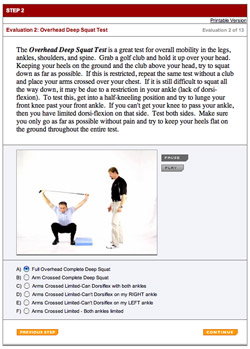 Lying on these types of questions does you no good. Though you can choose a 60-minute workout four times per week, you won't be doing yourself any good if you don't actually have four hours to work out each week. You also won't be doing yourself any good if you lie about your weight or any pre-existing injuries. I'm not going to insert a full disclaimer here, but while MyTPI is created with the oversight of a knowledgeable staff of medical doctors and trainers, they cannot foresee every possibility, so check with your doctor before starting the MyTPI workout program (or any other).
After you enter your information, you're guided through a series of physical tests. You can choose between a 12-step or a 6-step test, though obviously I recommend taking the longer test for more accurate results. Each of the tests checks your strength, flexibility, and/or general fitness.
Each test is explained in paragraph form and is accompanied by a video that demonstrates the test. A minor nitpick is that the video in these tests automatically starts playing and has only play/pause controls. Several times I was interrupted by the video while reading the text, and the inability to rewind was a bit annoying for some of the longer (50 seconds or so) videos. Adding playback controls (volume, too) and turning off the auto-play feature would solve these problems.
The video itself is concise and clearly demonstrates the proper test form and how to interpret your results. After you complete the test, you choose how well you did from a series of options below and continue to the next test. The options range from "I did it" to "I could only do a modified version of this test" on down. Again, don't lie.
Getting Results
After you've tested yourself, you can optionally test your golf swing knowledge and form as well. This shorter test asks you questions about your weight shift, balance, and overall golf form. Most of these questions are things you'd work on with a golf instructor, not a personal trainer, but both your fitness and golf form are used to calculate a "Golf Fitness Handicap" and to generate a complete report on your mobility, stability, balance, and swing characteristics.

The next step: creating your workout. The answers you gave about the equipment available to you and the days and duration of your workouts are combined with your test results to personalize a workout program that not only fits your schedule but your golf fitness needs.
Get Going!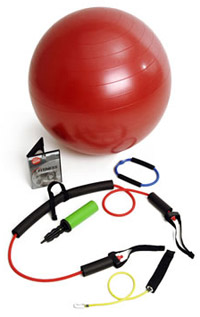 The $150 you spend in signing up for MyTPI gets you more than a "virtual personal trainer" to set up your workouts and to monitor your progress: you also get an equipment kit that includes a swiss ball, rubber tubing, a DVD, and more. Swiss balls are surprisingly expensive, as are rubber tubes, so this package alone makes the price much easier to swallow. If you have the equipment, you can sign up for $125. The equipment package is available for $65, too.
MyTPI's customized workouts use your list of available equipment and a library of hundreds of exercises, stretches, and routines to ensure that you are not only capable of doing everything in the workouts, but that they'll provide a real benefit to you and your golf game. If you have a stationary bike, treadmill, elliptical trainer, or other cardio equipment available to you, they'll be incorporated into the workout. The same is true of strength equipment (free weights, cable cross machines, circuit equipment) and functional training equipment (medicine ball, weighted club, Bowflex, slide board, etc.).
In other words, if you belong to a gym – great. MyTPI will put some of the gym equipment to use. But for those of us who want to work out at home, the equipment Titleist sends you is about all you need.
Once you've received your equipment and completed your tests, you'll sign in to mytpi.com and make your way to "My Workout" (see above). This section provides you with access to the details of your test results, your next workout, your options (scheduling, available equipment, etc.), and re-testing.
At the bottom, "Workout Information" tells you when you began the program, when you'll be re-evaluated, how many workouts remain, and your current Golf Fitness Handicap.
Sandwiched between these is the most important item on this page: the workout calendar. The calendar is easy to understand and use, and clicking on any day takes you to that day's workout. I wish the scheduler had the capability to move or shuffle workouts, but it's fairly rigid. For example, one of my workouts was scheduled for Christmas Day. I'd have preferred to push the entire workout schedule back a day, but the only options were to skip the workout or to re-set the 18-workout start date, which would line up 18 new workouts starting December 26. Perhaps we'll see a slightly more advanced scheduler in a later version.
As I said, clicking on a calendar d takes you that day's workout: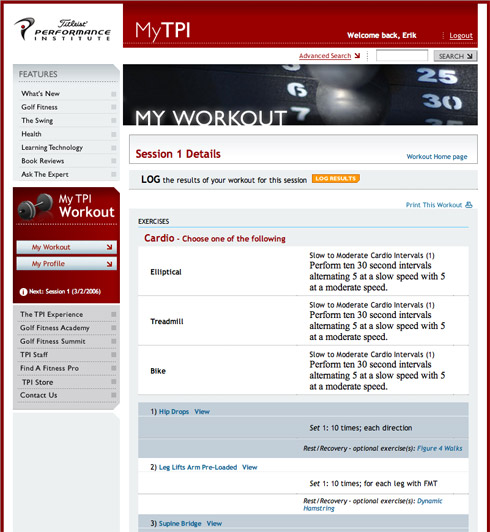 Each workout is broken down into a series of exercises. Online, you can click the "View" link next to each to view video and a series of photos that demonstrate proper technique. Each workout can also be printed, and the printout comes complete with photos and step-by-step instructions to properly complete each exercise. This comes in handy as I'm guessing most people don't work out next to their computer. A short bit of advice: you may want to print your workouts at work. My 30-minute workouts (click for PDF) printed on 13 pages. While I appreciate how thorough and easy to use the printouts are, it's also an expensive use of paper and ink if you print every workout for a year.
The workouts themselves are easy to understand. If you click to view each exercise (see image at right), you'll be presented with the video, photos, and explanatory text. You'll also see what equipment you need and you'll be told what areas of the body the exercise targets.
Recently, golf fitness has centered around a few key areas: core strength and flexibility. MyTPI exercises are not designed to help you bulk up. You'll use light weights (or rubber tubing) with lots of repetition to build muscle tone and joint flexibility, not brute strength. Many exercises incorporate the Swiss ball to both keep the core muscles engaged and to enhance your sense of balance.
In two months of using MyTPI, I never found an exercise that didn't seem specifically geared towards improving my golf game. If you understand the golf swing, and what muscles and positions good golfers engage in a golf swing, you'll quickly understand what each exercise targets.
After each workout session, MyTPI encourages you to log your results. You'll mark the time, weight, number of repetitions, intensity, and other information. It's unclear to me whether this information is used, as I didn't veer from the workout and thus rarely made changes to the default answers. The log is a tad confusing at times, too. For example, the same three options – "Reps, "Weight," and "Intensity" appear for every exercise regardless of whether they feature repetitions and/or weights. "Intensity" lists 100 numbers from 1% to 100%. That's a bit too fine-tuned for my tastes, so I left it at "NA" every time.
Extras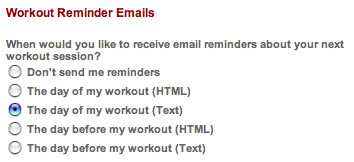 One of the toughest things about any exercise program is sticking to it. If the thoughts of whittling down your handicap and winning more cash from your buddies aren't motivation enough, there's little a website can do. But while MyTPI can't reach out and force you to exercise, it can send you email reminders in plain text or HTML. It's then a matter of your own willpower whether you actually exercise or not.
As I mentioned earlier, membership in MyTPI provides quite a bit more a customized workout program. MyTPI provides articles and reviews, recipes, and quite a bit more. The "Learning Technology" section has articles that talk about video review software, lighting, video and still cameras, game improvement software, launch monitors, and other techy things that you can use to improve your game. "Golf Fitness" articles cover topics from ladies fitness to cardiovascular health, mobility, posture, strength, coordination, and more. "The Swing" contains articles on biomechanics, swing faults and fixes, and fundamentals. "Health," as you would imagine, has articles on shoes, vision, skin care, nutrition, and the treatment of injuries, among other topics.
Every article is written by a certified fitness professional, and the depth and breadth of the topics is astounding. I would reckon that having a single access point to all of this information is worth $125/year to some people, making these "extras" a tremendous value to someone looking to get in shape for the upcoming golf season.
Results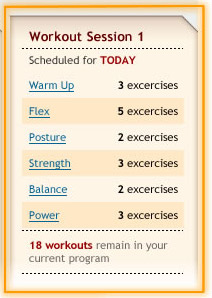 Last winter, though I vowed to get into shape with the help of a PDF, it simply didn't happen. After the first few weeks, I was tired of doing the same darn exercises over and over again. The program wasn't personalized to suit my needs, lumping me into generic "advanced" or "moderate" levels.
Clearly you're only going to see results if you stick to the program and do the workouts, but with MyTPI's personalized workout routines, it's been easier than ever before for me to do so. My workout changes slightly day to day. Each exercise feels as though it's actually working on some part of my body that needs improvement.
My waist size dropped from a 33 to a very loose 32 and I dropped ten pounds. During the summer, I walk about 72 holes of golf per week, and I often gain a little weight during the "lazy winter." Not so this year. I am stronger and more flexible. Exercises that would push me to a limit before have been replaced with more difficult exercises.
Has the program worked for me? I'll know more when I actually begin playing golf, but even with all this snow on the ground, I know I'm in better shape. My golf game can't help but be better and more consistent.
Conclusion
I'd like to apply the same advice I've given to people asking whether they should get lessons. A new driver will cost you $300 (or more) and likely won't change your golf game very much. For half that, you get a customized workout program, equipment to help you do it, and access to a vast library of articles and information to help you become a fit, healthy, strong, flexible golfer.
Though there are some minor nitpicks, they're nothing a few changes couldn't solve. Unlike a book (electronic or otherwise), MyTPI is a website – it's software – and it's constantly updating and improving. I used to write and review software for a living in addition to consulting on several user interfaces, so I assure you too that I'm likely a lot pickier about these kinds of things than almost anyone else.
In the end, I feel that $150 is a tremendous value any way you slice it, with one caveat: you've gotta do the workouts. If you're going to spend $150, I'm sure the TPI will gladly take your money, but to see results you'll have to actually do the workouts. But if you can, and if you do, I feel you'll realize the value several times over. Not only will your golf game improve, but so too will your overall health and well-being.