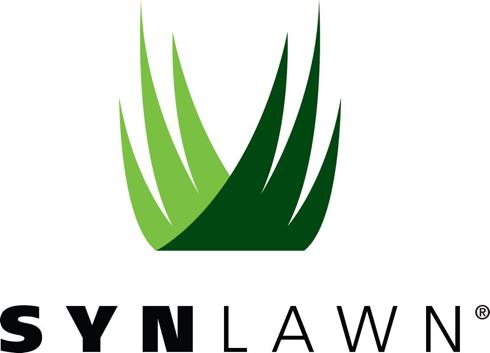 Many years ago, when this site was in its infancy, I wrote an article about how you could build your own 8′ x 8′ putting green relatively inexpensively. That putting green served me well for the few months before I bought my house. It was not worth moving, so I left it (with permission) for the next owner(s). For years afterward, I went without a home putting green (the carpet in my living room stimps at about 8, so it could be used in a pinch).
Then, in late 2011, we opened Golf Evolution in downtown Erie, PA. GE included a 2000 square foot putting green, and after exhaustive research, we partnered with a company called SynLawn for the putting surface.
Last winter, we finished our basement. With a competitive junior golfer in the house, I again felt the urge to build a putting green that she (and I) could use to work on our games when we couldn't (or didn't want to) drive the eight miles to Golf Evolution. So, I built a frame out of some 80/20 aluminum slot rails and flattened and glued down some of the remaining Wittek turf I had from years ago. It had been safely kept in good conditions, rolled up lengthwise, in the meantime.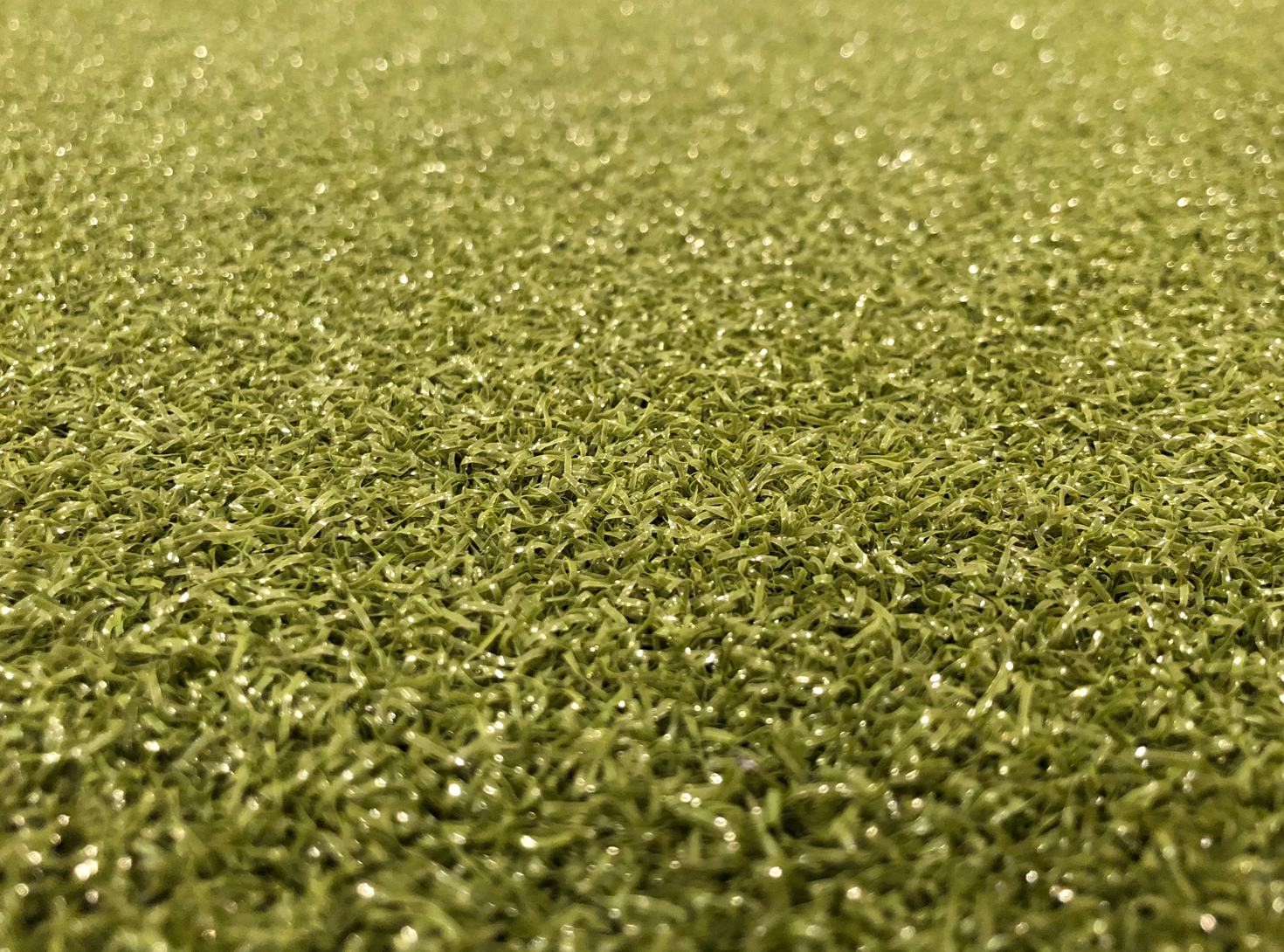 The Wittek putting surface was never great. Despite flattening the carpet for weeks, random bumps would pop up. The surface was eventually glued, but bumps still appeared, and then migrated. Balls could roll over the same area and go left or right seemingly on the whims of fate, and often dramatically. The surface was hard and crunchy and even a little bit "prickly" beneath your feet (it's our house, so we'd often putt in socks or barefoot). It was an "okay" surface – better than nothing and slightly better than our living room carpet – but it wasn't what we wanted.
So, I ripped it off, sanded down the glue spots (probably unnecessarily), and installed some SynLawn turf. The instant we put it down, we knew we'd made the right choice.

This won't be a review in the typical sense, as I've used the product extensively at our indoor facility, and I knew what I was getting when I ordered the SynLawn strip for my home. I simply wanted to share, with the readers here now and in the future, how much we enjoy SynLawn's putting surfaces, how they've held up over time, and what they offer.
SynLawn offers what I believe are three major advantages:
Their turf is true-to-life in both roll and, with the foam underlayment, bounce/check.
Their turf is easy to install and maintain.
Their turf is incredibly durable.
True to Life Performance
No putting green is perfect. Not even real-life ones, including those at Augusta National. Watch a closeup of any putt on the PGA Tour and you'll see the ball track generally toward the hole, but particularly as the speed dies down, wobble to and fro ever so slightly. This "wobble" is a large part of the reason AimPoint advocates hitting the ball about 12″-18″ past the hole.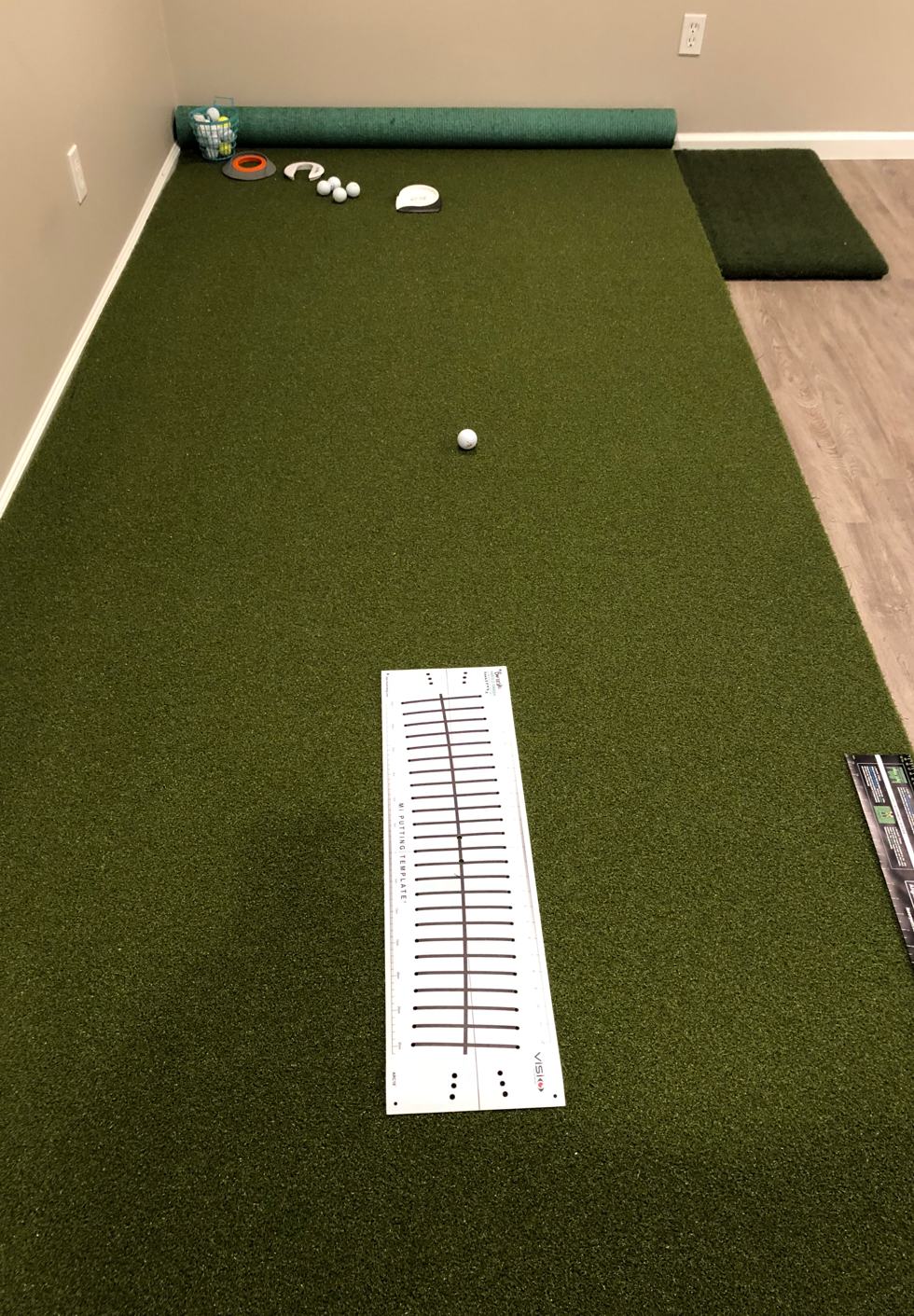 SynLawn turf isn't perfect either, but I call it perfectly imperfect. When you putt on a SynLawn putting green, the ball makes the same sound as it does on a real grass putting green. It tracks straight overall, but has a little "wobble" as the ball slows down. This isn't a mini-golf level felt putting surface that stumps at 16… it's an accurate putting green that rewards balls that have just a little pace when they get to the hole to hold their line.
On poorer putting surfaces, you'll get "wobble" even during higher-speed portions of the putt. For example, check out this video that shows balls being putted on both the Wittek turf after one year of continual flattening and the SynLawn videos within three minutes of just resting it on the frame.
The difference is remarkable. And after we spent ten minutes stretching and flattening the SynLawn turf a little, it's now what I'd call perfect. Or perfectly imperfect, as putts will wobble slightly as they lose speed, just like on a real putting green, after maintaining their line during the higher speed portions. The home turf stimps at between 9.5′ and 10.5′.
Downtown, at Golf Evolution, our SynLawn turf is a slightly higher grade, and stumps at between 9.5′ and 12.5′. What changes? The humidity level. In fact, when we first installed the turf, it stimped at about 7′! The nylon fibers were retaining a lot of moisture from being freshly manufactured, and within a week, we were up to 10'+ as the extra moisture evaporated. In the winter, when it's drier, we often get stimp speeds in excess of 11.5′, and in the summer, 10′ to 10.5′ is typical.
So, SynLawn's got some great putting performance, but another aspect of SynLawn's true-to-life performance is how well it behaves on chip shots. I don't have a video here, but I have a lot of experience, and the tales and commentary of hundreds of golfers, and it's all glowing. Due in large part to the specific type of foam that SynLawn uses, the turf reacts impeccably well. Whether you're playing flop shots, chip and runs, low check shots, etc., the SynLawn turf responds just about as you would expect real-world grass and dirt to react.
It's not perfect. It can't be – it's synthetic, and real grass/dirt can be wetter, drier, firmer, softer, squishier, "skiddier," or a host of other things. SynLawn's turf responds, on average, quite well. The low checker above probably won't check quite as much as it will outdoors, on grass. The high flop shot might bounce a bit more vertically than it would on a softer real-world green. But it's awfully close, and the best I've seen among synthetic greens, particularly those without any rubber "infill."
In my experience, SynLawn offers the most true-to-life putting and short game performance. Dave Pelz would likely find another product to back were that not the case, but Dave Pelz's fingerprint is all over SynLawn's products:
Dave Pelz even lends his name to the "ShotStopper" technology:
Easy to Install
Golf Evolution was the location for one of SynLawn's first major, large-size installations. Home installations the company had down pat, but stacking layers of felt to create break was not going to cut it on a 2,000 square foot putting green that needed about two feet of elevation change to create the breaks we needed to teach AimPoint indoors.
With SynLawn, we created a solution involving the pink home insulation, plywood or fiberboard, and their unique foam underlayment system to create a green surface that had the necessary tilt, was solid, would last, and would look great.
Installation took three days, the bulk of that being spent making sure the contours were perfect on a floor that was anything but flat.
Fortunately, home users have a much simpler process. It's as easy as two steps, with an optional third if you desire a bit more break:
Lay out the pre-cut foam blocks in the shape of your putting green. The holes are already cut and the edges are already sloped downward so you won't have to step "up" onto your putting green.
Optional: roll out some felt for contour and slope. If you're putting your SynLawn green on an area with existing slope, this may be completely unnecessary!
Roll the pre-cut turf out, complete with fringe toward the sides, over the foam blocks.
That's it! You can be putting on your custom-built, custom-sized SynLawn putting green within half an hour.
For larger installations, SynLawn putting turf typically comes in strips 15′ wide by the desired length. For my basement installation, I didn't need holes cut, fringe ringing the outside edges, or any of the foam, as I wasn't going to be chipping onto the green. My putting green measured 5′ x 12′, and exists almost exclusively to work on stroke mechanics or aim.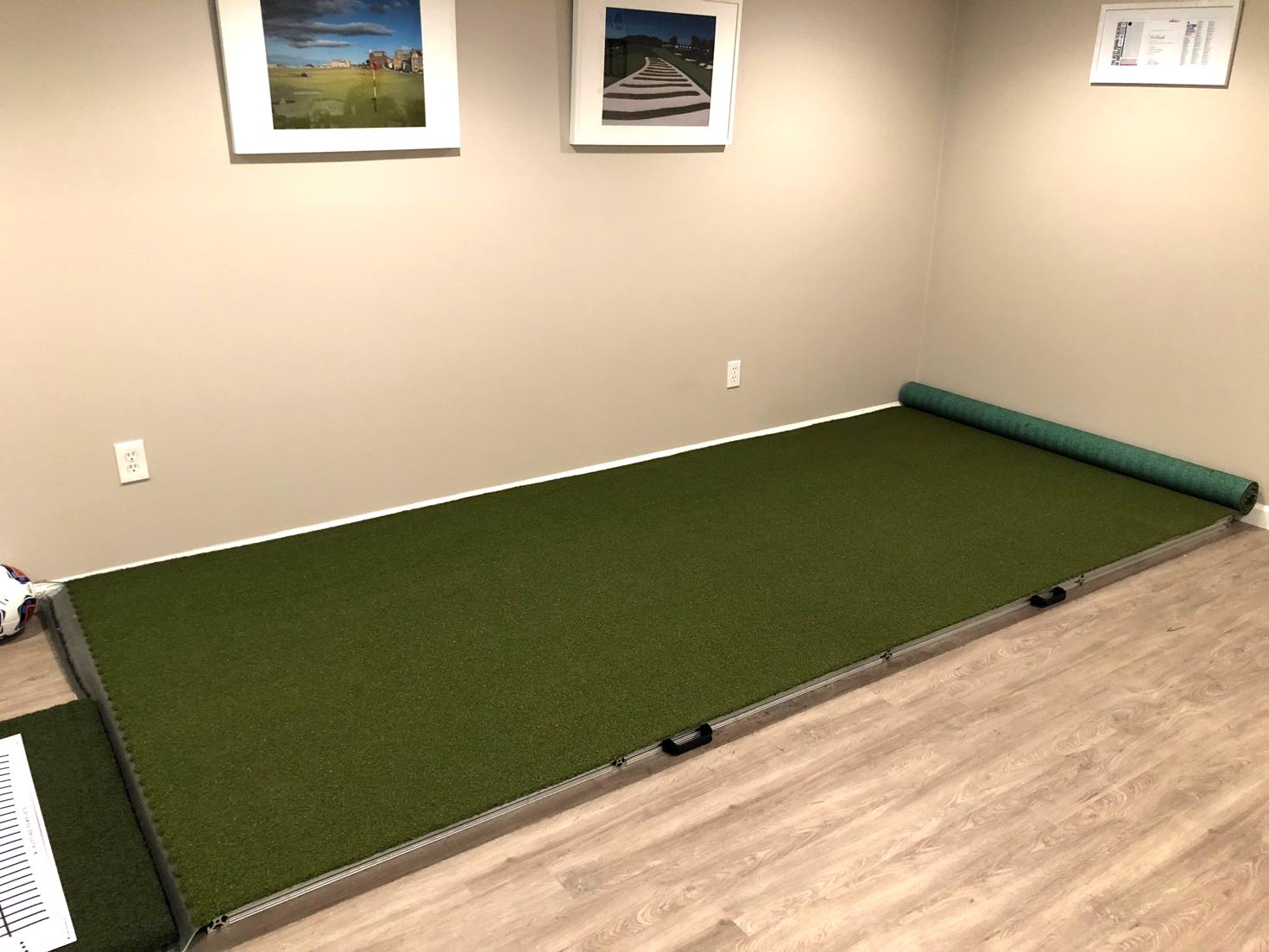 So, a 15′ x 5′ piece of turf is all I needed. I rolled it out, rolled up the far end, and flattened a few bumps from where it may have rested on another package in shipping by setting a few books on them for an hour, and it's ready to roll.
Durable
There's not much to say about the durability: the putting green at Golf Evolution, despite the holes being in the same place for six years, despite hundreds of members using it for months at a time, several hours per day, traipsing in all manner of debris and crud on the bottoms of their shoes, the putting green still looks fabulous. It performs beautifully. We vacuum it occasionally – this process takes awhile as the fibers do hold onto small debris a bit more strongly than a typical carpet – but otherwise we've spent no time maintaining our SynLawn putting green.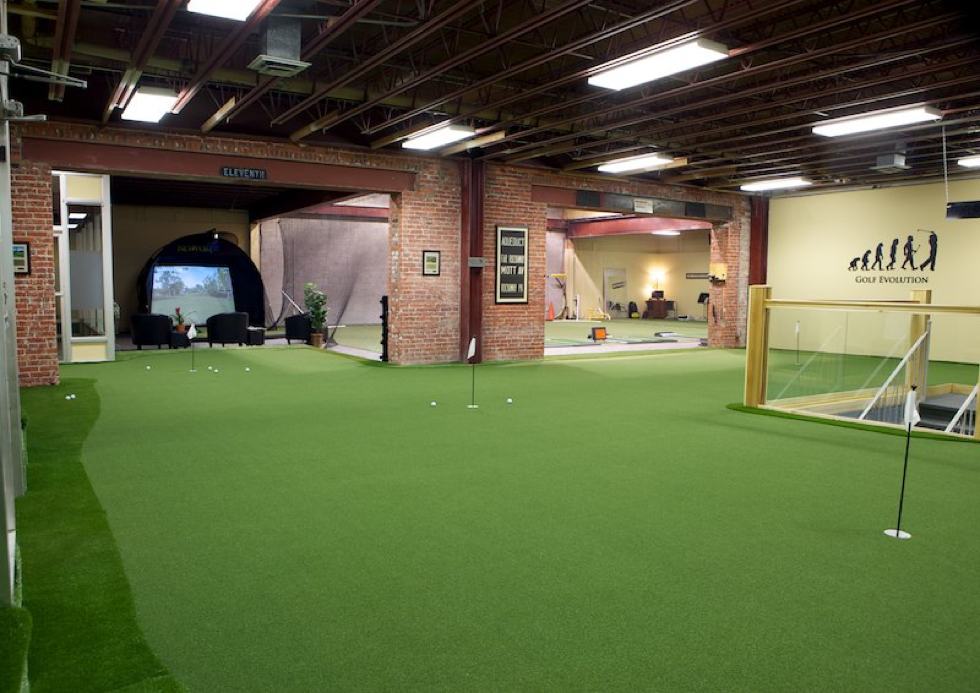 It rolls as true now as the day it was installed. We conduct putter fittings, AimPoint lessons, SAM PuttLab analyses… we play games of 21, 3-up, and Buckets.
What could have gone under the ease of installation, but which I've saved for here, is perhaps one of the best things: SynLawn turf does not require or use any of what's commonly called "infill." Whether sand or little rubber pellets, "infill" is often used by other synthetic green companies to customize the green speed and to soften ball impact for a somewhat realistic bounce/check/roll-out on short game shots. Maintaining a green with infill can be a nightmare, as the infill shifts, is depleted or carried away. It's impossible to clean with a vacuum for obvious reasons.
Now, while it's true that the industry is moving away from surfaces with infill, they still exist, and SynLawn is leading the charge away from that practice with the best turf, in my opinion, on the market today.
Conclusion
I could just repeat my sentence from just above: SynLawn offers the best synthetic putting green turf on the market today.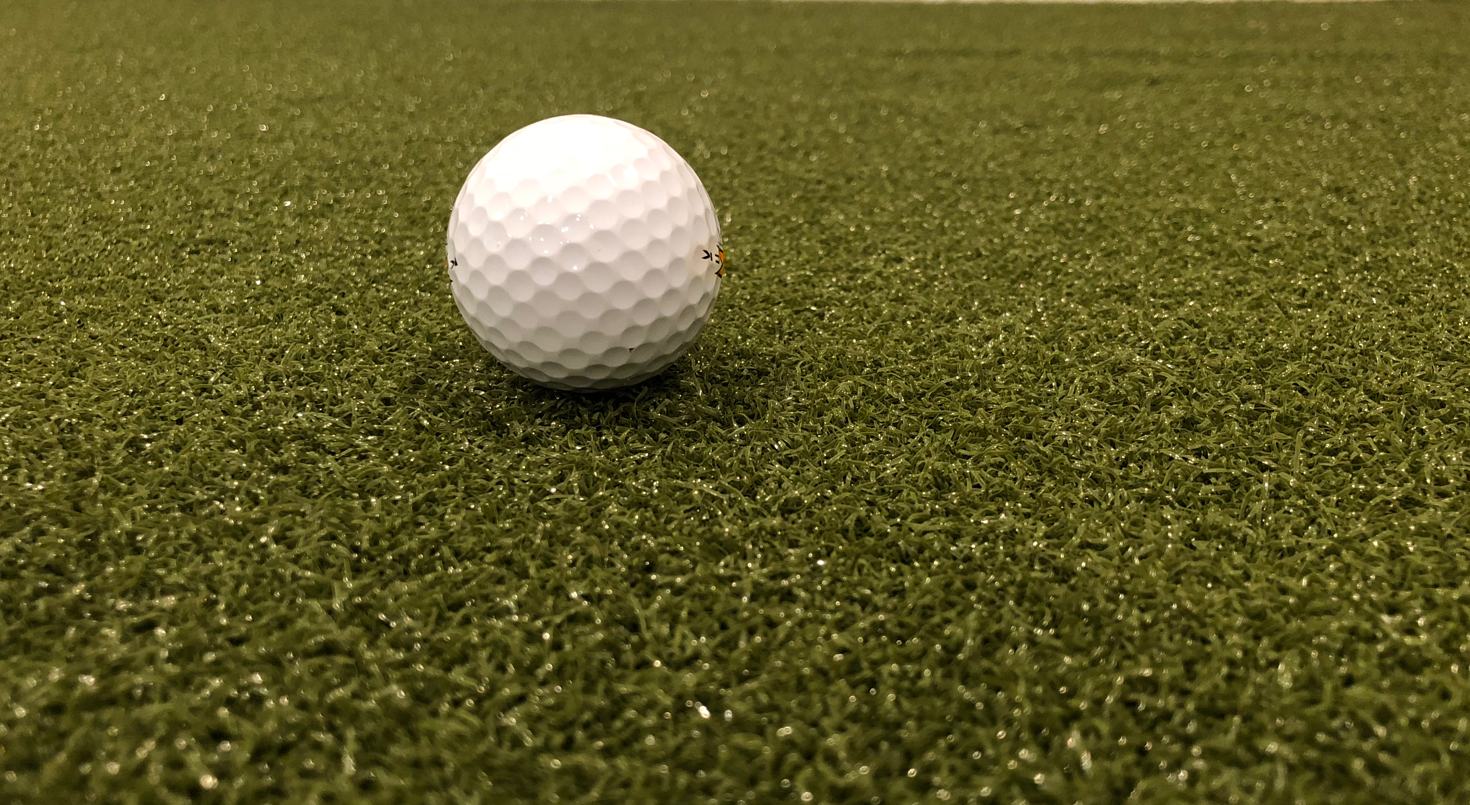 Whether you're interested in buying turf and building your own putting green, carpeting an entire room, or just buying one of their pre-built solutions (they have portable models, too), you'll find a solution to fit your needs.
Of course, SynLawn makes more than just the putting surface: you can add a realistic fringe or rough. You can create an entire teeline from SynLawn turf if you desire.
SynLawn's use of nylon instead of polypropylene is a major advantage, and the breadth of their offerings is another. If you're in the market for a home or office putting or short game solution, look no further than SynLawn.