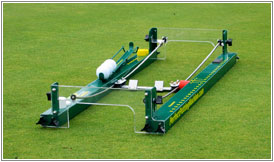 You've probably seen Dean Thompson on The Golf Channel's Fore Inventors Only. Or maybe you didn't hear about him until we conducted an interview with him after the show was over. In the eyes of many, Dean's Z Factor Perfect Putting Machine (hereafter called simply the "Z Factor") should have won the competition, or at least finished higher than fifth place! After all, golfers from the PGA Tour to the local muni spend about 40% of their strokes on the putting greens, so a reasonably priced putting aid should be of interest to golfers of all levels.
Dean has spent years traveling the world, sharing the Z Factor with PGA, Nationwide, LPGA, and European Tour stars. Fore Inventors Only served as a coming out party of sorts. Now available for sale at perfectputtingmachine.com for $299, I've taken an in-depth look at the Z Factor. Has it improved my putting? Is it worth three big ones? Read on to find out…

Setup and Accessories
The Z Factor comes in a fairly thin, narrow, long box. The assembly instructions, though helpful, are virtually unnecessary. The Z Factor requires no tools and comes with everything necessary for immediate assembly. It can be put together (and taken down) inside of three minutes for easy transportation. If you prefer not to disassemble the Z Factor to transport it, a built-in carrying handle proves adequate to the task.
The Z Factor consists of a wheel-guided sled that rests between two metail rails. It's similar in form to a roller coaster (though its purpose is to eliminate all the loops, twists, and turns in your putting stroke!). The reversible sled has two magnets, one each at the heel and toe, and attaches instantly to any magnetic putter. For non-magnetic putters, the Z Factor includes double-sided sticky pads and one-inch metal squares. Stick one metal square to the heel and toe and your non-magnetic putter (like most of my Scotty Camerons) and you're all set. The sticky pads and magnets come off fairly easily and do not mar or damage the finish.
Two sets of rails are included. One pair is a bit shorter than the other and creates a flatter arc. The height of the rails can be adjusted in both the front and the back to account for your particular stroke. For example, if you have a long, low-to-the-ground follow through, you can lower the front of the rails so that they don't swing up quite so quickly.
The arc of the rails is controlled by five spacers which can create five arc strokes or a square-to-square stroke. Paired by color (two white, two yellow, and one red), the spacers are placed between the sides of the Z Factor and the rails to create the desired putter path. Adjusting the path from a 65° arc to an 85° arc takes about thirty seconds. The extra spacers, which secure themselves magnetically, can be stored on the side of the Z Factor when not in use.
Several accessories can be mounted to the Z Factor, including a ball feeder, an extended ball hopper/shag tube, and an alignment laser. I have only two of these options, and both attached effortlessly. The ball feeder slips into a notch and is held in position with a magnet. The alignment laser clips onto the back of the Z Factor.
Finally, an instructional DVD is included. This DVD includes a few drills, guidelines, and a step-by-step setup guide.
In Practice
I putted fairly well in 2007, but several times I would go through spurts where I would miss putts to the right. I had attributed this to not completing the arc of my follow through – not allowing the face to close enough through impact to square up the face.
One of my favorite drills from 2007 was the yardstick drill. I'd bend a metal yard stick into a slight arc, hold it in place with tees, and put the heel of my putter against the yard stick while stroking putts. I figured it was a good way to groove an arc stroke.
The problems with my yard stick drill became apparent the first time I tried the Z Factor at the PGA Merchandise Show in January. Dean put some spacers in that approximated my stroke, and I stroked back and forth. Immediately, the toe of my putter came off the magnets on the backstroke. Once, twice, and three times. It turns out that though I was making a good arc stroke, I had been exaggerating how much the face needed to open and close throughout the stroke. If my timing was off by a fraction of a second, I would push the putt.
The Z Factor immediately alerted me to this flaw. I stroked a few more putts into a hole on the small practice green Dean had in his booth in Orlando and resolved to get a Z Factor for further review.
I received my Z Factor two weeks before a scheduled trip to North Carolina. I set it up an an upstairs hallway with a carpet that stimps at about 14. Per the instructions on the DVD, I made several strokes without a ball in place just to feel the putter swinging on a consistent, proper arc. I made strokes with my eyes closed.
Eventually I put a ball down and putted it towards the end of the hall. And then another. And another. The balls kept hitting each other at the far end of the hallway. If a hole had been cut in my carpet, I'd have made every putt right in the center.
Without having putted on a green yet in 2008, I took my golf trip to North Carolina. In my first two rounds, I took 28 and 31 putts, and I only took so many putts in the second round because my speed was off. The greens were aerated and I couldn't make myself hit the ball hard enough to get it to the hole. In the first round, after making several lengthy putts for par, I would say "Z Factor!" to my amused playing partner, fellow Sand Trap staff member Dave Koster.
Subsequent rounds (as of this review) have seen putt totals of 26, 28, 28, and 25. In 2007, I averaged 29.7 putts per round. So far in 2008 I'm averaging 27.67 – a two-stroke difference. I feel as though I've started virtually every putt on-line. Perhaps if Tiger Woods had a Z Factor, he'd have won the Masters this year…
The Z Factor currently sits in a corner of my living room. I pull it out for a few minutes at a time. Sometimes I stroke putts, and sometimes I just swing my putter back and forth. The Z Factor improves on my metal yardstick method in two key ways. First, I no longer have to push the putter's heel against something – the Z Factor's sled guides my putter back and forth while I make a normal stroke. Second, by gently helping me to maintain the proper face angle, I can no longer overly rotate the face open as I was prone to do with the yardstick drill. The Z Factor promotes a perfect putting stroke every time.
I've since let several friends try the Z Factor, and each of them is astounded at how easy it is to use. They're amazed at the immediate feedback they receive. Some of my friends have a different arc than mine, and they were impressed at how quickly I was able adjust the Z Factor for their strokes. Several who thought they were square-to-square putters immediately recognized that they were wrong. This matches something Dean Thomspon told me: "In all my years on the PGA Tour, I've only found two players who putt square to square on short putts. The rest all have some arc to their strokes." Odds are you do too, because a square-to-square stroke is difficult to perform accurately.
Though grooving a perfect putting stroke is the Z Factor's primary raison d'être, it is capable of a fair amount more. Evenly spaced numbers on the inside of the Z Factor help to insure that you're setting up to the ball consistently. If you typically line your front foot up at 7 and your back foot up at 9, you can check your stance each time you step up to the Z Factor.
The Z Factor can also help with green reading. Imagine a ten-foot putt that breaks left two feet. Amateur golfers tend to under-read putts and will aim as little as one foot to the right, then push the putt further right subconsciously to get the ball on line.
Since the Z Factor is going to eliminate any pushing or pulling, you can use it on the practice green to fine tune your green reading. Look at a putt, aim the Z Factor where you think the ball should start, and putt the ball. If you're off, adjust the Z Factor until you find the proper aim. Compare that line to the line you first guessed. When you start getting it right on the first guess, you've improved as a reader of greens.
Extras and Options

As I mentioned, I opted for the alignment laser and ball feed accessories. The ball feed works as advertised and holds eight or nine balls comfortably. Knock a ball out, line it up, and putt away. Simple and effective.
The laser sight is another thing altogether. It comes in handy indoors but is virtually useless outdoors unless you putt in the dark. That's simple physics (sunlight is really bright and washes out the laser) – not a fault of the Z Factor. I do wish the plastic cross-bar pieces that connect the two sides of the Z Factor included some sort of notch for the laser, though, as aligning the laser can take a bit longer than it otherwise would. Indoors, the laser is a great guide and lays down a path about 25 feet long. My hallway is straight, but my living room breaks two inches towards the widescreen TV. 🙂
The Z Factor works out of the box for both righties and lefties. Lefties simply have to detach one of the rails from the clips, reverse the sled, and clip the rail back in. The unit ships with a cloth carrying case, but I don't see myself using it. You have to disassemble the Z Factor to use the case and I'm content to just toss the Z Factor in the back of my car.
In Conclusion
Putting doesn't require the flexibility, strength, or speed of a Tiger Woods driver swing. In other words, virtually anyone can putt well if they take a little time to practice.
The Z Factor is the best putting training aid, bar none, that I've ever used. It allows you to choose and then groove the putting stroke that feels most comfortable to you, so that you make a perfect stroke every time. You can practice your stroke in your home or office or take the Z Factor to the course and putt with it on the practice green.
Did you know that if you push or pull a putt as little as one degree, you have almost no chance of making a ten-foot putt? Push or pull a putt two degrees and you won't touch the hole on a five-foot putt.
Golfers will spend $400 on a driver they'll hit 10-14 times per round. They'll spend $300 on a putter. They'll spend hundreds of dollars on lessons (usually exclusively for their full swing). Yet every golfer, from the PGA Tour player right on up to the bogey golfer or worse, spends between 30 and 45% of their strokes on the putting green.
At $299, it should not take a bunch of pro player testimonials to convince you that the Z Factor is a must-have training aid. I'm not normally a fan of training aids – they're clunky, limited in purpose, don't work, or feel just plain cheap. The Z Factor is none of these things. It's a well-designed, sturdy training aid that does everything conceivable to make you a better putter.
With such a large percentage of your score riding on your putter, can you really afford not to get a Z Factor? It should pay for itself the first few times you take some greenbacks from your buddies.