Now in the sixth year of it's FedFexCup playoff system, the PGA Tour has finally finished its tweaking, and they may have struck gold. Though it's still a little odd that Bill Haas won last year (and is fourth in total FedExCup points accumulations since its inception), the system has generally done a good job at not only awarding the player who played the best when it mattered, but showcasing great golfing talent and awesome golf courses.
The Barclays journeys to Bethpage Black in 2012, and joins TPC Boston, Cog Hill, and East Lake to form a pretty solid four-week stretch of championship golf. Several of golf's biggest stars have rounded into shape, including two-time FedExCup champ Tiger Woods and 2012 PGA champ Rory McIlroy.
But though most of the sport's biggest stars have spent time in the winner's circle this year, no one has dominated in the way we were accustomed to seeing in the mid-2000s, and the list of players still with a chance is large. Aside from the more obvious big names, here are five I in particular that I think could contend.

Number Five: Hunter Mahan
There are five multiple winners on the PGA Tour this year: Tiger Woods, Jason Dufner, Rory McIlroy, Zach Johnson, and Hunter Mahan. Of the five, Mahan has probably received the least amount of fanfare (with the possible exception of Johnson), undue as that may be. Mahan is sixth in FedExCup points, but he has been mostly invisible in majors and he hasn't competed for much since April.
Mahan started the season well after not winning at all last year, with a T6 at Torrey Pines. He got back in the winner's circle at the Match Play, and he returned less than two months later at the Shell Houston Open. Mahan has missed just two cuts all year (albeit at The Players and the PGA), but the only other time he contended was at the AT&T National, where Tiger stole the media's spotlight.
Mahan's best chance it seems is at The Barclays, which is being held for the first time at Bethpage Black. Hunter very nearly won the 2009 U.S. Open, also held at Bethpage, until an unfortunate bounce on the 16th hole where his approach clanged off the flagstick and killed a crucial birdie chance.
Number Four: Rickie Fowler
2012 was Rickie Fowler's breakout year of sorts. He's ahead of everyone else on this list except for Mahan in FedExCup points (18th place), and he recorded his first victory. He's not nearly the United States' answer for Rory McIlroy that some thought he would be, but he did pick up his first PGA Tour win at Quail Hollow, the same venue where McIlroy claimed his first PGA Tour trophy back in 2010.
Fowler started 2012 pretty well, competing in the Honda Classic won by McIlroy over Tiger Woods, and won two months later. In his very next start, The Players, Fowler finished tied for second, losing only to Matt Kuchar. He followed that up with a T5 at Colonial.
Fowler is a mixed bag of sorts. He hasn't finished inside the top 30 in any event since May, and he missed the cut at the PGA. I think he has a chance at the Deutsche Bank in particular, where the winners are generally double-digits under par.
Number Three: Sergio Garcia
The list of players that have won three or more events on the PGA and European Tours over the last two years is short and distinguished. It includes Tiger Woods, Rory McIlroy, Luke Donald, and Sergio Garcia (among others). He won twice last year in back-to-back events, at the Castello Masters and the Andalucia Masters, and finished in the top 12 at the last three majors.
Sergio's win margin at the Castello Masters was officially the third largest in Euro Tour history, smaller only than Tiger's 15-stroke win at the 2000 U.S. Open and Ernie Els' 13-stoke victory at the 2005 BMW Asian Open. Garcia had been winless since 2008, when he made it as high as second in the world rankings and nearly bested Vijay Singh in the FedExCup Playoffs.
Despite not playing all that many events, Sergio got off to a solid start in 2012, with a T4 at Riviera in February and a third-place finish at the Nordea Masters. He entered the Wyndham without much fanfare but pulled it out, beating Tim Clark and Bud Cauley and holding off a hard-charging Chad Campbell. Sergio's win also all but secured him a Ryder Cup spot and put him at 33rd in the FedExCup points race, only three spots from a berth at the Tour Championship.
After a great week, the confidence could be all Garcia needed to put him over the top.
Number Two: Graeme McDowell
I've been rather critical of Graeme McDowell of late, and while I think it's completely justified, it's impossible to deny that he's had a solid year. After a third-place at Abu Dhabi, McDowell tied for ninth at the Honda Classic, tied for 13th at Doral, and finished runner-up to Tiger at Bay Hill. McDowell then finished a non-contending T12 at the Masters and was second at the Volvo World Match Play.
After a few missed cuts, Graeme bounced back at the U.S. Open with a T2, where he teed off on the 72nd hole with a chance to tie. McDowell rounded off his major championship season with a fifth-place finish at The Open Championship and a tie for 11th at the PGA.
McDowell's high finishes have been in spite of a few horridly bad Sunday rounds, especially at the last three majors. Graeme, usually rock-solid under pressure, has looked anything but, and he's one of only a few golfers who could say he had a shot at three different majors. Luckily for Graeme, a few high finishes should catapult him near the top of the FedExCup points list, and he might not have to win anything to walk home with some hardware.
Number One: Adam Scott
Like Graeme McDowell, Adam Scott has gone winless in all four majors in 2012, despite finishing in the top 15 in every event. Scott scored well on Sunday at the Masters, but even his ace on the 16th hole was not enough to get him into the playoff.
Scott continued to play well after Augusta, with a T15s at The Players and the U.S. Open. His most famous moment however came at The Open Championship, where even tying the course record on Thursday wasn't enough for him to pull out his first major win. Scott had birdied every single par five over the first three rounds, and although that ended early on Sunday, he seemed in total control.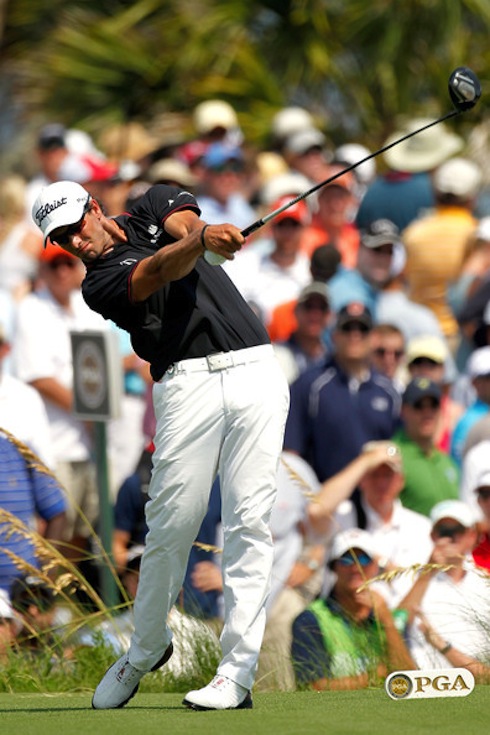 Adam fell apart late during the back nine, when Scott, up four shots with four to play, bogeyed all four holes. An opportune birdie by Ernie Els gave him the Claret Jug.
Scott again played well at Kiawah, entering the final round in the second-to-last group, but he, and no one, could catch up to Rory McIlroy.
Scott's career record in big events isn't great, but he has played so well this year it would be tough to overlook him. A few high finishes at the first three events could put him squarely in the thick of it come Tour Championship time.
Conclusion and Your Thoughts?
The FedExCup, though imperfect, has consistently given us some great golf, and with the U.S. looking to steal back the Ryder Cup this year, the PGA Championship was hardly the last meaningful golf we will see this year.
Four events, all with great fields, await us, and the likes of Tiger, Rory, and Phil all have a chance. My five underdogs, if you can call them that, are Hunter Mahan, Rickie Fowler, Sergio Garcia, Graeme McDowell, and Adam Scott.
Who you got?
Photo Credits: © Hunter Martin, © Sam Greenwood, © Jonathan Ferrey, © David Cannon.