Golf has long prided itself on being the sport where players are expected to call penalties on themselves and rules officials help players interpret the rules rather than calling fouls on them. This year, golf begins random drug testing. Will it change the game as we know it?

Hardly.
I know what you're saying, "But what about the fact that others will now be policing the players? What about the integrity of the game?"
We have had reporters and home viewers calling out players for infractions for years. What other sport has had that kind of audience participation?
I don't think that drug testing will have much impact on the game, because I don't think it's going to turn up many violations. Someone, maybe a few people, will probably get caught for marijuana (and we may not even know it), but I don't expect anything like a Mitchell Report in golf.
The PGA Tour (and the LPGA before it) had to institute a drug policy because of the perceived drug problems created by other sports (bicycling and baseball, notably). In golf's case, it certainly appears to be more of a PR crisis than an effort to "clean up" a troubled sport. As long as they don't test the caddies (those guys have a certain reputation to uphold), I don't think there will be many positive results.
I could be wrong, of course. Maybe some of those ripped players got that way with a little pharamceutical help. Maybe some of those ripped players enjoy getting ripped after a round. I suspect the latter is probably more likely, but I doubt that either are pervasive or excessive. The players have known of the impending testing for over six months, and still there haven't been any leaks about visits to the Betty Ford Clinic. I'd wager that the habits that might exist out there are the kind that could probably be easily kicked in, oh, let's say six months.
Which brings us to the first of five things you might not know about drug testing in golf.
Number Five: The LPGA Leads the Way
The LPGA's testing program has been in effect since Jan. 1. The first official LPGA tournament starts Feb. 14. Does anyone really expect many violations to turn up among the women?
The PGA will begin testing in July 2008 at the earliest, following a period of player education. What do you think that entails? "Remember players, just say no."
OK, it's a little more complicated than that. It's apparently possible to pick up banned substances through the use of other products that you might not suspect— over-the-counter cold medicines and the like. So some education is in order. But on the surface, the message to the players seems to be, "So if any of you guys are doing anything you shouldn't… wink wink… maybe you should consider quitting over the next six months or so."
The Champions Tour has said that it will simply adopt the program established by the PGA Tour. Whether they are going to move on the same time table is not yet clear.
Number Four: The No-Nos
Naturally, performance-enhancing drugs are at the top of the list of banned substances. Forbidden pharmaceuticals and other no-nos listed by the PGA Tour include anabolic agents (e.g., steroids), hormones and related substances (e.g., human growth hormone, testosterone, EPO), agents with anti-estrogenic activity (to artificially increase testosterone level), diuretics and other masking agents, stimulants (e.g., Ritalin), narcotics, cannabinoids, beta blockers, enhancement of oxygen transfer (blood doping), and chemical or physical manipulation (tampering with a sample). In other words, players can't take anything to make them play better or feel too good. Nor can they try to cover up taking such substances.
Players taking a banned substance for a proven medical reason can apply for a Therapeutic Use Exemption. The PGA Tour's medical committee will grant TUEs based on the lack of an alternate treatment to the banned substance and whether the substance improves performance in the individual player's case. Imagine a lawyer telling a career middle-of-the-road player, "Whatever you do, make sure you don't win until we get this TUE approved."
Number Three: Don't Do the Crime if You Can't Do the Time
A first offense will cost a PGA Tour pro up to a one-year suspension. On the LPGA, there's no question. It's a mandatory one-year layoff.
A second offense will cost the men up to five years of those massive tour earnings. The women get a little less time—a two-year suspension—but they also must make it through Q-school to rejoin the tour.
A third offense on either tour will result in permanent loss of eligibility.
While some might still argue that these punishments are not severe enough to deter everyone (and they might be right), the smarter players will realize that there are other costs to a positive test result. The PGA Tour also may impose fines of up to $500,000. In addition, the loss in sponsorship dollars could be huge. With the stigma currently associated with steroid use, sponsors are likely to abandon players who test positive. While big name players will likely still be able to earn appearance money for overseas tournaments even after getting caught, those outside of the top 25 or who lack strong fan appeal will find a suspension very costly indeed.
Number Two: Will the Results Carry an Asterisk?
This is where the details get a little sketchy.
Believe it or not, players on both tours who have tested positive will still be able to earn money while their appeals drag on. Money earned by a player during the appeals process will be held in an interest-bearing account until resolution of the matter.
This is the most troubling aspect of the program to me. Not that it's going to happen, but imagine what it would be like if a number of top players had a positive test result at about the same time and appealed. How long would it take to resolve those appeals? There will be a lot of actual and potential earnings involved in any of these cases, so I'd expect appeals could drag on while the players' lawyers explore all possible loopholes and appeals. If, in the weeks or months between testing positive and a final resolution of their cases, these players posted several wins or high finishes in tournaments, that would tie up a lot of money and a lot of FedEx Cup points. If the FedEx Cup began or even finished before the appeals were resolved, it could be a real mess. What happens when the players are eventually suspended? You can't really call a do-over on the "Playoffs."
I suspect these issues will be (or have been) resolved with an agreement between the Tour and the players, but I haven't seen that information yet. We can only hope that in practice the appeals process will not be a long one.
Number One: Your Number Came Up… Here's Your Sample Cup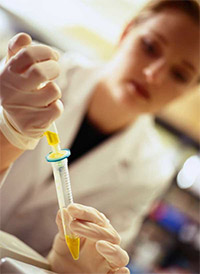 Both tours plan to test players randomly with no prior notice. There's no word yet how many players will be tested or how often that testing will take place, but we do know that the tours do not plan to automatically test winners. Both tours, however, have reserved the right to "target test" individuals who are suspected of taking a banned substance.
Here's where audience participation could come in again. "Yeah, hello Mr. Finchem. I was at OzzFest last night, and I saw [insert player name here] smoking a big old spleef. He sure was stoned, dude."
I sincerely hope that doesn't happen, but if it does, the player may well deserve his fate for being so dumb as to inhale a banned substance when millions of dollars are at stake on Tour, not to mention to do so in public.
As it turns out, we may not even know if a player tests positive for recreational drugs. The PGA Tour has reserved the right not to release the names of players found to have used these substances, presumably because they will be required to go through a rehabilitation program as part of their punishment. Players found to have used performance enhancing substances, however, will be publicly outed once all appeals have been denied.