Thanks to John Feinstein, everyone knows Mark Twain's famous quote. You know, the one where he famously called golf a "good walk spoiled." Sometimes golf is beautiful game between you, nature, and your sandbagging buddies who constantly assure you that inside the leather is inside the leather, even if their belly-putter has a grip that puts Adam Scott's broomstick to shame.
But sometimes golf really sucks. Everybody has those kind of days once in a while. You go to the range beforehand and you're hitting frozen ropes straight out to center field, but the minute you step onto the tee it's like the driver is a foreign object, and the fairway become a mythical place that should never be disturbed. More than maybe any other game, golf can bring any even the more experience players to their knees, at any time.
In this edition of Trap Five, we take a look into those moments on the course when it feels like the golf gods smack you right in the face.

Number Five: Never Leave an Eagle Putt Short
This one actually happened to me last year. I might have a pretty low handicap, but it doesn't come from making a lot of eagles and birdies. I usually get a birdie here or there, and I mix in some bogeys, but when I'm playing well I'm usually a par machine. Because of that, I only have one eagle in my life, and it was a chip-in at that!
Last September I was participating in The Sand Trap's Forward Tees Challenge at Delcastle Golf Course in Wilmington, Delaware. The 11th hole is just 260 yards from the front tees (and only 285 from the back), so I was going for the green. I tend to get way too much spin on my driver, which robs me of a little distance and makes me a bit inaccurate, but in this case it came in handy. I opened my stance a touch and played for a high, soft fade. The ball launched into the air, straight at the pin and landed about 15 feet behind the hole, then spun back to about seven feet.
I was left with a pretty straight putt that I full expected to make. It was slightly downhill, so I made sure not to hit it too hard, to just let it trickle over the front edge of the cup. As it rolled at the hole, I knew it was right on line, and I fully expected it to drop.
It stopped short. My stomach felt like I had just taken that initial ride to the top of the roller coaster, and gravity was doing its worst.
Number Four: The Divot That Goes Past the Golf Ball
Every time I see this happen, I think it would make for a great moment for a Charlie Brown cartoon. Think about it. Charlie Brown runs up to the football, takes a mighty whack at it, and then Lucy pulls the ball away as usual. However, this time Charlie Brown's shoe goes flying off downfield, and it clears the uprights. (If Charles Schulz beat me to that idea, I apologize.)
We've all seen the mega-chunk out on the golf course. Whether it is because someone's just learning the game, or they are having a bad day, or the ground is really wet. It happens, golf is a tough sport. But what really makes a chunk painful is when the divot goes farther than the ball. When that happens you know that you have power and you know you can hit the ball straight, because the divot inevitably goes straight down the middle and plenty far. But you also know that the only reason that the ball even went anywhere is because it was sitting on the acre of sod that you just sent into orbit. While those aspects of the super-chunk are obviously no fun, it gets worse. Not only does a super-chunk make you look foolish, but it's mighty painful on your wrists.
There is an interesting phrase in golf, about what happens when you are waiting for a group in front of you to clear the green. As the saying goes, you can either shank a layup or you can wait for them to clear the green and chunk one half-way there. Sometimes, that's all too true.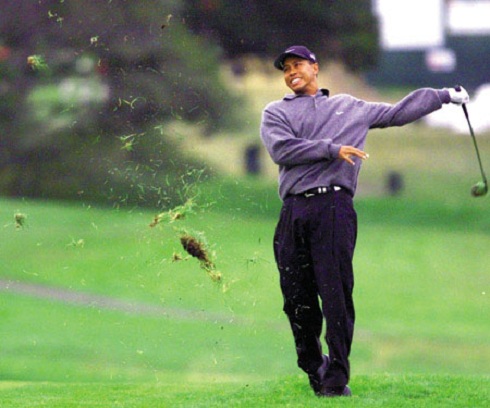 Number Three: The Skull
Occasionally on the forum, someone will remark about how far Dustin Johnson or Bubba Watson can hit the ball. But really, we've all hit our wedges 200 yards before. Usually though, we were only 100 yards out.
The culprit on this one is the skull, the blade, the leading-edge laser. Lee Trevino once said, "You can talk to a fade but a hook won't listen." If that's true, a skull is so bad that it not only doesn't listen, it talks back.
When you chunk the ball it's embarrassing and you're probably going to drop a stroke, but with a skull there is a decent chance that you are in the water behind the green that you had no idea existed. It feels like that ball has a mind of its own, and it is a mind that's bent on making sure that when it hits that tree past the green, its ricochet seems to defy the laws of physics. Sometimes when I skull the ball, I'm hoping the housing market instantaneously picks up and someone builds a mansion right behind the green, because all too often that's the only thing that'll ever stop that golf ball.
Number Two: You're Still Away
The three words that no golfer ever wants to hear. When I was a kid my dad loved to (lightheartedly) mock me with those three painful words. Whether it's because of the aforementioned super-chunk, taking two from a bunker, or leaving a long putt woefully short, it's almost always a bad thing to not have lost your turn.
Maybe the worst part is the lack of time. When you hit a bad shot you want to be able to collect yourself a little, take a deep breath, and make sure that you don't make the same mistake twice. When you chunk the crap out of a long iron and it's still your turn, you want to be able to think about what you might have done wrong. Leaving the ball in the bunker is similarly embarrassing, and if you have to take another crack at it so soon after the first time it can be a recipe for double bogey-sized disaster. It's hard to stand over a bunker shot with any confidence when you have just bladed one across the green.
Number One: Coordination Impaired
I'm not what you would call "coordinated," and I tend to make a fool of myself, always it seems in front of other people. So this "Number One" is dedicated to all those people out there who, like me, are coordination impaired.
I try in life not to make a fool out of myself, but it seems like when I reach a driving range, that all goes out the window. In roofed driving ranges I have, on numerous occasions, whacked my golf ball straight into the divider that separates the hitting bays. I've also hit the roof with my driver, which left an ugly dent, certainly worse than any sky-ball mark I could have left. At outdoor ranges I constantly hit the dividing rope with my club, which in turn messes up everybody else at the range. I also seem to be a terror to indoor ranges, where I one time had a golf ball bounce straight back into my face.
I make a fool out of myself on the golf course too. I have shanked a ball 90 degrees in both directions (accidentally of course, I don't think that I could even hit a shank of purpose), one time I managed to hit my own car in the parking lot, I trip over divots with an unfortunate frequency, and I routinely fall into bunkers while reading putts. Try doing that and still look like you know how to swing a golf club.
Closing and Your Thoughts?
We've all had our fair share of embarrassing moments on the golf course. Some of these moments are funny, some are painful, but most leave you scratching your head and wondering "Why me?" Golf is a game that humbles even the best players, and hurtful moments like these are the great equalizer, because they can instantly knock even the cockiest of golfers down a peg or two.
So how many of these gut-wrenching moments have you had? If you've ever bust your gut laughing or provided a nice chuckle to the guy hitting golf balls beside you, share it below, we'd love to hear from you!
Photo Credits: © Unknown, © Andrew Redington, © Erik J. Barzeski.