It's an old question, even though the technology has been accessible to the golfing public for only a few years now. Which is better for finding yardages on a golf course: GPS or laser?
Each is a sophisticated technology. The Global Positioning System is an array of satelites that beam precise microwave signals that receivers on Earth can use to establish their location, speed, and direction, as well as the current time. These receivers include golf GPS devices that use those signals to calculate how far the device is from certain pre-programmed coordinates. Laser rangefinders use a beam of light reflected off a target to measure the distance from the device to the target. Pretty cool stuff!Golfers appear to be nearly evenly split on the technologies. In a Sand Trap forum poll, 13% of those responding own and use GPS units; 12% have a laser rangefinder; 16% don't have either but want a GPS; 18% don't own either but want a rangefinder; and 2% own both. About 40% reported that they are satisified with course markings.
The advantages of GPS and laser rangefinders have been on my mind lately. I've been reviewing a new GPS product and deciding whether or not to buy a yardage device for myself and which technology to go with if I do. What follows are my thoughts on the subject. If you would like to see what others have said, check out this forum topic.
Number Five: Convenience
GPS and lasers are both convenient. No searching for a marked sprinkler only to find one with half the number broken off. No more need to determine if the marker says "96" or "69." Either is a very handy device to have in your bag or cart.
But when we go a bit farther, the issue gets a little clouded. You know the old saying, "Beauty is in the eye of the beholder?" Turns out the concept of convenience works the same way.
To me, GPS is more convenient because it gives you usable data even as you approach your ball. You just glance at the GPS, and, barring a malfunction, it will provide a reading that will be in the ballpark of where you are (or just have been… more on that shortly). With a GPS, however, you need to download the coordinate file for a course before you play that course. Otherwise, you'll have nothing to look at on your expensive yardage device.
Our esteemed editor finds a laser rangefinder more convenient because once you take it out of your bag or out of the cart, and trigger it on your target, it gives you the distance to that target. You're done with it (unless you have reason to doubt that you hit the target… more on that momentarily). With a laser, you do not need to download anything in advance. Just take the laser to the course, the range, or the park, and you can find the distance to any target with enough vertical surface to reflect the beam.
Number Four: GPS "Drift" vs. Shaky Hands Syndrome
As you approach your ball, you can watch your GPS count down, providing (you hope) shorter and shorter distances to the green. The thing is, even when you stop moving the GPS will continue to tick down for a few seconds, most likely telling you where you were a second or two ago. Normally, you get a good reading after a beat or two, but on occasion I gave my golf partner a yardage, then realized just as he's at the top of his swing that the reading had changed by three yards. This doesn't happen often, but it does enough to make you a little careful about your yardages.
I believe that riding in a cart makes this occurrence more common. The roof seems to be enough to block the signal from the satellite. Obviously, this isn't a problem for those built-in devices because the cart usually has an antenna in that case.
Laser can also provide inaccurate readings if the user "hits" the wrong target or simply can't hit the right one (in most cases the flag). I have seen playing partners struggle to hit the flag on moderately windy days. Other folks claim to never have a problem hitting their target. Common sense dictates that weather and distance complicate targeting with a laser. When you're trying to decide between a 3-wood and a 5-wood is probably when you'll have the most trouble getting a reading for the flag.
Hitting the wrong target can be even worse when there are trees or a slope just beyond the flag. You may find that the yardage the laser gives you is 10 or 20 yards longer than the actual distance to the flag.
In simplest terms, the laser requires a little skill to get accurate numbers. A GPS needs a little patience.
Number Three: Mapping Madness and Blind Shots
With a GPS, you are at the mercy of whoever mapped the course for the service. On one course I played not long ago, the front, center, and back numbers for one green were all within a yard of each other. The hole is a short par five with a landing area out to the right of the green. Whoever mapped it had established the front, center, and back yardages from the lay-up area, rather than from the area of the second shot. Even though anyone who hits a 240-yard drive in the fairway will have a second shot of 200 yards or less. Suffice it to say that the front bunkers get a lot of business, but the grass in that lay-up area is remarkably pristine, year round.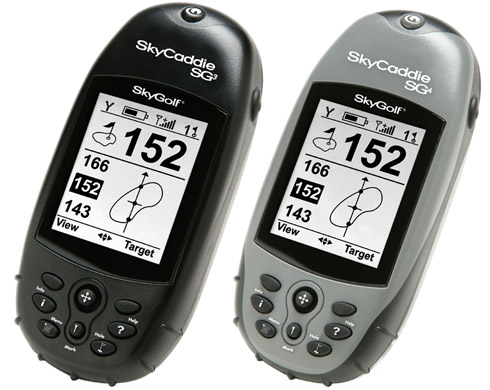 GPS devices differ in how much or how little they tell you. You may find that some lay-up distances are easy to find, while others are not. You may get a carry yardage, but not a lay-up yardage. It may give you a distance to a greenside bunker, but not a fairway bunker. The most basic models provide little more than distance to the center of the green.
Which brings up a related point, there is no agreed-upon center point on golf greens. Even if you have an accurate pin sheet, and add or subtract the distance the pin is forward or back from your GPS reading to the center of the green, you can still be off by several yards because the location of the center of the green may differ in the minds of whoever set the pins and whoever mapped the GPS coordinates.
Lasers have a similar problem of their own: blind shots. Any time you cannot see the target, you cannot hit it with the laser. That applies to doglegs as well as changes in elevation. You may be able to target a tree that rises next to the green and do some guessing, but if there's no appropriate target you'll be back at the mercy of sprinkler heads. A GPS device doesn't care what's between you and the hole because from a satellite's perspective the entire planet is pretty flat.
One place that lasers have a clear advantage over GPS devices is at the range. You'll be hard pressed to find GPS downloads for most ranges. You might be able to befriend the ballpicker and get a ride around the range so you can enter the coordinates of any targets manually (if your GPS has that ability). But beyond that, you'll be consulting the (usually inaccurate) range signs for distances.
If you have the good fortune to find a download or to enter the GPS coordinates manually for your range. You're set. The GPS will automatically provide readings for all of the targets regardless of which end of the range you set up on.
A laser rangefinder on the other hand can find the distance to virtually any target on a driving range, but you'll have to measure the distance from each location you hit from on the range. Naturally, you can shoot any greens, steel barrels, Volkswagons, or anything else that might be on your range in the way of targets. If there are abrupt elevation changes, chances are you can shoot those, too. Or you can at least shoot the ballpicker when he rolls over a target, provided you have the time to wait around until he picks that part of the range.
Number Two: Accuracy
If you are ever at a practice round of a professional tournament, notice what the caddies use to get their yardages. A few still pace everything off, trusting the length of their stride more than technology. One or two may use GPS, because they can more quickly get yardages to the green from a wide variety of locations. But the majority will produce a laser rangefinder to get distance for their yardage books.
Why? Because the lasers are flexible. Caddies can shoot distances from the tee to hazards, between bunkers, and from sprinkler heads to various points on the green. Virtually, any distance they need to get, they can (particularly if they team up with another member of the player's team to act as a marker off of which to bounce a laser).
Lasers are just a little bit more accurate because they can measure precisely from your ball to the flagstick, with no need to do any calculations.
Number One: Verdict
You may get the impression that I am right on the fence as to which technology to go with. There are appealing aspects of each technology that make it a tough decision. Price-wise, GPS systems currently enjoy a lower entry point, though a model with a lot of features will cost in the same neighborhood as a laser. With a laser, however, there is no annual subscription, which most of the GPS units require to be effective.
I feel that GPS is accurate enough for my game in most situations. I wish that I needed to know the yardage down to the exact yard or two, but quite frankly, I may hit it five yards long or short on any given "good" swing. If the yardage is within three or even four yards of the actual number, that's probably good enough for my game. GPS will generally get you there. Those, who routinely wear out a dime sized spot in the center of their irons will probably need more accuracy when it comes to determining a yardage.
Put most simply: I find GPS more convenient and laser more accurate and flexible, but the technologies are close on all counts.
What I'd really like to see is a bare-bones GPS device built into a laser rangefinder. The best of both worlds… Get the basic yardage numbers that will suffice for many situations and also a more exact yardage when the need arises. As the price of these technologies continues to drop, can such a device be very far off?
What's the best option for you? Only you can determine that. Decide what factors are most important to you, and then be sure to compare the different models available in the technology of your choice.
Chances are I will eventually join the 2% out there who own a GPS and a rangefinder, but I think the laser will probably be first. I would like one to use at the various ranges I frequent and being able to shoot targets that may not be mapped on the course would be very useful. I do, however, really like the convenience of playing with a GPS. I can't wait until some manufacturer comes out with a combo unit.