We're halfway through the 2011 major championship golf season, and already it's proving to be a good one. Even though Tiger Woods was at home on the couch, Rory McIlroy gave us one of the most thrilling weeks of golf in history. Bouncing back from what had been a painful pedigree in past majors, Rory steamrolled the field on Thursday and Friday, and kept up a steady pace over the weekend en route to a eight-stroke victory. This time around there were no meltdowns, no final-round charges, and no broomsticks (though Robert Garrigus did finish T3 with a putter half the size of Adam Scott's), but what we did get was four great days of golf on a rain-soaked course that became vulnerable to low scores. In many respects, this year's U.S. Open was about as different from the Masters as possible, but equally as impressive.
Number Five: Bombers Still Don't Rule the Day
We hear it every year at the U.S. Open; "the course is nearly 8,000 yards long, a bomber has to win it this year." People end up picking guys like Bubba Watson, Dustin Johnson, and Gary Woodland. But still, the long guys fail to finish the deal. Robert Garrigus came in a tie for third this year but, like the rest of the bombers in the field, he failed to win it all. In the current 2011 top 30 in driving distance on the PGA Tour, only Phil Mickelson and Angel Cabrera have won majors. The only true bomber to win the U.S. Open since 2000 was Angel Cabrera at Oakmont in 2007. The other winners of the U.S. Open in the 21st century are Geoff Ogilvy, Graeme McDowell, Lucas Glover, Michael Campbell, Retief Goosen, Tiger, and Jim Furyk.
This year's winner, Rory McIlroy, is certainly a long hitter and was one of the longest drivers of the week, but he isn't a bomber in the sense of Bubba Watson or J.B. Holmes. Again, the only real long hitters to win the U.S. Open are Cabrera, Rory, and Tiger. Add in Phil and Vijay, and you have all of the bombers than have won any major since 2000. Aside from Cabrera, the rest of those guys are more accurately classified as great ballstrikers that just have the strength to hit it long. Though being able to hit the long ball doesn't hurt (as Rory proved this week) to win the U.S. Open (or any major) you need to have a complete game, and not a whole lot of the current crop of bombers fit that description. These guys have proved over the last dozen years that to win, you need have have many more assets than just length.
Number Four: The Weather Did More Than the Rough
U.S. Opens are famed for their tough conditions. The greens are fast and firm, the holes seem to stretch on for miles, and the graduated rough is knee-high. You get tight lies in the fairways and buried lies in the rough. When playing to a green, you are supposed to see the bunkers as respite from a jungle of cabbage surrounding the putting surface. The conditions were set up to be hard this week. At 7,574 yards, the course was no slouch. The rough was graduated, and it was a penalty, though it was not exactly Bethpage, where you could lose your caddy in the fescue. Attributing for a small (emphasis, small) percentage of the low scores, people were getting away a bit with missing the fairways.
Adding to that a bit was the fact that they were all chasing Rory. This didn't affect McIlroy, obviously, but everyone chasing him knew they had to shoot low scores. They were all taking risks, pulling driver, trying to knock the ball stiff. That led to many guys shooting high scores, but it also led to some low scores. Jason Day shot eight under par in a U.S. Open and lost, not exactly a normal occurrence.
The biggest issue was the weather. Although we didn't get rainouts and flooded fairways like at Bethpage in 2009, rain wet the course overnight several times, and it got to the point where the heat during the days didn't dry out the greens like usual. The rain made the greens soft and receptive, so players, especially Rory McIlroy, could play straight for the flags. The rain made the greens a bit slower as well, so putting was just a touch easier. This is the main reason that scores were as low as they were, and unfortunately there isn't a whole lot to do to prevent it.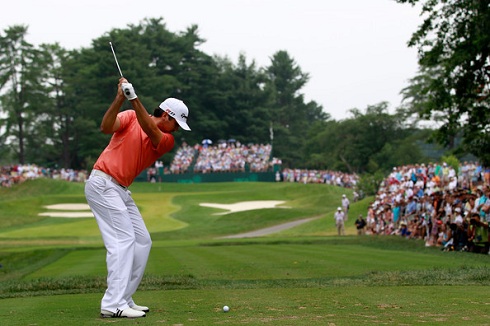 Number Three: Golf Has a Bright Future
The last time golf entered a period similar to the current one was the late 1980s, and it lasted until the late 1990s. Golfers like Jack Nicklaus, Tom Watson, Gary Player, and Seve Ballesteros were the world's best for a while, but they were pretty much done by the mid-80s. Nick Faldo would win six majors over that time span, but he was far from dominant. Nick Price had some game as well, but many people thought Greg Norman would be the golfer to define the era. He, however, had trouble closing it down when it really counted, and golf went through about 10 to 15 years of parity that it hadn't seen really at all in the 20th century. While most of the 1900s were dominated by star players, that window of time was not.
The 80s and 90s era saw many players win majors, rather than just a few players dominating. Guys like Bernhard Langer, Ian Woosnam, Fred Couples, and Ernie Els are a few examples. It wasn't until 1997 that Tiger Woods started a new epoch in golf that the era of parity came to an end.
Today we are entering an age in golf similar to the 80s and 90s. It will be defined not only by aging stars like Phil Mickelson, Tiger Woods, and Steve Stricker, but also by young guys and established Tour veterans. Guys like Adam Scott, Lee Westwood, Luke Donald, and Matt Kuchar are entering their primes, and will be looking to get a few more wins, even a major or two. This U.S. Open was really the start of the young generation of golfers from around the world as they attempt to forge their own identities. Guys like Jason Day (second in the first two majors this year), Rickie Fowler, Matteo Manassero, Hunter Mahan, Martin Kaymer, and of course Rory McIlroy will be looking to make a name for themselves. Each of them will hope to be the next dominating player to define their own era in the rich history of golf.
Number Two: The Demise of Phil?
A lot of people have been high on Phil this year. He won the Masters just 14 months ago, after quite a drought, and he won the Shell Houston Open just this year. He seemed to have turned a corner health-wise, and talk turned back to his golf. With America needing a Tiger-caliber golfer to fill the void, Phil looked eager to take the crown. His poor finish at the Masters was a disappointment for many, coming just days after a commanding victory, but his game seemed to be on the up-and-up coming to the U.S. Open, even as he slipped in the world rankings (in large part due to a lack of tournaments played).
Unfortunately, Phil just seemed flat all week. He started off with a poor first day, and when he needed to make the miracle shot it just was not there. Although he and Butch Harmon have been amping up the hype-machine, his ballstriking was poor all week, and he played many of the longest par-fours with irons off the tee because his driver was so bad. He played from in the rough or from well back in the fairway most of the week, he had trouble getting his irons close, and he failed to make many putts. His short game was solid as usual, and it's only because he is so adept at getting up and down that he scored a 74 on Thursday. He managed a decent 69 on Friday, but a dilapidating third-round 77 took him out of competition for second place.
On Friday, paired with Rory, Phil needed to hit one of his patented escape shots on the 18th hole. It was a made-for-Phil moment. He needed to use the creativity that only he has, and pull off the shot that it sometimes seems only he can pull off. Chop it out of the rough, shoot it between the trees, put it in the right side of the fairway, let the slope funnel it down to the green, and knock in the putt for a stunning birdie. That's Phil's game, right? But this week, he just didn't have it. He made it through the trees, but his ball stayed too far to the left, and rolled into the water.
Of course, Phil isn't done just because he couldn't pull off a miracle shot, but that moment was a nice microcosm for Phil's unfortunate week. On a course many thought was perfect for a bomber to win, on a course where the greens were so receptive, where Phil's go-for-broke strategy was perfect for firing at pins, Phil failed to get it done.
Number One: This Was a Tournament For the Ages
I'm talking specifically about Rory McIlroy. Where his performance will rank all time is a topic that will be debated hotly for years, but there is no doubt that Rory put together four of the best rounds of major championship golf of all time. In U.S. Open specifically, it's probably the second best all-time, after Tiger's thrashing of Pebble Beach at the 2000 Open, an assertion that this ESPN analysis backs up.
Looking at the stats, Rory went 65-66-68-69, for at total of 268, 16 under par. In just his third U.S. Open, Rory hit an astounding 62 of 72 greens (86.11% and best in the field), 36 of 56 fairways (64.29%), averaged 310.62 yards off the tee, and had an average of just 1.65 putts per green (an amazing number for someone who hit so many greens). Rory set many records at the U.S. Open, including fewest holes to double digits under par (26 holes), as well as total score and score to par after the first 36, 54, and 72 holes, and he tied the record for the largest 36 hole lead (6 shots). These stats show not only Rory's dominance over Congressional, but the stranglehold he had over the field. Whether Rory McIlroy wins two or 20 majors over his career, this first one will truly go down as one of the best and most exciting U.S. Open performances of all time, and a breakthrough win for one if the golf world's bright young talents.
Closing and Your Thoughts?
This year's U.S. Open has been the most newsworthy week in golf in a while, and a great follow up to April's stirring Masters. Rory McIlroy made the front page of newspaper's around the world, which is a true accomplishment for the shaggy-haired 22-year-old from Northern Ireland. We say Rory take down a rain-weakened Congrssional, Jason Day record another second-place finish in a major, NBC mess up the Pledge of Allegiance, Phil Mickelson put up a poor score for the second major in a row, and Tiger Woods… sit at home. After a thrilling start to the season, filled with high drama and a record number of playoffs, 2011 looks to be shaping up as one of the best years in recent major championship golf.
Photo Credits: © Andrew Redington, © Chris Trotman, © Chris Trotman, © Rob Carr.