For the seventh major championship in a row, the victor of this year's Masters was a first-time major winner. Not since Phil Mickelson in 2010 has someone won their second major, and by my count that is the longest such streak ever. With Tiger Woods perpetually on the mend and endlessly ineffective, and Phil Mickelson often too headstrong for his own good, Bubba Watson is another in the line of new entries to the major winner's circle.
Bubba, as a sold player but not of Hall-of-Fame caliber, faces stiff competition. Never before has there been so many players that match his level of play.
In addition to the state-of-the-sport challenges Bubba faces, his game has some glaring holes. While it would be a disservice to say Bubba was handed the Masters, he didn't exactly steal it away until that famed shot from the tress (and even that was only a par). Bubba has missed the cut in about a third of the events he has played over his career, and while his relatively homegrown swing might make him a nice poster-child for the anti-instructor movement, it could prove to be his ultimate undoing.
I have nothing against Bubba personally (he seems like a good guy and I did a ProFiles article about him last year), and watching his go-for-broke play is very entertaining, but I don't see him winning another major championship.
Read on to find out why.

Number Five: He's Not Phil
Naturally, as a long-hitting lefty with a knack for getting out of sticky situations, Bubba has often been compared to Phil Mickelson. They both have fierce swings that sometimes get dodgy, they both find themselves in the woods a lot, and they both wear visors. But the comparisons evaporate quickly.
Though Phil's putting has been up and down over his career, it's almost always been better than Bubba's. When Phil is on fire, like the back nine on Saturday at Augusta, his low scores come from making mid-range putts, and his statistics show that (he's one of the best putters from 15-25 feet). Despite his length, Phil has never relied on hitting it close.
Bubba, on the other hand, heavily relies on hitting the ball near the hole, especially from long range. The fact that he's hitting a 6-iron when you're hitting a fairway wood is his biggest advantage (which is why he's first on Tour in "Going for the Green"). Because he's so poor of a putter, he has to hit those close, and when he doesn't, he doesn't win. Or he misses the cut.
While Phil has one of the most famously extravagant short games, Bubba's is downright poor. Not only is Bubba terrible from the rough, he's even worse from the sand. If there's anything that can make someone less like Phil, it's a dodgy short game.
Number Four: His Inconsistency
There's a reason that Bubba was in those woods on the second hole of the Masters playoff. For all of his length, Bubba is one of the least accurate drivers on Tour, and while he can get hot with the driver over the course of a week, that doesn't typically lead to long-term success.
The streakiness of Bubba's game can be downright staggering. In one vertigo-inducing roller coaster of a stretch in 2010, Bubba finished third at the Transitions, missed a few cuts and played poorly over the next few months, won the Travelers, missed two more cuts, then lost in a playoff to Martin Kaymer at the PGA. In 2011, Bubba won the Farmers Insurance Open early on, had a few mediocre months, won the Zurich Classic in May, then cracked the top 20 just once the rest of the year.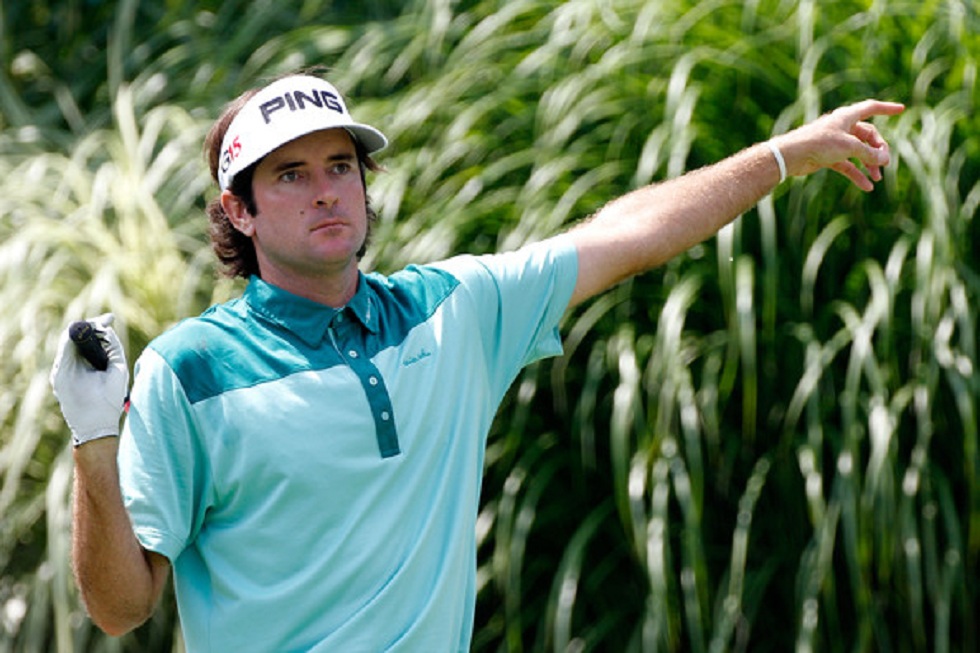 His runs earlier in his career are even more mind-boggling. In 2009, Bubba missed five cuts in a row, as well as six out of eight. In 2007, he missed eight of 11 cuts in one particular run, while this year he's yet to finish out of the top 18 in an event. Bubba's hot streaks tend to come crashing to a halt, and while I wouldn't be surprised if Bubba played well the rest of the year, I also wouldn't put money on it.
Number Three: His Swing
Since his Masters win, a lot has been made of the fact that Bubba has never had a traditional golf teacher. It's seen as a badge or honor, that Bubba can get this far on his own. He's found "the secret in the dirt" so to say. This is seen as admirable by many members of the golfing community, and it's only natural to take pride in doing something yourself.
Setting aside the contentions that Bubba has indeed received help in some form (it's tough to get through junior college and then school at a big-time golf college like Georgia without some tips along the way), Bubba has gotten a long way on talent alone. Watch any swing of his, and that's glaringly apparent. Timing tends to come and go in a golf swing, and Bubba relies heavily on it.
But as anyone good amateur that has never taken a lesson will tell you, it might be the prideful route, but it's not the easy route. Bubba has said that above all he trusts his instincts, and tries not to question himself. That's easy to say now, when he's on Piers Morgan and wearing the green jacket, but over that five-straight missed cut streak back in 2009, don't you think he was questioning himself just a bit?
While Bubba might have more of an intimate knowledge of his swing than others when it's going good, when the bad times come he's going to be left scrambling (something Bubba's not very good at, incidentally). His swing has some very nice components, and he's obviously immensely talented, but going it alone is not usually the route for lasting success.
Number Two: It's Only Getting Tougher
With his Masters win, Bubba Watson was bumped up to fourth in the Official World Golf Rankings, his highest spot ever. Bubba Watson is an extremely good player, and has done very well as of late, but are we ready to say he's better than everyone but McIlroy, Donald, and Westwood? Is Bubba Watson really the best golfer not born in the U.K.?
This has happened not because everyone up there is bad, it's because they're all really, really good. Fields are only getting deeper, and major championship wins are becoming more and more flukey. Bubba, Charl, Louis, and Graeme are all really good players, but they are facing fields that are increasingly deep. The difference between the 11th player and the 111th player in the fields is shrinking rapidly, and at most big tournaments the amount of players that simply don't have a chance is going to zero.
Bubba isn't going not win because he isn't good enough, he's not going to win because everyone else is just as good.
Number One: The Pressure
As a professional golfer, Bubba Watson has never been under much pressure. He's immensely talented, that much is obvious the first time you see him hit a driver, but people see his swing and doubt that he can win.
Though he's spent his entire life at the top of leaderboards, Bubba never faced the anticipation of blue-chippers like Rickie Fowler, Anthony Kim, and Rory McIlroy. If Bubba never won a tournament he wouldn't have been letting down the American public, we simply would never have known.
What Bubba proved at Augusta is that when he gets hot, he can win, and he can come up big when he needs to. But Watson goes through extended streaks of poor play, and he's only going to be more and more scrutinized. As a prolific user of Twitter, Bubba has put himself out there, even going to so far to personally issue "thank you" replies to all of the people that congratulated him for his victory.
When he goes through a rough patch, and he will, those Tweets aren't going to be quite so rosy, and Bubba is going to have to deal with the pressure that comes with being under the microscope. He's proved to be a very emotional golfer, and it remains to be seen how he handles the stress.
Closing and Your Thoughts?
Bubba Watson is a supremely talented golfer who has broken new ground with his victory. As someone who is outspoken and a heavy user of social media, Bubba has put himself out there for judgement, and if he falters in the future, which his stats and his swing say is likely, he might have a tough time handling that.
Bubba is also competing in an increasingly bunched up world near the top of the golf rankings, where anyone in the field can win on any given week. Bubba may well win another major, but I'm not betting on it.
Photo Credits: © Andy Lyons, © Sam Greenwood, © Streeter Lecka, © Andrew Redington.