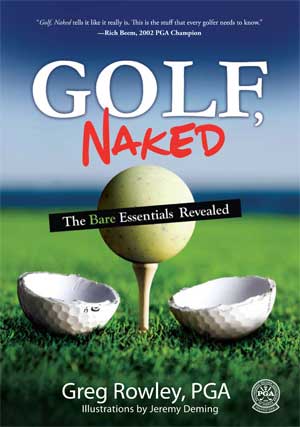 The holidays are just around the corner and if you're like me, you might be starting to put together a list to give your love ones on the golf-related items you want to receive (otherwise know as "Dropping a Big Hint"). While not everyone can afford to get you the latest driver, putter, or shoes there are many items that are quite a bit more economical and might in the long run make you a better golfer than the latest and greatest in club technology.
A book review probably isn't the first thing you think of when you consider the reviews we've done here at The Sand Trap. While the vast majority of reviews are equipment in one form or another, occasionally a book comes along that piques our interest. One such book is Golf, Naked by Greg Rowley, which was released by Pick It Up Publishing.

While the title is provocative (admit it – you're still reading even if you aren't typically interested in golf book reviews), rest assured that this is not a "how-to" guide on playing golf sans clothes nor is this a pictorial featuring naked people on golf courses. Why, it's not even a picture of golf courses prior to seeding! Instead, Rowley has taken the game of golf and stripped back some of the stodginess that can be attributed to the game and has crafted a book that is one part instruction, one part insider information on the golf industry, and one large part life experience (the tales of which are pretty funny). Read on to find out if you should be adding this book to your golf library.
The Author
Greg Rowley has an impressive resume. According to his bio:
Greg has worked at and managed some of the finest golf facilities in the United States. The Club at Black Rock, where he was the Director of Golf, was named Golf Digest's "Best New Private Course" in 2003. In 2004, Greg was named by Men's Journal as having one of the "50 Best Jobs in America." He serves on the Board of Directors for the Inland Empire Chapter of the PGA and has won several awards for his innovative programs, including the 2008 President's Award for Growing the Game of Golf. Greg has played with and taught men, women, juniors, seniors, celebrities, professional athletes, PGA Tour players, and beginners.

Greg Rowley's Bio
He can now add author to that list.
Synopsis
With its snappy title it would be quite easy to dismiss Golf, Naked as nothing more than another humorous attempt at explaining Golf 101 to the world. While the book is quite humorous and Rowley has countless stories to share, his greatest gift of humor is the self-deprecating variety.
Rowley shares a ton of stories, not to make this a joke book, but as warnings of what not to do when and if certain situations should arise at a golf course. Think of it as Rowley having acted as the guinea pig while you get to learn from a safe distance.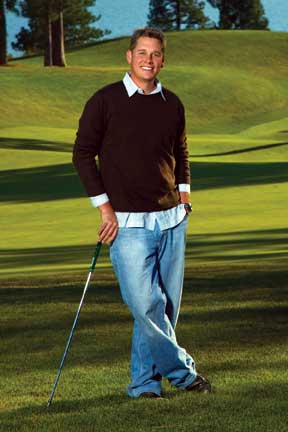 With 23 chapters and 250+ pages, it's not all jokes and humorous stories. Rowley starts out by talking about how to get started in golf while learning all the unwritten rules, language, and "small stuff" that can confuse even the most seasoned golfer. Rowley explains golf as "a game of opposites, which explains why it's so complex, maddening, and addicting. It doesn't make sense for most beginners." I think you can toss in most golfers, not just beginners, who would agree with that statement!
Even if you're a seasoned golfer, I would suggest reading the entire book. Chapter Three is entitled "Golf 101" and while you might think you know it all, there might be some subtle nuances of the game that you'll find you either didn't know or were improperly taught. A brief history of the game and some good descriptions of the equipment used and of the golf course make this chapter a good primer for the remainder of the book.
The rest of the book goes through a buffet of golf scenarios that you will run into while you play the game from what do when you're a single as well as your behavior and what to do when you play public courses, private courses, and resort courses, for example. Greg also spends a great deal of time going into detail about Client and Guest hosting – something that doesn't get talked about enough in my opinion. Rowley also goes into detail about practice range behavior, dress codes, gambling, an entire chapter on "Dirty Rotten Stinking Low-Life Sandbaggers", respecting your playing partners, the course, tipping, men's golf trips, and slow play, just to name a few additional areas.
In the last section of the book, Rowley tackles the golf swing and the basics of what you need to know. While not an instructional book, he does gives good insight into what makes up the swing as well as discusses the various shots you may encounter during your round. In addition, he provides a section on understanding the Rules of Golf and goes over some of those rules with which golfers frequently have trouble.
Conclusion
While Golf, Naked is a very humorous and amusing read, I thought Rowley did a great job at balancing the humor with some very practical knowledge about getting started in the game of golf as well as giving you some "insider" information on certain situations you may encounter. The information on what to do and how to conduct yourself as a guest or a host at a golf course is timeless and makes the book a "must-read" all by itself.
The rest of the excellent information is just icing on the cake making Golf, Naked a definite book you should consider adding to your collection. You can order it directly from Pick It Up for under $25.
Now if you'll excuse me, I need to re-read the section entitled "Don't Act Like a Meathead After a Bad Shot."
Photo Credits: © Pick It Up Publishing.