One of the most often-touted explanations for the appeal of golf is that we play the same game, on the same courses, under the same rules, as the greatest players in the world. Is it any surprise, then, that so many of us entertain Walter Mitty-esque fantasies about turning pro? Come on, admit it, if you've piped a drive down the middle, followed it up with a pured iron and one putt, you've probably allowed yourself to wonder and fantasize, "What if…"
Truth is, most of us are about as likely to see tour action as we are to see, well, Gisele Bündchen action, but every once in a while, a real-life Walter Mitty shows up on the radar. Such is the central theme of Reid Sheftall's Striking it Rich: Golf in the Kingdom, with Generals, Patients, and Pros. The book will prove entertaining reading for just about any golf-obsessed Sand Trap reader, and might just teach you a thing or two about the game you love most.
There are so many things both fascinating and puzzling about Striking it Rich it's tough to know where to start. The author, Reid Sheftall, is an American-born, expatriate surgeon who, after completing his medical training in the U.S., emigrated to Cambodia where he has a thriving medical practice at the American Medical Center in Phnom Penh. In the preface, we learn that Sheftall was a talented, promising junior golfer, who left the game due to waning interest and a temper ill-suited for the game.

Visiting family in Florida over the Christmas holiday, Sheftall plays a round at the TPC Sawgrass with his brother and Mark McCumber, a high school teammate of Sheftall's brother. Encouraged by compliments from both McCumber and Paul Azinger – even more impressive when you consider that at the time of the Sawgrass round, Sheftall had only been playing a few months, following an over thirty-year hiatus from the game – Sheftall returns to Cambodia to embark on his professional golf odyssey.
As if it weren't difficult enough to try a second career as a touring professional at an age when most of us begin to feel our bodies slowed by the inertia of middle age, Sheftall takes on the task under what are literally third-world conditions. Playing on worse-than-muni golf courses and in a sweltering climate where most of might just decide to stay inside and watch baseball games, Sheftall honed his skill in big money games with an intimidating cadre of high-ranking Cambodian military men.
Practicing and playing while maintaining a busy surgical practice, Sheftall moves on up to higher level amateur tournaments in Cambodia, and eventually professional events on the southeast Asian tours where he entered via Monday qualifying. The final chapters of the book detail his experience in Q-schools of the Asian and Malaysian PGA Tours. All along the way, Sheftall gives the reader several interesting insights on the modern game ("In the twenty-eight years since I'd left the game, golfers' bodies had changed as much or more than the equipment…"), professional golf in general, as well as a few tips to help your game.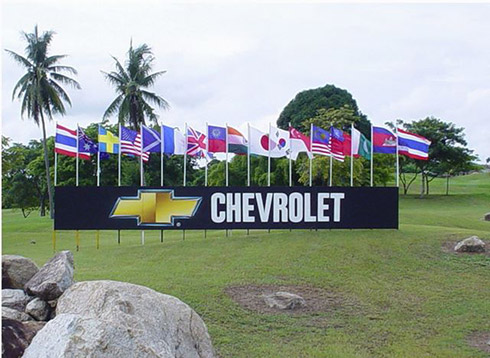 One such passage was particularly interesting to me. During his year trying to qualify for the pro tour, Sheftall was frequently questioned as to how he was able to compete on the pro tour with very limited practice time – remember, he maintained his full duties as a surgeon while "moonlighting" as a professional golfer. The answers would probably prove useful to all of us. "I keep things very simple… I swing the club the way it feels most natural to me." On hitting the ball close on short shots, Sheftall says:
I don't ever try to figure out how far to hit it. I bypass consciousness here and let my brain decide… Just think of the target and swing. Never do anything mechanical or measured. Let your natural athletic grace guide you.
Just as we are most often correct on multiple choice questions when we go with our first instinct, so, I think, would many of us be better off simply using Sheftall's intuitive approach and just hitting it without all the fuss. This is about as anti-Dave Pelz or Jim McLean as you can get, and I admit it may sound like hollow advice to someone whose swing is more akin to a wildebeest mating ritual than "natural athletic grace." But if we ever needed encouragement to believe the wisdom of the adage about "paralysis by analysis," this is it. Coupled with properly realistic expectations (most of us know the score on our level of athletic ability), I am tempted to believe that Dr. Sheftall's approach will produce better results for the average golfer than anything David Leadbetter or Stan Utley has to offer.
The book follows a somewhat meandering course, alternating the golf chronology with interesting anecdotes from Sheftall's life. In addition to being a golf prodigy, Sheftall borders on genius with numbers, beating the Vegas casinos with some nifty card counting à la "Rain Man" while a physics student at MIT. The numbers whiz also takes an interesting swipe at the USGA's handicap and slope systems, a topic always rife for debate in golf circles. We take other detours from golf to learn some not-so-pleasant details of Cambodia's medical system, and Sheftall's often poignant experiences both in medicine and his interactions with southeast Asian culture.
In fact, given the nature of some of his medical experiences, I wondered more than once while reading where he summoned the energy to take a stab at pro golf. Most people would probably feel sufficiently happy and fulfilled – if not too exhausted – knowing they are bringing modern medicine to an impoverished, third world nation.
His humanitarian efforts deserve special mention. Sheftall's American Medical Center is a fully staffed hospital and clinic providing critical medical services to Phnom Penh and surrounding villages.
Sheftall and the staff provide plastic and reconstructive surgery on a pro-bono basis to injured adults and children of limited means. While not taking anything away from the efforts of organizations like the PGA Tour and the USGA in this regard, in Sheftall we have a man, a professional golfer, who truly walks the walk when it comes to charity.
"Striking it Rich" is indeed a unique story, but in the end left me with more questions than anything else. While the "quest for the Card" aspect of the book is easy enough to latch onto (and Sheftall does, eventually, qualify for the tour), the interspersed vignettes about his private and professional life seemed disjointed and unfinished. This aspect of the book is both detailed and engaging enough to make me want to learn more about, for example, why Sheftall left the U.S., or why he chose plastic surgery instead of something more congruent with his savant-like facility with numbers, yet these subjects are left as blind alleys. Oh yes, and I'd also like to know why we never got a photo of the badminton girl (you'll have to buy the book to find out what I mean).
In the end, I believe any avid golfer will enjoy reading "Striking it Rich." You may not walk away ready to qualify for the Hooters Tour, but you'll likely come away with a greater appreciation for the game of golf as well as life in modern society. Sheftall's book can be ordered on his website . Half of all revenue from book sales will be used to fund charitable causes at the American Medical Center in Phnom Penh including Sheftall's OperationKids organization.