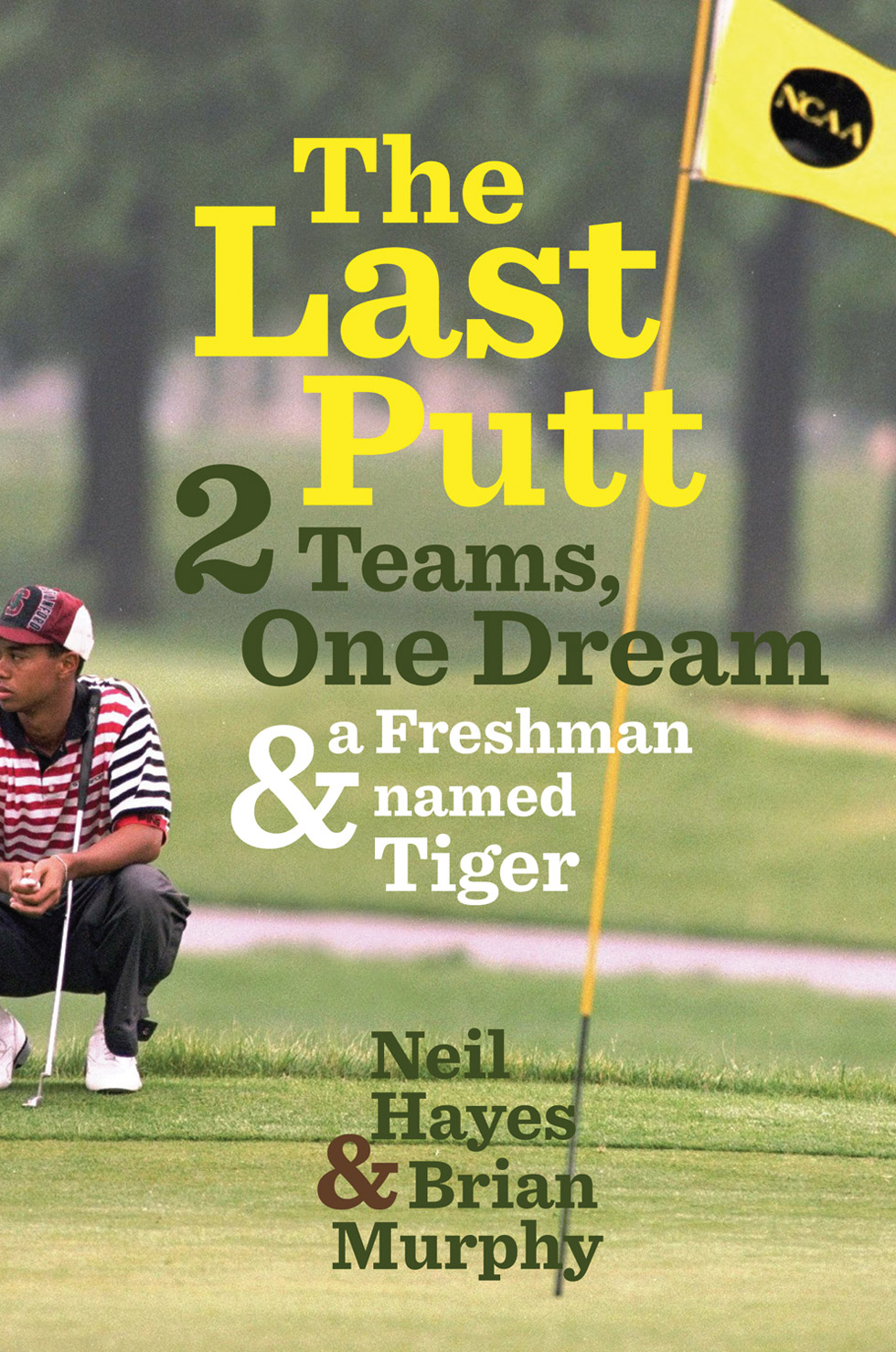 It might seem easy today to generate some book sales and media hype when you throw the name Tiger Woods on the cover or in the title. With the fame of being the world's best golfer (and now tabloid fodder), all you need to do is put his name somewhere on the cover, toss in some nuggets (whether factual or not), and generate some book sales.
While I'm certain there are or will be plenty of books coming out to cash in on his fame or notoriety, The Last Putt: 2 Teams, One Dream, and a Freshman Named Tiger is certainly not one of them. Oh, to be sure, Tiger is in the title and a picture of him is on the dust jacket but this book is not a memoir of Tiger's college days. While he's the most well known in the much heralded cast of characters, it is the story of desire, determination, camaraderie, and a little bit of destiny sprinkled in that takes center stage.
Should you add The Last Putt to your summer reading list? Read on to find out.Authors
Neil Hayes is an award-winning columnist for the Chicago Sun Times and author of When the Game Stands Tall,and Brian Murphy is the co-host of Murph and Mac on KNBR in San Francisco and a golf columnist for Yahoo! Sports. He is also the author of San Francisco Giants: 50 Years.
Synopsis
With 24/7 and on-demand media, it's easier today to follow your favorite collegiate golf team. However, it wasn't always that way. While having a storied history, college golf lived in relative anonymity with regards to not only the rest of the sports world, but to most of the golfing public. Those times forever changed with the 1994-1995 season and the arrival of the freshman sensation, Tiger Woods on the Stanford campus.
It would be a rather easy (and short) review to say The Last Putt is about Tiger Woods and then move on to the conclusion and state you should go read this book. However, that would be hugely misleading and a major discredit to the writers who spent an enormous amount of time meticulously researching this pivotal year for college golf.
If you know a little about college golf, you know while there are a decent number of golf programs across the county, there are only a few that stand out as dynasties. One of those schools is the Oklahoma State Cowboys who since 1974 have won nine NCAA championships (ten total with a win in 1963). Coached from 1973 to 2005 by the legendary coach, Mike Holder, the Cowboys established themselves as one of if not the premier college golf team of the time and is a tradition that continues to this day.
Stanford's golf history is just as storied with a history that dates back to the 1930's and boasted seven NCCA Championships from 1938 through 1994 (with another added in 2007). Coached from 1987 to 2000 by Wally Goodwin, the Cardinal were the defending champions going into the 1994-1995 season. Loaded with talent and bringing in the most hyped recruit in college golf's history, Tiger, the golf season was set up as a massive showdown between the Cowboys and the Cardinal for collegiate golfing supremacy.
Besides some freshman named Tiger, the Cardinal boasted an impressive lineup that featured future PGA Tour pros Notah Begay and Casey Martin with Will Yanagisawa, Steve Burdick, and Jerry Chang rounding out the rest of the team.
Oklahoma State boasted some impressive firepower as well with Arizona State transfer and 1994 U.S. Amateur runner-up to Tiger Woods, Trip Kuehne, four-time All-American Alan Bratton future PGA Tour pros Chris Tidland and Kris Cox, and Leif Westerberg.
Throughout the 1994-1995 season, Stanford and Oklahoma State would not be strangers to one another as they squared off several times during the golf season at various tournaments with the ultimate showdown reaching a climax at the 1995 NCAA Championship which were held at the historic Scarlet Course at The OhioState University which was designed by Dr. Alister MacKenzie . The course and the weather would turn out to be major players in how the championship would be decided.
One of the most enjoyable aspects of the book was being able to find out the history behind each of the golfers on their respective teams and to read the various routes each one took to become part of this story and how most of them were intertwined with one another before they ever set foot on campus through various junior golf tournaments. Even though the players were fierce rivals, most of them were friends once they stepped off the course.
Another interesting storyline was to find out how much influence both Earl Woods and Ernie Kuehne had as fathers with extremely talented children playing on the junior golf circuit as well as how involved each family was to ensure their children reached the pinnacle of success as golfers on not only the junior level but on the collegiate level as well.
Conclusion
The Last Putt is not just a very good golf book, it's one of the better sports books I've read. It was interesting to follow the cast of characters from their golf beginnings to that 1994-1995 golf season and to feel the emotions of just how momentous that season of golf was for each of them, culminating at the 1995 NCCA Championship. For some, it would be the pinnacle of their golfing career, for others it would be a stop along the way as they continued on their dream to play professional golf.
The Last Putt was very hard to put down once I started and I found myself getting swept up in the drama as it ebbed and flowed from tournament to tournament, shot to shot, and ultimately, putt to final putt. Even if you're not a big fan of golf, the story will captivate you and The Last Putt should be on your short lists of books to read.