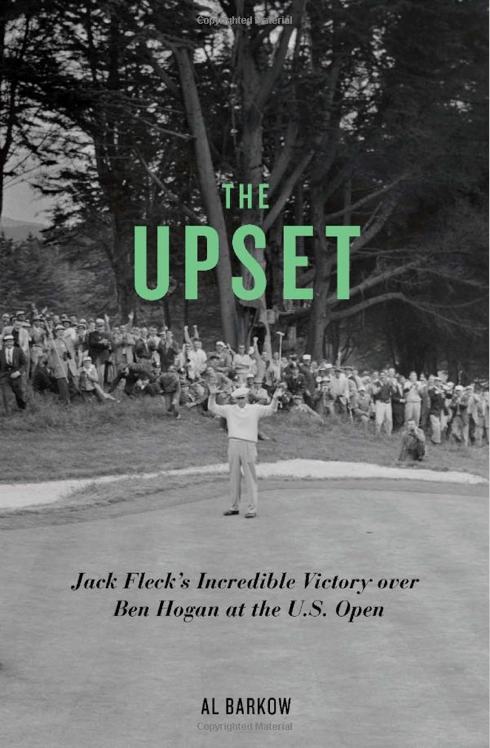 I think of myself as a little bit of a history buff, not because I am any good at history (in fact I got really poor grades in school for history), but simply because I love to learn about it. As we approach the 2012 U.S. Open at the Olympic Club, Al Barkow decided to write a detailed account of the first U.S. Open held at the famed San Francisco layout. In 1955, a little-known man named Jack Fleck beat Ben Hogan in an 18-hole playoff that made ESPN's list of the top 10 upsets of all time.
I found this book when I saw a preview in a magazine I was reading. As I enjoy reading books by Barkow, I was intrigued. If you have not heard of him, then I would recommend reading some of his work. He wrote a fantastic book on Sam Snead and a few others which focus on that time period. His claim to golfing fame was that he was the writer for the Shell's Wonderful World of Golf and did some of the interviews of Ben Hogan while Hogan was promoting what was then called the Hogan Tour, which today is known as the Nationwide Tour (until 2013!).

Barkow has a very straightforward style and has a great love for the game which shows in his writing. What I like most is he did not get caught up in the Hogan mystique in which many writers tend to get lost. He simply views Hogan for what he was, which is very refreshing. Today so many of the stories treat Hogan as though he was a Greek god, whereas Barkow views show Hogan more as a regular guy. That is likely because he knew Hogan personally.
The 1955 U.S. Open was played with a final 36 holes on Saturday, but what was unique was that the leaders were not paired together and did not go out according to their position in the tournament. So Hogan finished his round and Fleck was on the 14th hole. Gene Sarazen, an announcer at the time, famously announced before going off the air that Hogan was the winner.
This set up one of the most lopsided playoffs that one could imagine. Fleck had not had a finish higher than 8th, whilst Hogan had had the magical 1953 where we won all three majors in which he played. On paper this was going to be a very one-sided affair. It would have been on the order of Rocco Mediate beating Tiger Woods in the 2008 U.S. Open at Torrey Pines. Although at least Rocco had won some PGA Tour events prior to facing Woods in the playoff! Fleck was quite a bit lower on the golfing totem pole than Rocco. In reading the comments in the run-up to the playoff in 2008, very few people gave Rocco any chance, I can only imagine that even fewer gave Fleck a chance against Hogan.
There is also some nice detail on the Olympic Club's history which is very fascinating. Though I live in the Bay Area and have played the Ocean Course at Olympic Club, I have not played the Lake Course. What was interesting in the book was that the Ocean was considered the better of the two until some holes were lost to some erosion on the Ocean course and the trees of the Lake course grew up making it a bit of a better test. I hopeful that one day I will get to play the Lake course.
The part I really love about this book is how he captures Jack Fleck. To me, and probably most of the golfing world, Jack Fleck is a name you hear very rarely, probably no more than one or two times. And likely you know very little about him. Barkow covers Fleck in a way where we can get to know him. After all he is one of the few golfers who stood up to the pressure of major championship golf against one of the games greats.
Fleck at the time of the 1955 U.S. Open was practicing hatha yoga. I had not heard of this style of yoga before the book, but after reading what Fleck did and how much he attributed the victory to with work with this style of yoga, I may have to take a look. Fleck gives quite a bit of credit for his victory to hatha yoga and says that once he got away from it after winning the U.S. Open, his play got significantly worse. He states that getting away from it was one of his biggest regrets.
There is a great deal of history and a great story all put together into one in this book. If you are a Hogan fan, you might not like reading about your hero fighting a battle he loses but there is still much to be learned about Hogan as a golfer in this book. After losing the title in 1955 Hogan announced to the golfing world that he was retiring. Of course he would play much more golf, but it still stands as quite a monumental announcement in Hogan's career. I would highly recommend it.
Photo credits: © USGA.