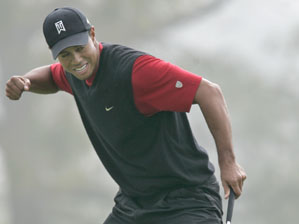 The fog parted, and Tiger Woods emerged from his second event of 2005 with his first victory of the new year.
This victory closed the books on the longest stroke-play drought of Tiger Woods' career (American Express Championship in October, 2003). Of course, it certainly seemed as though Lady Luck was on Tiger's side as competitors fell away hole by hole. Charles Howell III in particular felt the wrath of Lady (Un)Luck as he rattled the flagstick and holed his approach to the par-5 18th for eagle only to have it spin around in the cup and rebound into the lake. Had the ball stayed in the hole he'd have ended up tied with Tiger at -16.
Tiger said "This golf course is so difficult, anything could happen." Just about everything did.