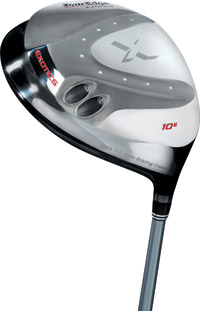 Tour Edge Golf is celebrating 20 years in the golf biz this year – and the company is also celebrating its recent move from the value segment of the industry to the thick of the performance segment. After several successful years of selling solid products at a price below the big names, Tour Edge introduced its Exotics line of high-performance, premium-priced equipment last year. The first product was a line of fairway woods that garnered good reviews and a vocal group of fans.
New for this year is the Exotics driver. Does it live up to the promise of the Exotics fairway woods? Read on to find out.
Tour Edge has long had a well-deserved reputation as a hidden gem in the golf club market. The company has always made good equipment at reasonable prices, and in recent years Tour Edge has been tinkering with some cutting edge technology.