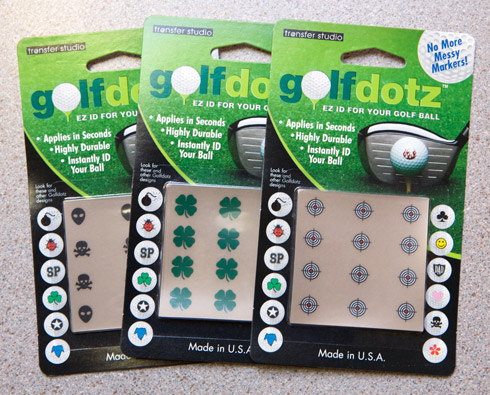 Rule 12-2 in the 2008 USGA Rules of Golf states "The responsibility for playing the proper ball rests with the player. Each player should put an identification mark on his ball." Anyone who plays competitive golf knows the importance of being able to identify your ball. In fact, the people at Sanford, the makers of the Sharpie Marker, have made more than a little money from the golf industry by this very fact.
But what about those who find a simple dot too dreary? What about those golfers out there who want to express themselves artistically? Well, fear no more, decorative duffers, as Golfdotz is here to help.
Golfdotz are the new generation in golf ball marking technology. They are golf ball tattoos – tiny decals that transfer onto the cover of a golf ball. They come in many different designs including skulls, hearts, flames, ladybugs and more. The retail at $5.99 a pack which will get you enough for two dozen balls, and are offered in a wide array of designs.
But how do they work? Read on.
Initial Thoughts and Setup
I mark my ball with two red dots, nothing fancy. So when I got this review I was skeptical of Golfdotz really having a place in the golf industry. I was ready to file them under the unneccessary equipment category with stroke counters and iron covers. But I was wrong, they are actually better than that. They are an interesting concept to say the least, the ability to put an after-factory logo on a golf ball with relatively no mess.
Golfdotz come two sheets to a pack with the decals somewhat close to one another. You first have to cut out each decal before you apply them. Once the decals are separated all you have to do is hold them firmly in place with your thumb on a clean golf ball. It's pretty easy. I applied them to 25 golf balls while field testing them and never had one give me a problem. If you can't do it maybe ask the neighbor's kindergartener to help you out.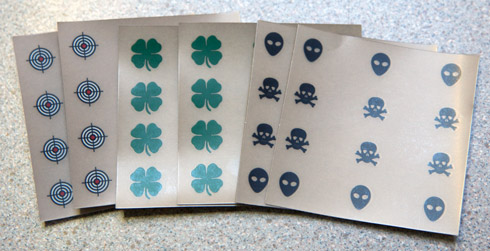 To get a overall look at them, I applied them to several different types of golf balls from softer urethane covered performance golf balls to rock-hard surlyn covered distance balls. They look pretty cool once you get them on. Someone would be hard pressed to distinguish them from a logo that was applied at the factory.
Performance
Once I got them all on it was time to take them on the course. They look good but they have to be durable in order to really be useful. As cool an idea as Golfdotz are, I can sum up my experience with them in one word: gone. I could not for the life of me get them to stay on my golf ball for more than a couple of swings. In fact, the first shot I hit with the driver left my Titleist without a single decal left. I tried several other types of balls and the results were the same, two swings, no more Golfdotz.
To be completely fair, I am a high swing speed, high spin player, so I had several friends of mine, with varying slower swing speeds, give them a try as well. Encouragingly their decals stayed in place much better. Though none lasted the entire round, several lasted well into the back nine. This would be close to the equivalent of a sharpie dot. I would say to be safe reapplication every nine holes would be necessary to for the average golfer.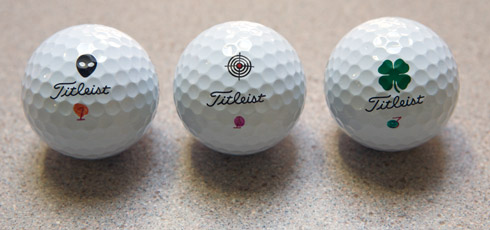 Final Thoughts
Though Golfdotz won't make it into my bag for obvious reasons, I still think they are a nifty new product idea. While not a necessity by any means they give an alternative to the sharpie marker for those golfer more artistically inclined. Durability is definitely an issue but I believe most golfers will find they last longer than their golf balls do, so that shouldn't be a problem. Pick some up and give them a try yourself.