A good golf bag is akin to a well-designed fly-fishing vest. A good vest keeps your most important items handy without getting in the way when you're in the middle of a battle. The Grom stand bag from Ogio does just that. It is thoughtfully designed and innovative in many respects. It is a bag you might want to have a look at if you're in the market for a place to put your clubs.

Pockets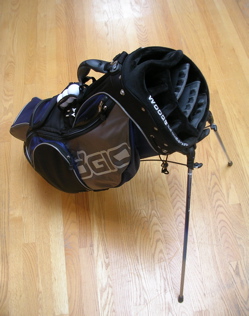 Some golf bags are like a pair of cargo pants: they have pockets everywhere, but they don't help you stay organized or comfortable. Ogio found a way to design a functional and comfortable golf stand bag that keeps equipment and valuables in all the right places.
The Grom has a total of eight pockets, four of which are zippered. The zippered valuables pocket is a great addition to a golf bag. It is nice to have a dedicated pocket for items you don't want banging around in a bigger pocket. I put my wallet, watch, and keys in it because I don't like having non-golf items cluttering up my pants pockets when I'm out on the course. You can replace those items with a couple of tees, ball marker, and divot repair tool for easy access next time you're out. It was easy to slip the golf bag to one shoulder and pull my keys out on the way to the car. The valuables pocket is very handy because you never have to dig through a giant pocket full of junk looking for important items.
The other three zippered pockets are somewhat typical of what you'd find on other bags. Two reside on either side of the bag at the bottom for items like gloves, tees, pencils, sharpies, and sunscreen. There is a large pocket running the length of the bag for bigger items like a lightweight jacket, rain gear, or even shoes (if that's the only thing you wanted to put in there).
Zipperless pockets include one for your cell phone which resides inside the largest zippered pocket, a scorecard and pencil pocket, a pocket for a bottled drink, and the "ZBP" (Zipperless Ball Pocket). The cell phone pocket is handy for obvious reasons, although you might choose to use the valuables pocket if your phone isn't too big. The scorecard and pencil pocket were well placed and handy but I found that my pencil would slip out after a couple of holes which was annoying. I ended up slipping a pencil in my pocket for scorekeeping. The ball pocket does a good job of holding golf balls, although that's all you'll want to put in there as there are a couple of small holes to the sides that allows smaller items to slip out. I guess thats why they call it a "Ball Pocket."
Woode™ Club Management System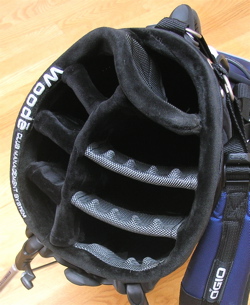 One of the most recognizable innovations from Ogio is their Woode™ club management system. There are four slots running along the left hand side of the three-way club dividers to keep woods separated from irons. This feature is well worth the price of admission as it protects graphite shafts in woods or hybrids from the steel shafts in your irons. It makes every club accessible and recognizable as you stand up to a shot. I felt pampered using the Woode™ slots and I think you would enjoy them too.
Irons are separated in a three way-divider. Sticky grips don't prevent you from getting clubs in and out easily. The only gripe I have with the three-way divider is that the irons tend to bounce around and get shuffled a little as you walk or ride. I'm not overly anal about keeping my irons in perfect order during a round so it didn't bother me too much. My 3-6-irons were in the top tier, 7-9 are in the second tier, and two wedges were in the bottom slot.
There is a separate slot at the top of the club slots for a putter. I keep my putter head cover on all of the time, but it is nice to know my putter is getting a little TLC by not being in with the other clubs.
Quality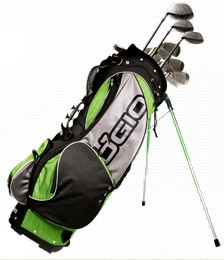 The Grom is well made and obviously sturdy. I don't worry about any part of the bag breaking or coming apart. The outer skin is well constructed as is the inner frame. Every part of the bag should withstand years of abuse.
The legs, while very solid, were my biggest dissappointment. The good thing about the legs is that they are made out of fiberglass. It is highly unlikely that they'll bend or get too beat up. My only gripe with the bag is that when I walk the legs bang to the rhythm of my pace and this is annoying. The other thing is that they will sometimes get cross-legged and require a little jiggle when you set the bag down so that they'll extend and hold up the bag. Whether or not this was unique to this bag alone is anyone's guess, but it is a major feature of any stand bag and something you'll want to keep an eye on as you shop.
Carrying
The carry straps are well made and comfortable. There is enough padding to keep the straps from digging into your shoulders and they seem to distribute weight nicely. They are also easy to get on and off your shoulders.
At 6.3 pounds, the Grom is a good bit heavier (up to two pounds) than many other carrying bags. You might notice the extra weight when walking a full 18 holes. Those who live in warmer climates or who place a high priority on a light bag might find the Grom too heavy. I don't mind carrying the Grom for 18 but I walk about 90% of the time, so I'm used to it.
Style
The Grom, like other Ogio offerings, scores some serious style points. It is obviously a well made bag. Each component is high quality and a lot of attention to detail went in to making this bag. The material used on the shell is sturdy and cleans up nicely.
I got the Indigo (blue) offering, but several other colors are available from red to camouflage. They are good looking bags and have enough variety to satisfy the tastes of about any golfer.
Extras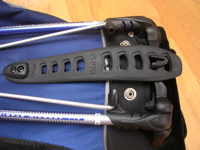 Whenever I would ride a cart prior to using the Grom bag my bag would get twisted and turned around during a round. The clubs would face a different way than I put them in and I'd have to readjust the bag a few times. Not so with the Grom. The "Torq Strap" or "Anti-Twist Cart Strap" is another impressive Ogio invention. Whenever you ride a cart, just strap the heavy rubber Torque Strap around the bag rack, secure it with the cart's included strap and the Grom will not move during a round of golf. I was pretty proud of that little feature during a few rounds this past summer.
Through a bit of trial and error the "Ball Silo" has become a valuable feature to me. Generally I don't have to dig around in the ball pocket anymore because the "Ball Silo" carries three balls out in the open. If you scuff a ball or hit one into the woods (which I never do!) there are two or three others waiting for you out in the open. One caution: Make sure that each of the balls is pressed firmly into place or you could lose one or more of them when you aren't looking. Once you figure this out there are no worries as the "Ball Silo" holds golf balls firmly in place when used properly.
To either side of the "Ball Silo" are slots for two tees. If you go through a lot of tees you might end up bypassing this in favor of pulling them out in handfuls from one of the other pockets. The tee holders, like the rest of the bag's features, are well thought out and implemented.
Conclusion
Overall, the Ogio Grom stand bag is outstanding. If you're looking for a new bag, know that the Grom has enough features to make it worth considering. It is good for both walking and riding. I recommend you consider the Grom if you are looking for a new stand and cart bag.