460cc composite drivers with movable weights. The hybrids explosion (with movable weights). Lob wedges with y-grooves. Golf balls tuned to launch high with less spin. Launch monitors. Huge advances in agronomy.
The golf world has changed dramatically in the past ten years, but a few things have remained the same: the diameter of the hole, the location of The Masters, and the lowly golf tee.
Oh, wait, scratch that last one. Just this year alone we've reviewed several new kinds of tees, from the outrageous Brush-T to the fairly traditional Stinger Tee. We even reviewed a biodegradeable tee known as the Epoch-3. Now it's Zero Friction's turn at the tee, quite literally. How does it fare? Keep reading…

Theory
I wrote this for the Stinger Tee review:
The theory behind the Stinger tee is the same as we've seen with the Epoch and Brush-T: less tee touches the ball, minimizing clubhead deflection and drag. The ball launches with less resistance and lower spin.

Stringer Tee Review

The same holds true for the Zero Friction tee: three little posts contact the ball, creating a large pocket of air beneath the ball and little chance of resistance as the ball begins sliding off the tee at impact.
The Zero Friction tee itself is relatively simple, as you can see to the right. Made of a biodegradable material, the tee consists of a tapered end, a post, and three little prongs at the top. You know, just like a regular old tee. Instructions tell you to point one of the prongs down the fairway to minimize drag and, I suspect, to minimize the chance of snapping off one of the three posts with your driver.
This is a rather conventional design, naturally, and one that is easily adopted by golfers. Stick a Brush-T in someone's hand and they'll often give you a funny look. The Zero Friction Tee is at least "user friendly."
Performance
Zero Friction Tees have been used to win several PGA Tour events. Great. Laura Davies tees her ball on top of a mound of earth, so we're pretty confident that PGA Tour pros could win with anything.
Excel Golf Tee, Inc. – makers of the Zero Friction tee – claim that the Zero Friction tee will enable you to hit the ball 5 yards further and 7 yards more accurately than any other distance tee. Naturally, and as we've said in our other distance tee reviews, it's tough to verify whether these tees provide any additional yardage. After all, we're not machines, and our swings can't be counted on to produce scientifically reliable results.
We did manage to put together a somewhat scientific test, however. Ten golfers having handicaps ranging from 5 to 15 each hit 20 balls on the driving range. The tee beneath the ball was randomly and blindly chosen so that 10 shots with both a standard wooden tee and a Zero Friction tee were hit. All other aspects were as controlled as possible – a consistent tee height was kept and so forth. 10 shots were hit with each. Any obviously mishit shots were replayed so as not to affect the averages dramatically.
Balls hit from the standard wooden tee served as the control, and balls hit from the Zero Friction tee were obviously the test subjects. The results aren't spectacular, but they do indicate some increased performance:
               Wooden Tee        Zero Friction
Distance        253 yards          257 yards
Deviation      13.5 yards         11.9 yards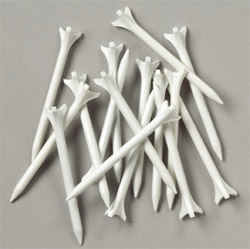 In other words, the Zero Friction tee produced, on average, tee shots that were four yards further and about 1.5 yards closer to the center of the fairway than standard wooden tees. Not quite the 5 and 7 yards claimed, but 1.5 yards is the difference between the first cut of rough and the fairway, and four yards is nearly half a club less on approach shots.
I was initially concerned that the height of the tees – a fairly meager 2.75 inches – would not be appropriate for the 460cc drivers, but if you consider that by putting the tee in the ground 3/4″, the center of the ball will be nearly three inches in the air, your fears will subside. In other words, 2.75″ seems to be just enough height to set the ball up high enough for the largest drivers available. Still, it would be nice to see a taller version, if for no other reason than to calm the fears of the über-sensitive.
But One Other Thing…
What we noticed most in testing was that these tees simply did not break. We took a pack of 50 tees to the test site and returned with 49, but only because one "tester" pilfered his after smashing a drive 320 yards. He's a believer.
I've personally played about 20 rounds of golf with four or five Zero Friction tees in my bag. They're somewhat dirty now, but I still have the same four or five tees I started with. These things are so indestructible (yet biodegradeable?) that I'm having a hard time figuring out how Excel Golf Tee plans on making any money. After all, once everyone's bought a 50-pack of Zero Friction tees for $4.99, they may never need to buy tees again.
After years of "indestructible" plastic tees, a truly indestructible tee is well worth ten cents apiece. Whether Excel Golf Tees, Inc. likes this or not, that may be this tee's best feature.
Conclusion
My allegiance has shifted: I no longer play the Stinger tees as I once did. I've switched full-heartedly to the Zero Friction tee. It may or may not give me increased distance and accuracy, but it does give me round after round of dependability.
Which is more than I can say for my golf swing.