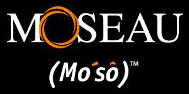 It's not often that one thinks about their shirt when playing golf except to be annoyed: annoyed that it's soaking up their sweat or that the left sleeve is in constant need of tugging up or that it keeps coming untucked on their follow-through.
As Josh mentioned in his Adidas ClimaCool Polo Shirt review, technology has finally come to the golf polo. Adidas, Callaway, Nike, and other manufacturers have mixed natural fabrics with synthetics and achieved solid results: wrinkle-free, stain-proof, moisture-wicking shirts with sun protection.
A company called Moseau has gone an entirely different route. Instead of synthetics, Moseau uses all natural fibers to construct their shirts. The fibers? Why, they come from bamboo.

Bamboo Fiber
Moseau claims that bamboo fiber has several advantages, including:
2-3 degrees cooler than cotton or polyester
more absorbent than cotton or polyester
antibacterial and hypoallergenic
dries faster than cotton
natural UV protection
odor free
silky soft
100% biodegradeable, renewable resource
Moseau's shirts are actually not 100% bamboo fiber but a blend of 70% bamboo, 30% cotton. They feature two bamboo buttons on the placket and a spare in the classic location (the hemline near the part you tuck into your trousers). The shirts are thick, soft, and rather luxurious feeling.
Fit, Feel, and Style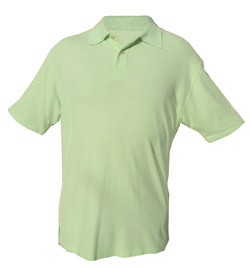 Most of my golf shirts were purchased from the IZOD outlet store. They're functional, they look good, but they don't necessarily have the latest technology for moisture-wicking and whatnot. I was excited to try a shirt made of bamboo.
I normally wear a large, and so requested a large for this review. The shirt was, well, let's call it "roomy." Word to the wise: order a size smaller than your average polo shirt and you'll probably be better off. On the plus side, the shirt would not shrink despite repeated efforts to do so. There may be something to this bamboo stuff after all…
Weather has been quite hot here lately – 90° and 75% (or higher) humidity. Golf in weather like this is an adventure coated in sweat. I wore my bamboo shirt the first time in just such weather. It really put the clothing to the test.
Unlike my IZOD shirts (70% cotton, 30% polyester), the Moseau shirt remained cool and comfortable. Though it's impossible to determine whether it remained "2-3 degrees cooler" as claimed or not, I can say that I felt cooler. I stayed quite cool and dry throughout the round. I carry my bag, so I was particularly impressed that even the shoulders stayed cool and dry.
Truth be told, I didn't mind the extra room, as I'm an incessant sleeve-tugger. No doubt the extra room contributed slightly to the cooler, dryer feel, but the amount to which my comfort level was increased can not all be attributed to a little extra room: this bamboo stuff really does the deed.
For grins, I soaked both the Moseau shirt and a Nike Dri-Fit shirt in water and hung them on the line. Thirty minutes later, the Moseau shirt was dry and wearable while the Nike remained damp to the touch. Dries faster? So far as I can tell.
Unlike most "cool" golf shirts which feel thinner and, well, too much like polyester, Moseau's bamboo shirts are thick and luxurious. They're quite soft to the touch and feel great on my skin. They claim to be "silky smooth," but silk has always felt a bit thin to me. These shirts feel more like a thick towel than what I typically associate with silk. Despite their thick feeling, the shirts are not heavy, and as I've already talked about, they do a great job of keeping the golfer cool.
Moseau shirts are available in only eight styles as of July 25, but more are on the way. Five of the eight are solid colors: pale yellow, pale green, orange, blue, and red. I like all of the solid color shirts, and might be tempted to try out the pale blue/dark blue striped shirt. The Hawaiian-inspired orange shirt and the blocky, early 90s red shirt don't suit my tastes. Perhaps Woody Austin would give them a go? Duffy Waldorf?
I kid. They're not that bad.
Conclusion
At $42/shirt, Moseau's bamboo offerings are squarely positioned in the middle of the golf shirt landscape. If you don't feel as though you can get a cool golf shirt with moisture-wicking, UV protection, and a comfortable fit and feel for a pair of Jeffersons, Moseau also makes bamboo/nylon socks – you can pick up three pairs for $15.
In other words, if you're a fan of a few plain colors or the occasional orange Hawaiian shirt, Moseau has a shirt for you. The performance is there: I've never worn a cooler, more comfortable shirt. The price is right. And the word is in: bamboo makes for good clothing.