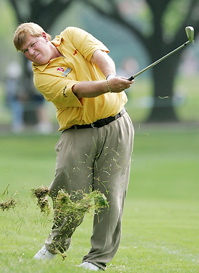 While John Daly has lived one of the most turbulent lives on the PGA Tour in recent years, he has walked away from wreck after self-inflicted wreck looking pretty good. While others whose lives are pristine by comparison try to maintain a "positive image," Daly, who has wallowed in the mud, has come out looking pretty clean. Probably the biggest reason so many folks love Daly is that his life has been an open book. Daly's best PR tool has been his honesty. What you see is what you get.
John has lived life with the accelerator pressed all the way to the floor. Born on April 28, 1966 in Carmichael, California John grew up in Arkansas. The resulting "good old boy" persona he is known for has helped him win the hearts of many.

The experiences of his life are perfect subjects for country music and it is somehow no suprise that he released a country music album. Entitled "My Life" and featuring guest performances by Darius Rucker, Willie Nelson, Johnny Lee and Daron Norwood it features several original songs. He may live what he calls "a boring life" now, but his lifestyle and general outlook caused him a lot of trouble in past years. Daly was not prepared for fame and fortune.
1991 was his rookie year on Tour and he found instant success as he won the PGA Championship, the fourth Major of the season. It is quite remarkable that he was the ninth and final alternate. It was his first win and his first Major all wrapped into one. He was named PGA Tour Rookie of the Year.
In the years that followed he posted 5 victories. The 1992 B.C. Open, 1994 BellSouth Classic, 1995 British Open at St. Andrews, and the 2004 Buick Invitational after a drought longer than any of his towering drives. I believe he still has more wins inside him. It will be interesting to see if he can string four good rounds together and come out on top again. He has many people cheering him on.
Daly has the prestigious nickname "Long John" for his ability to hit the ball a long way off the tee. While no longer the Tour's longest driver, he lead the Tour in driving distance for a record 11 years. Daly's "beyond-parallel" back-swing generates some serious club-head speed enabling him to hit the ball longer than most. Currently 6th in driving distance with a 303.7 yard average Daly falls behind the likes of Hank Kuehne, Tiger Woods, and number one Scott Hend. Here are his driving statistics:
Year  Avg.   Pos.
2005  303.7  6
2004  306.0  3
2003  314.3  2
2002  306.8  1
2001  306.7  1
2000  301.4  1
1999  305.6  1
1998  299.4  1
1997  302.0  1
1996  288.8  1
1995  289.0  1
1993  288.9  1
1992  283.4  1
1991  288.9  1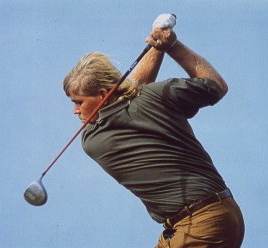 He is a bit of an anomaly from a technical standpoint. Just about any instructor or player worth his salt will tell you that bringing the club past parallel in the back-swing can lead to some serious swing faults. Somehow Daly has been able to tame his long, sweeping swing and make the most of his unique approach to getting the ball in the cup. He refuses to see an instructor because he doesn't want to jinx himself. The gambler within him knows a streak of good luck when he sees it and doesn't change anything. He once said that he would shoot 85 if he ever messed with his mechanics. Part of his reluctance to look hard at his swing stems from former critics' insistence that he'd never win on Tour with a swing like his. Well, he's proven that crowd wrong five times.
Daly's distance off the tee hasn't been his only formula for success as he has a wonderful short game. He's a feel player which tends to make a guy streaky, but successful when he's "in the zone." "He's a freak," Fred Couples once said. "To be that long and have that kind of touch. He's one of the few players out here I'd pay to watch. I root for him to win more than I root for me."
Daly isn't known only for his freakishly long drives or two major championships, he's also known for his struggle with addictions to alcohol and gambling. Who knows what Daly would have been able to accomplish had he taken the high road and avoided the bottle. For the kind of life that he's lived, John has done great.
It's been a long time since I've had one [a drink]. It's not something I really think about. I just haven't had the desire to even have one. That option is always open. It's like you tell a little kid, 'You can't do that.' Of course, they're going to do it. Say, 'Go ahead and do it,' and they don't do it. It's weird.
He hasn't turned to the bottle to deal with trouble for a couple of years and was rewarded with a victory at the 2004 Buick Invitational. He has also come close to victory several times in the past year.
In a 2001 interview Daly confessed to feeling abandoned by peers on Tour, equipment sponsors, and tournament organizers. Callaway Golf sponsored John for a tidy sum and was taking care of his gambling debts until 1999 when, contrary to Callaway's wishes, he pulled out of rehab to do things his way. It was then that Callaway cut John loose. Ely Callaway, the president of Callaway Golf, was like a father figure to John so the breakup was tough. Losing the endorsement money couldn't have been fun either. There is no doubt that Daly sold a lot of drivers for Callaway, especially as his emergence on Tour coincided nicely with Callaway's "Big Bertha" craze and their innovation in larger driver heads.
All that said, there is a price to pay for on and off course antics and John has come to terms with that. He has recognized that some of his past actions were wrong, but also knows that you've got to leave the past where it belongs, in the past.
In December 2002 John lost one of the people that believed in him the most, his mother, to cancer at age 65. Lou Daly provided what no other person could: a mother's love. She wasn't afraid to bring up what needed to be said either. John recounted in a 2003 Interview with Vince Cellini that, "She got on me pretty good" and was, "The greatest person in my life and always will be." In John's words:
When we knew it was cancer I let golf go starting in June [2002]. My heart wasn't in it. No one knew me or loved me like my mom did. She passed away in December, and I didn't have the energy to play good golf as she was dying. I couldn't get on track when I knew she was running out of time. I tried to give all of my energy to her and had none left for golf.
John has been married four times in what might be called the "Marriage Slam." Unlike his previous marriages, John says that he is able to relax around Sherrie. They are best friends. "She's very positive on life," Daly said. "She's not into material things at all. She's a good country girl who appreciates somebody looking after her and taking care of her, and she does the same thing for me."
Daly's buddy Fuzzy Zoeler credits Sherrie with being just what John needs. "John is getting some loving at home now," Zoeller once said. "I don't think that was the case with the other ones." His current marriage, while great, hasn't been without some hiccups. Sherrie, along with her parents, were indicted on federal drug and gambling charges in 2003. She was offered five years probation with six months of home detention and she took it. In John's words, "You don't beat a federal court, a federal judge and the FBI. There's no way." She pleaded guilty to the charges and is serving out the remainder of her probation at this time.
Daly is a likable guy. Despite the fact that he has been at the center of controversy more times than he would like, he has won the admiration of fans all over the world. Perhaps John is right when he says that people like him because they can identify with someone who has problems. After all, who doesn't struggle in some way? When Daly hoists a trophy over his head and celebrates sweet victory we celebrate with him.
Photo Credits: © AP Photo/David J. Phillip, Write Stuff Autographs.