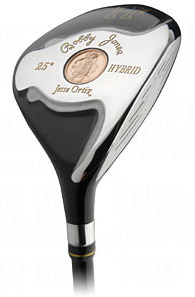 Anybody who watches the Golf Channel has seen the infomercial. I've seen it and I'm betting, since you're reading this review, a good portion of you have seen it as well. It's for the Bobby Jones hybrid by Jesse Ortiz.
Now I'm not the kind of guy who sits around watching infomercials. I'm also not the kind of guy who will believe the five minutes or so that I catch of one. That being said, if the Bobby Jones Golf Company hadn't promoted their hybrid as much as they did, I wouldn't have jumped at the chance to review a couple of them. I've been on the hybrid bandwagon since 2005 and haven't gotten off.
The Bobby Jones hybrid hasn't had a breakthrough in a tournament like the Sonartec in the 2004 British Open. What it has had is some of the highest rankings in the Golf Digest Hot List in the past couple years though. Are those high rankings deserved? Can we actually believe an infomercial? Is this club worthy of having Bobby Jones' name on it? Read on to find out.