Are you choosing the right ball for your game? Would you know if you weren't? Are you playing a certain ball simply to keep up with what your buddy plays? These are all questions you should think about for a minute, especially if you're serious about taking as many strokes off your score as possible.
If you are serious about dropping your score, maybe it's time you seriously considered finding the ball that works the best for you. A few years back, a concept such as ball fitting was simply unheard of, though now, some say a ball fitting has become just as important to some as club fittings. If you think about it, it is the one single piece of equipment that's in play for every shot. Fortunately, the golf ball market may the one area with the most choices, and the smallest impact on your wallet.
This week, we take a look new additions to that market from Bridgestone,
Callaway , and Pinnacle.

Updated Bridgestone e-Series
Bridgestone has certainly been a big proponent of the ball fitting process, and undoubtedly produces a number of options to accommodate a large variety of players.
Brandon Sowell, Marketing Manager of Golf Balls at Bridgestone Golf, Inc. had this to say:
In talking with retailers over the past year, it is evident that Bridgestone's message of choosing your ball based on performance rather than what a Tour player uses has really resonated with golfers. At the forefront of those efforts is Bridgestone's desire to educate golfers how to select the best ball for their game through ball-fitting. The entire e-series evolved from our learning about where players needed help in terms of ball-flight optimization. In the new e-series line we've made some significant modifications to make the balls even better at what they're designed to do. As a company, we plan to continue to invest in and improve our ball-fitting program as it has proven to be a valuable service for amateur players and also an incredible resource for new product development efforts.
e5
The new e5 ball has a two piece urethane cover, and is designed for the player looking for a higher ballflight. The new 2010 model has a 326 dimple soft urethane cover as opposed to the previous models' 432 dimple pattern. The dimples are now shallower, with a larger diameter, which helps produce that desired high trajectory.
Under the cover, the new e5 also has larger gradational compression core, designed to give the player longer distances off the tee as well as exceptional spin control near the greens.
e6
Next in line is the e6, which has historically been the most popular choice in the e-Series, most likely due to its ability to help reduce sidespin. Though I'm a believer in fixing the swing, not the equipment, there's no doubt that any help to alleviate extra side spin is welcomed. Bridgestone's Anti-Side Spin Inner Layer, has been enhanced to provide low compression and high resilience, which will help you, the golfer, be longer and straighter down the fairway.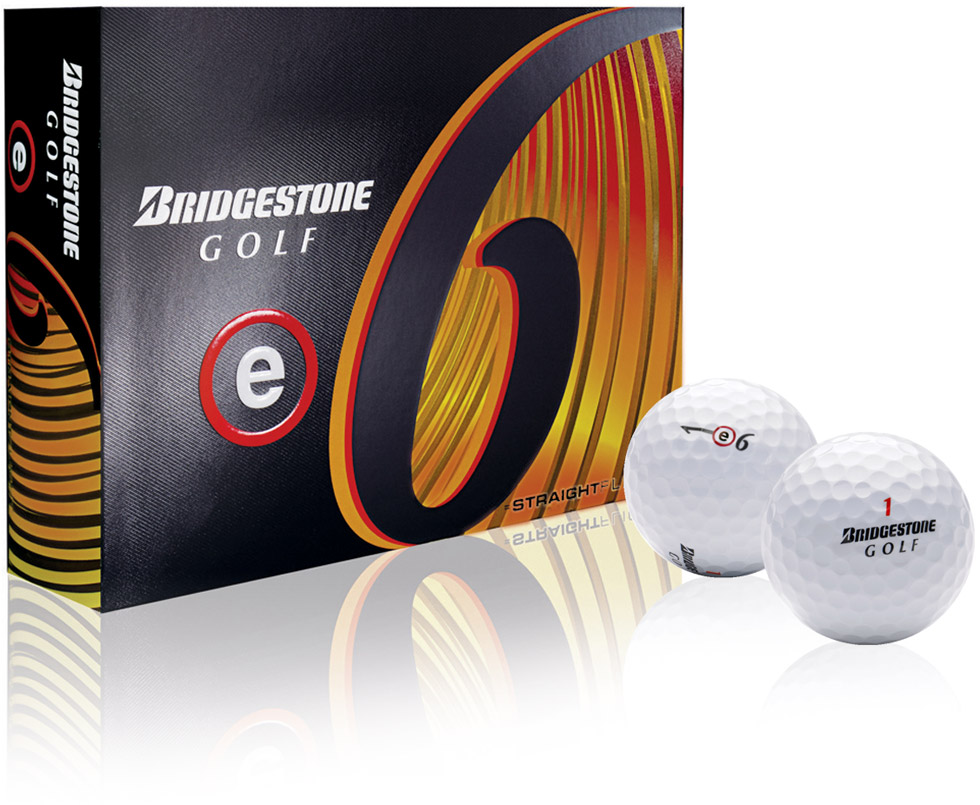 Not only is the e6 great off the tee, it also gives a great feel near the green. What was the softest multi-layer ball on the market is now ever softer, with an 8% reduction in compression. The soft Surlyn cover has 330 dimples in their Seamless Dimple Design.
e7

If it's a lower trajectory, or longer distances you're looking for, the e7 may be what you're looking for. Thanks to Bridgestone's new Inner Layer Formulation, the e7 is now 5% firmer. The Velocity Increasing Inner Layer works in conjunction with the high speed Gradational Compression Core to rebound quickly off the club face and cut through the air quickly, regardless of conditions.
Like the e6, a Surlyn cover is used with the 330 Seamless Dimple Design.
Price and Availability
Though MSRP is listed at $38/dozen, you should be able to find them for $26.99. At that price, they're worth at very least giving a try, especially if you've never tried a Bridgestone ball before. They are available in stores now. As a side note, Bridgestone is offering free personalization between now and December 31st on the e Series balls as well as their popular B330 line.
Callaway Tour i Series Ball
As noted a couple weeks back, Callaway Golf has been making preparations for the new groove rules instated by the USGA and the R&A. Included in those preparations is the new Tour i(s) ball, which Callaway says is the softest ball they've ever made.
It made a great debut in its first appearance at the WGC-HSBC Championship in early November, where it was used by Callaway staffers Ernie Els and Ryan Moore. In that tournament, three Callaway staffers took the top three spots while using Tour i Series balls, with Phil Mickelson winning it all, Ernie Els placing second, and Ryan Moore finishing third.
The first layer in this four piece ball is it's Hyper-Urethane cover, which was designed to maximize spin and control around the green, without giving up any precious yardage off the tee. The combination of the updated HEX Aerodynamics and second generation Dual Core construction reduces the negative effects of wind resistance to get you further down the fairway.
Pinnacle Gold Series
Pinnacle again brings us quality and performance in an affordable package in the form of the new Dimension balls along with the revamped Gold series.
Dimension

The Dimension makes use of a newly designed "3D" Ionomer cover formulation to produce a straight and long ball flight while maintaining a soft feel. To minimize dispersion, the Dimension makes use of a 332 Icosahedral dimple design, giving you an additional degree of consistency. Under the cover, the benefits of the new soft core technology is twofold: it helps to provide that soft feel every golfer wants, and it also gives the ball a high initial velocity.
As part of the new personality displayed by the Dimension ball, Pinnacle stamped the cover with the dynamic jet trail logon and the Dimension alignment sidestamp. Continuing with that trend is the electric blue and vibrant orange packaging, which should catch your eye quite easily. The new Pinnacle Dimension ball is available now with a MSRP of $18 per dozen, though you'll likely pay closer to $15 per box.


Gold Precision & Distance
Both the Gold Precision and Gold Distance have been slightly enhanced this year to give you even more bang for your buck. The Gold Precision's 392 Icosahedral dimple design helps to flatten the trajectory and provide an increase in consistency. Under the soft Ionomer cover lies a high speed, soft compression core. Together they combine to give you long and accurate ball flight with a soft feel at a great value.
For those needing an extra boost in distance, Pinnacle offers the updated Gold Distance ball, which employs a low spin, resilient Ionomer cover and high speed core that work together to send you further down the fairway. Consistency and high trajectory are promoted by the 322 Icosahedral dimple design.
Both the Gold Precision and the Gold Distance are a great value with a MSRP of $18 per 15 ball pack, though the value gets even better when you find that you'll actually be paying closer to $15 per pack.
Pinnacle Ribbon

Rounding out Pinnacle's new lineup is a new ball for the lady golfer in your life. The new Pinnacle Ribbon gives a great combination of distance and feel in a distinctive lavender package. Of course, white is an option as well, for the more traditional female player. The ball is composed of a soft Ionomer cover (which features the 392 Icosahedral dimple design found in the Gold Precision) and soft compression, fast core that's designed to maximize distance and maintain a good feel around the greens. Like the Gold Series, the Pinnacle Ribbon is a great deal at $15 per 15-ball pack.
Final Thoughts
We've taken a look at a wide range of balls targeted towards a wide range of players, and maybe one of them caught your eye. Or perhaps maybe you've had the opportunity to play one of these balls already. If so, lets hear about your experience in the comments!