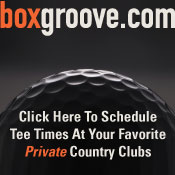 Want to play that private course down the road but don't know a member? Now there's a way to test drive private courses across the country without risking the trespassing charge.
A new online service called Boxgroove.com provides access to tee times at private clubs. Boxgroove currently has 70 participating courses and over 650 members, some of whom hold memberships at private clubs and may be willing to host other Boxgroove.com members (more on that later). The company plans to be in 30 states by summer 2010 and eventually to take the service international.
If you're like me, you love those occasions when you get to play a course in excellent condition with great greens. The problem is that I don't belong to a private club, so I play public courses where the maintenance is generally not quite as well applied. While it's less expensive (unless you are really racking up the rounds) to play public courses, being able to play the occasional round on a truly well kept course is a nice change of pace, one I've found to be more and more alluring lately.
Enter Boxgroove.com. I'd been hearing about the service on the radio here in Columbus, my home and Boxgroove's, as it turns out. When Boxgroove.com offered a membership to let me try out the service and write about my experience, I jumped at the opportunity.
How it Works
Boxgroove.com differs in a few ways from the online tee time services you may be used to.
First of all (obviously), Boxgroove.com provides access to tee times at private clubs, as opposed to the public and resort tee times offered on most other services.
If you don't find a tee time that fits your needs, many of the clubs on Boxgroove.com allow the user to request tee times. Need a morning tee time? While the club is not going to bump its members to allow you to play, if it has surplus rounds on the morning in question, chances are it will grant your request.
Even if there aren't any Boxgroove affiliated clubs in your area, you may be able to gain access to private clubs through affiliated players. These are Boxgroove members who are also members at a private club. Affiliated players can host rounds at their clubs and may even fill tee time requests. You won't be able to bring your entire foursome, however, since you'll be playing with the club member. You'll also be subject to the club's member-guest restrictions, so you may be further limited in how many outside players you can bring.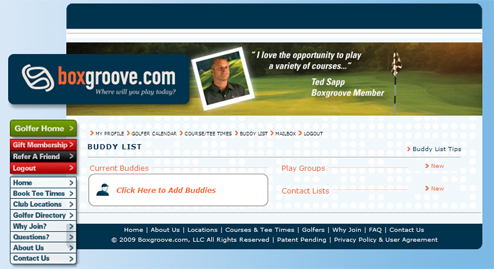 Finally, Boxgroove.com offers a social networking mechanism. Members can use this part of the service to find playing partners at home or during travels. Boxgroove.com members with a private club membership can offer hosted rounds at their clubs, perhaps in exchange for rounds at other member's clubs. In this way, even private club members can expand the variety of courses they have available for play.
One of the first things you'll do on Boxgroove.com is to create your profile, which can be searched and accessed by other members. You can upload a photo and add as much detail as you like. In theory, more detail increases your likelihood of receiving invites to play from other members in your area. Members can also create Buddy Lists that allow them to easily email multiple golfers about potential tee times. Furthermore, if you have a usual group (or even groups) with whom you regularly play, you can also create a Play List to allow you to add the entire group to a tee time with one click.
While you would most likely need to build your social network of potential playing partners over time, the basic functions of finding or requesting tee times are very easy to use immediately. Click on "Book Tee Times," and you can search by State and Metropolitan Area for the dates you want to play. You can choose to search for clubs only, members in the area (if you're hoping to get an invite to play), or both.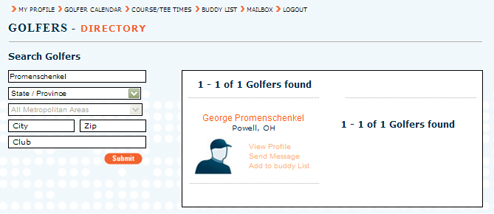 Right Time? Right Service?
Boxgroove.com could be coming around at the right time. With the current economy and changing recreation priorities in the U.S., private clubs are struggling to attract and retain members. Even before the economy went south, changing recreation patterns have been hitting clubs hard. Here in Central Ohio, the local rumor mill is abuzz with local clubs that are on the verge of failing. Two or three are not expected to survive the winter.
Because of the reduction in traditional members, clubs are looking to add revenue in non-traditional ways. Many have opened their dining rooms to non-members or added non-traditional services to their lists of offerings.
With less members, clubs also tend to have a surplus of tee times that are going unused. Enter Boxgroove.com. By providing private clubs with a forum to generate revenue from their extra capacity, Boxgroove.com could be coming around at just the right time. It seems like a win-win situation. The clubs get a much needed new source of cash flow. The members benefit from the extra revenue, since, a club with no cash flow has to scrimp on maintenance and more. The golfing public gets access to more courses with what are generally-better kept greens and facilities.
For a limited time, Boxgroove.com is charging an introductory annual fee of $49 (the company plans to raise it to $79 once the service is more established). In addition, Boxgroove.com members will pay a greens fee for each reservation that they make. The clubs individually decide what to charge for their tee times, but in my experience these fees are generally in line with guest rates at the club, perhaps a few dollars more. Naturally, the more rounds you play using Boxgroove, the better value that annual fee becomes.
Some golfers will find this too much to pay, some will find it a bargain. That's a decision everyone faces everyday on how to spend their money. Boxgroove should appeal to those who would like to join a club but aren't sure they will play enough to justify the expense. Now they can enjoy club access on, basically, a pay-per-play basis. People who are trying to decide between a few clubs in their area could use a year's membership in Boxgroove to decide where they would like to join. Small business owners and salesman can use a Boxgroove membership to entertain clients at a country club without paying for a club membership.
But golfers aren't the only ones who can benefit from service. Clubs also get exposure to potential future members. Take my experience as an example.
Using Boxgroove.com
Central Ohio is home to Boxgroove.com, and as you might expect has more participating clubs (15) than other metro areas. While I can't now (and don't expect to ever be able to) schedule a round through Boxgroove at Muirfield Village, Scioto, Double Eagle, or the other truly exclusive clubs in the area, I can play a course that regularly hosts the U.S. Open Sectional Qualifying (eventual champion Lucas Glover got his ticket punched here in '09) or more than a dozen other very good courses.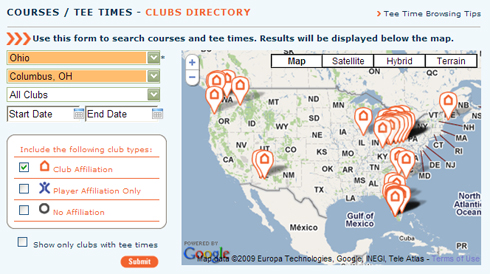 The Boxgroove.com website is easy to use. Just enter the state and metro area that you want to play in and the dates when you'd like to play. The site returns a list of available tee times that fit the index values. Pretty straight forward.
It would have been easy enough to go this route and find an available tee time at a local club, but I was intrigued by the option of requesting a tee time. I submitted a request to three private clubs for a time between 1:00 and 2:00 on an October Sunday afternoon (a reasonably high demand time considering autumn temperatures). Each club responded with a tee time that fit my needs. The greens fees were all within $2.50 of each other and similar to those charged by high end publics in my neck of the woods. I chose the course nearest to my house, one I had never played.
My playing partner and I were treated well from arrival to departure, and we had full use of the facilities. Naturally, the pro shop attendant did not know our names, but aside from that it was just like being a member for the day. An attendant loaded up our cart for us, complete with hand towels, and we were provided use of the practice facility and as many range balls as we cared to hit. After the round, we enjoyed a beverage in the grill area.
Here's where that introducing potential members to area clubs bit comes in… While I'd heard that the course is nice, I hadn't seriously considered it in my semi-casual "club auditions." A friend had once deemed it "unwalkable," which had pretty much eliminated it from my interest list. However, after playing it (admittedly while using a cart), I don't think it would really any harder to walk than a certain public that I walk all the time. I was pleased to discover a nice rolling layout with equally undulating greens that is clearly a notch or three above the "better" public layouts I play. I had previously considered joining a club twice as far away, but after playing this nearby course, it's the new leader on my short list of clubs to (at least) consider joining.
So Boxgroove worked well for me, and, potentially, for the club I was able to play.
Conclusion
Boxgroove is kind of like buying a mini membership to participating clubs in your hometown as well as those in places you visit. Sure, you still pay greens fees, but having access to the club in the first place, without dropping a couple grand for initiation or paying a hefty monthly payment, is pretty darn cool.
While I am sold on the potential value of Boxgroove.com, I do have one caveat… Geography. Though the service is growing, Boxgroove is still pretty new. Entire states have few if any participating clubs at this time. Boxgroove is shooting to be in 30 states next summer, but, as of this writing, where you live could have a great effect on the utility the service can supply. If you live in Arizona, Florida, Ohio, western Pennsylvania, or western Washington, you are going to have more variety to choose from than those living in other areas. But that's just as things stand today.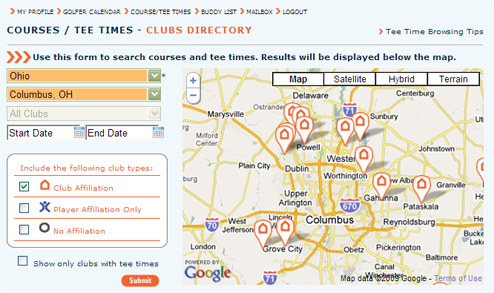 My advice is to do a little homework before you join. Figure out how you plan to use the service… For some, access to one club might be all they need, while others will want more variety. Then do a simple search on the site to get a good idea about what your playing options will be.
Even with this temporary limited availabilty, Boxgroove.com is going to generate a lot of interest. With access to private courses, social networking, and tee time requests. Boxgroove is a welcome departure from the typical tee time service. Not to mention, many private clubs are going to welcome the opportunity to receive cashflow from otherwise surplus rounds. The trick for Boxgroove will be to make good on their promise of bringing the service to a wider geographic area… and quickly.